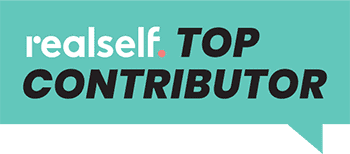 Skin aging refers to visible changes in the skin that are due to a combination of physiological and environmental factors. Sagging and laxity, loss of elasticity, fine lines, dehydration, wrinkling, hyperpigmentation and uneven skin tone, telangiectasias (broken blood vessels), enlarged pores and a coarse skin texture are all visible signs of skin aging. There are two primary factors, or types of aging. Intrinsic aging is that which occurs naturally due to genetics and the passage of time. With age, there is a loss of adipose (fat) tissue beneath the skin as well as a shrinking of bone, and muscle causing the skin to loosen and sag. Desquamation and cell renewal slow which means that old skin cells stick around longer and accumulate while it takes longer for new cells to be produced. Intrinsic, or natural, factors are also responsible for the slowing of collagen and elastin production as well as glycosaminoglycan (GAG) production. GAGs provide natural hydration to the skin and thus their reduction leads to drier, more brittle skin.
Extrinsic aging, on the contrary, refers to environmental stresses and lifestyle choices that result in signs of skin aging. Extrinsic skin aging is generally agreed to be responsible for up to 85% of the visible signs of skin aging! The good news is that, in comparison to intrinsic skin aging, it is thought to be the more preventable part of skin aging! Unhealthy lifestyle choices like smoking, alcohol consumption, and poor diet contribute heavily to extrinsic skin aging. But, in most individuals, it is over-exposure to sunlight that accounts for the majority of pre-mature skin aging – up to 90%!
Over exposure to UV radiation results in a host of negative changes in the skin. The production of collagen and elastin degrading enzymes (matrix metalloproteinase, or MMP) is increased, leading to laxity and wrinkling. MMP also breaks down GAGs which causes skin dehydration. Wrinkles develop as collagen fibers become disorganized and cross-linked. The number of melanocytes increases and they fail to distribute the melanin they produce evenly, resulting in sun spots and uneven skin tone. In addition, degradation of capillary walls results in abnormal dilation leading to increased facial redness and telangectasias.
TREATMENT OPTIONS
PRODUCTS
As you would imagine, proper sun protection, and possibly some lifestyle changes, are an important pre-cursor to starting any skin care routine designed to correct the signs of skin aging. Now that you are ready to get serious about your skin care, The Naderi Center is proud to offer you the most effective prescription anti-aging skin care available. Obagi NuDerm combines 4% prescription hydroquinone and tretinoin (Retin-A) in a system that allows them to best penetrate into the deepest layers of skin. This allows transformation at the cellular level, in contrast to over-the counter lines that only affect the very surface of the skin without producing real change. Skinmedica combines 4% prescription hydroquinone and less aggressive Retinol with the collagen building benefits of peptides and human growth factors to dramatically reduce signs of aging. Our licensed aestheticians will consult with you thoroughly to help you decide which program best suits your skin type, needs, and lifestyle.
Both systems will address the signs of aging by:
Increasing cell turnover, producing and pushing new, healthy cells to the surface while promoting old cells to exfoliate faster
Achieving an even skin tone by suppressing melanocyte production and promoting even distribution of melanin
Stimulating increased production of new healthy collagen and elastin by fibroblasts, resulting in firmer more resilient skin
Increasing production of GAGs for improved hydration
Stimulating angiogenesis for improved blood flow
Women on Retin-A or Hydroquinone must use reliable birth control techniques. If taking an antibiotic, remember that your oral contraceptive pill may not work properly!
SERVICES
The Naderi Center offers an array of treatments which are used in unique combinations to reduce all of the visible signs of skin aging. These therapies include the use of microdermabrasion, chemical exfoliation, and photorejuvenation (IPL). In conjunction with either the Obagi Nu-Derm or Skinmedica hyperpigmentation systems, light chemical peels can be used alone or in conjunction with microdermabrasion, which increases their effectiveness by up to 50%, to lift away accumulating dead skin cells while encouraging the production of new, healthy cells as well as increased collagen. Keeping the skin exfoliated in this manner is also vital to maintaining the efficacy of your home-care products, allowing proper penetration of retinoids and tyrosinase inhibitors.
Photorejuvenation, or Intense Pulsed Light, is a powerful, non-invasive light therapy that targets excessive skin pigment, as well as diffuse redness and broken capillaries, using specific wavelengths of light. Although this modality is best suited to treat brown and red spots, some degree of skin tightening may also result with repeated use. Again, this service should be combined with either the Obagi Nu-derm or Skinmedica hyperpigmentation systems in order to ensure efficacy and safety. Sun protection is very important after IPL treatments.