Breast augmentation, or augmentation mammoplasty, is one of the most commonly performed plastic surgery procedures. Saline or silicone gel implants, a breast augmentation can add volume, shape, and symmetry to small or misshapen breasts. The procedure can significantly improve a woman's silhouette and can provide changes that range from subtle to dramatic. The enhancing procedure consistently remains one of the most sought after cosmetic procedures for women.
Breast Augmentation Realistic Expectation Results
Improve symmetry between both breasts
Enhance breast size and volume in relation to body size
Restore size and shape of breasts prior to breast feeding, pregnancy (mommy makeover) and significant weight loss
An aesthetically pleasing figure with breasts proportionate to your body size
Clothing and undergarments may appear more flattering and better fitting
Possible improved self confidence
PROCEDURE SUMMARY
Pain Level After Surgery
Moderate
Anesthesia
General
Duration of Surgery
90 Minutes
Scars
Under the breast incision
Final Results
6-12 months
Return to regular activity
1-2 weeks
Resume Exercise
4 weeks
Cost of surgeon's fee
$6,000 – $8,000
---
Ideal Candidate for Breast Augmentation
A Good Candidate for Breast Augmentation
Desires larger, more proportionate breasts
Is at an ideal body weight
Is in good health
Does not have any medical conditions that may delay and impair wound healing
Has a positive outlook and realistic goals for what body lift surgery can accomplish
Is a non-smoker
---
Surgical Techniques for Breast Augmentation
Your breast augmentation will be performed as an outpatient procedure at a local accredited outpatient surgery center or hospital. Women can begin their recovery at home the same afternoon. The procedure is done with general anesthesia. On average, a breast augmentation procedure can take anywhere from one to two hours to complete.
Our breast and body plastic surgeon specialist uses the Keller Funnel for breast augmentation with her "no-touch" technique.
STEPS TO PERFORMING A BREAST AUGMENTATION
STEP 1: Inframammary Incision- A small incision along the breast crease is made
STEP 2: Creation of Breast Pocket- The pocket is created underneath the pectoralis muscle to accommodate the size of the breast implant.
STEP 3: Placement of Breast Implant with Keller Funnel- Using the "No-touch" technique to minimize contamination of the breast implants a special device called the "Keller funnel" will be used to gently slide the silicone implant into the breast pocket. *With saline implants there is no need for the Keller funnel.
STEP 4: Closure of incision- The surgeon will meticulously close the incisions with dissolvable sutures.
STEP 5: Post-Surgery Garment- A post-surgery recovery garment is placed on the breast augmentation patient at the completion of surgery.
Submuscular or Subglandular Breast Implant Placement Techniques
Submuscular, or under the muscle, implant placement creates a lower chance for visible rippling as there is more space between the skin and the implant. Another advantage to submuscular placement is a lower risk for capsular contracture; one of the most common complications when it comes to breast augmentation. In addition, submuscular implants can look more natural than those placed over the muscle depending on overall soft tissue thickness. However, implants placed under the muscle have an increased chance for animation distortion: an alteration of breast shape with movement. Recovery from breast implants placed under the muscle can be more uncomfortable since both the skin and muscle are being stretched and will take time to relax and adjust to the new breast size.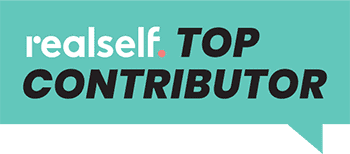 Subglandular, or over the muscle, implants will give the chest a more enhanced and rounder look due to less tissue coverage between the implant and the skin. An anatomical shaped implant can be used in the subglandular plane somewhat more successfully depending on overall aesthetic goals. There is less chance for animation distortion, and in some cases, less post-op discomfort than with submuscular placement. Placing implants above the muscle requires a large amount of natural breast tissue to be present prior to the procedure in order to achieve a more natural contour. Additionally, rippling is more likely to occur using the submuscular placement.
Learn about the GalaFLEX® Surgical Scaffold and whether it can improve your surgical results.
---
Before & After Photos of Breast Augmentation
Learn more about breast implant choices offered at The Naderi Center
---
Breast Augmentation Imaging Performed with Vectra 3D Technology
3D imaging technology allows patients to compare their own before and after result simulations, giving a peace of mind when deciding on implant size and type. Not only can you view different cc's, but you can also view different projection types and implants styles (round or anatomical). You will no longer have to wonder what different implants will look like on you.
During your breast augmentation consultation at the Naderi Center, our plastic surgeon will use the 3D imaging camera to take images of your starting point. After the images have been processed, she will pick different breast implants types, shapes, and volumes in order to show your potential results based on your personal goals and aesthetics. You will be able to view all potential results from multiple angles, allowing you to be more confident and satisfied with your decision to move forward with breast augmentation surgery.
Learn more about the latest 3D imaging technology offered at the Naderi Center for our plastic surgery patients.
---
Cost of a Breast Augmentation
There are a variety of factors that determine the overall cost of your breast augmentation.
For more detailed pricing information visit here.
Surgeons Fee: $6,000 – $8,000
Cost of Breast Implants: $600 – $2,400
Anesthesia Fee: Depends on length of procedure
Hospital and Surgical Facility Fees: Depends on length of procedure
Post-Surgery Garments: Included with surgeon's fee at The Naderi Center
Pre-Surgical Medical Clearance and Lab Tests: Usually covered by medical insurance
Medication Costs: Usually covered by medical insurance
Follow-up Visits: Included with surgeon's fee at The Naderi Center
---
Preparing for Breast Augmentation
At The Naderi Center, we believe the success of any cosmetic procedure can be improved with proper patient preparation. We go above and beyond to make sure that our patients are medically, emotionally, and physically ready for surgery. Your breast augmentation consultation will most likely include a 3D imaging analysis of your body with the breast implant choice and size that you are contemplating.
Please review our detailed instructions on body lift preparation with the link below.
---
Recovery after Breast Augmentation
The average breast augmentation recovery will take anywhere from one to two weeks. Subglandular implant (over the muscle) recovery generally takes only a few days, while submuscular implants (under the muscle) may take closer to a week. Women normally feel well enough to return to work in three to five days. Our surgeon believes that getting back to your normal routine is an important step in the healing process of breast augmentation. She recommends that light physical exercise be postponed for one week. It is always important to start slow and build up to your previous exercise regimen. More intensive workouts may be resumed towards the six to eight week mark.
Mild to moderate post-op pain may be noticeable for the first several days, with the peak being around day three. Temporary nipple numbness is common, as well as a tight and itchy feeling across the chest. Any bruising and swelling will gradually resolve over the following weeks. To ensure a comfortable recovery, our breast specialist will prescribe the necessary pain medications.
A support garment or surgical bra should be worn following a breast augmentation. This will allow the implants to settle into a desired position on the chest. Our breast and body plastic surgeon specialist will let her patients know when they can resume wearing an underwire bra.
---
Risk, Safety and Potential Complications after Breast Augmentation Surgery
Breast augmentation is a relatively safe procedure, but as with any cosmetic surgery, there is always risk involved. A patient's best defense against any complications is to choose a reputable, experienced, and board certified plastic surgeon as well as following the advised post-operative instructions.
Possible Complications after a Breast Augmentation can Include
Risk of general anesthesia
Excessive bleeding or hematoma
Infection
Poor incision healing
Skin changes or discoloration
Fluid accumulation or seroma
Nerve damage or numbness in the skin
Asymmetric results
Capsular contracture
Malposition of implants
Need for revision surgery
Unfavorable scar formation
Replacing Breast Implants
While there is no expiration for breast implants, they are not designed to last forever. However, they can look fabulous for 10 years or longer. The most common reason for implant replacement is a desired change in the physical appearance. Less often, implant revision will need to be performed to correct problems such as rippling/wrinkling, capsular contraction (scarring), rupture, and implant displacement. Breast implants as well as implantation technique have become much more advanced over the years, allowing patients to safely keep their implants in for a longer amount of time. Majority of silicone implants on the market today are made with a highly cohesive, semi-solid gel material. This means if the outer shell of the implant is damaged or compromised in any way, the contents of the implant remains inside the implant and does not leak out.
---
Breast Augmentation Specialist
Our breast and body plastic surgeon specialist is known for her artistic skills, allowing her to help women achieve natural and beautiful breasts. Our surgeon of one of a handful of women plastic surgeons in the Washington D.C. Metropolitan area. Our plastic specialist has dedicated her career to exclusively breast and body surgery, with breast augmentation and tummy tuck being her two most commonly performed procedures. Our patients are offered a variety of implant options, unlike most center where patients are given only the option of sizing up or down. The breast consultation will include 3D imaging so that you can visualize your potential surgical results.
---
Schedule a Consultation for Breast Augmentation with Our Specialist
Women interested in the benefits of breast augmentation are encouraged to schedule a private consultation at the Naderi Center. When thinking about a breast augmentation procedure, it is important to do your research and consult with a breast augmentation expert to receive their specialized advice and opinion. An appointment can be arranged in Reston, Virginia at 703-481-0002; or in Chevy Chase, Maryland at 301-222-2020. For those from out of the area, an online consultation can be arranged, as well as travel assistance.
---
Related articles
---
Breast Augmentation FAQs
Can my "boob job" be performed at the same time as my breast lift surgery?

Yes, if you have considerable breast ptosis or sagging while also wanting to add volume, then it is best to perform a lift in combination with a breast augmentation. However, there can be higher risks involved when combining two procedures. This should be discussed during your initial consultation. Our plastic surgeon may recommend staging the two procedures at different times, or performing them in combination during one extended procedure.

How long will my breast augmentation procedure take?

Our surgeon specialist's breast augmentation procedure will take between one and two hours to complete. Most patients return to work after approximately 5-7 days depending on their job responsibilities. Returning to work with a light schedule initially or even part-time can be beneficial as well.

How soon can I begin exercising after my breast augmentation surgery?

Light physical exercise may be resumed 2-3 weeks after surgery. It is important to start easy and build back up to your previous exercise levels. Women should postpone heavy lifting and vigorous exercise for the following four to six weeks.

Which surgical incision options are available for breast augmentation?

Majority of the incisions that our surgeon makes for breast augmentation are through the inframammary fold. This incision is placed horizontally underneath the natural fold of the breast. Although this incision places a scar on the breast, it is very well hidden in the lower breast crease and allows for optimal visualization when making the breast implant pocket. Optimal visualization ensures that the breast implants will be precisely placed to ensure the best symmetrical and cosmetic look. This incision option is almost always used with anatomical implants since they require a more exact implant pocket to minimize the chance of rotation.  Additionally, our breast specialisst uses a Keller Funnel, the most sterile and advanced means for implant placement, that allows for the smallest inframammary incisions possible.

Is it a myth that breast implants need to be replaced throughout ones lifetime?

It was previously believed that breast implants needed to be replaced every 10 years. However, with the improved implantation and implant options today, this is not the case. If no rupture, damage, or medical issues have occurred because of the implant and the patient remains satisfied with the implant shape and volume, they do not need to be replaced. To ensure safety, it is recommended to have an MRI performed every few years to avoid undetected implant damage.

Can I still get a mammogram for breast cancer screening if I have breast implants?
Yes, mammograms can still be performed after a breast augmentation with breast implants. There are many technicians experienced in performing specialized mammograms for women with breast implants. It is important to inform your radiology office that you have breast implants prior to scheduling a mammogram for breast cancer screening.
How long does it take until my breast augmentation incision are fully healed?
Breast augmentation scars will be more noticeable and pronounced for the first few months following the procedure. Scars may appear red or discolored and raised, but with time these scars should fade into a slender and barely noticeable line. At about 6 weeks or advised by your surgeon, you may begin using silicone based gels that will reduce the appearance of the scars. It takes a full year or more for scars to fully mature. Additionally, our specialist will use a specialized tape to cover your incision lines with for the weeks after surgery to improve scar healing.
What breast augmentation office is near me?
If you live in the states of Virginia or Maryland, The Naderi Center for Plastic Surgery and Dermatology offers breast augmentation among its services. For a full list of services, please visit our Locations page.
---
Contact Us
"*" indicates required fields