The nasojugal groove, also known as the tear trough, is the inner portion of the lower eyelid. It's an area most people give very little thought for most of their lives. However, as we age, there is a natural decrease in fatty tissue under the lower eyelid and upper cheek area. The skin and muscles of the lower lid slowly lose elasticity and no longer remain tightly secured in place. These changes can eventually cause the tear trough depression to become puffy or bulge away from the face. When the tissue under the eye pushes outward, "bags" begin to develop. The unevenness of the area can become shadowy, which in turn will look like "dark circles" under the eyes. No matter how much makeup is worn, the face can still look exhausted and unhealthy. The Naderi Center is pleased to offer tear trough rejuvenation with a non-invasive, yet effective treatment option to patients in Chevy Chase, MD, and Reston, VA. Tear trough correction is popular with both men and women who want to boost their confidence and take years off their face.

How Does a Tear Trough Correction Treatment Work?
Unsightly tear troughs can be corrected without surgery. Using tiny injections of Belotero or Restylane, patients can see a dramatic improvement in moderately deep tear troughs. Both injections are types of dermal fillers, comprised of hyaluronic acid. The hyaluronic expands the tissue of the tear trough, making it look smoother and healthier. With the area no longer sunken, the dark 'circles' are eliminated.
The results from tear trough correction can be seen immediately. Hyaluronic acid injections will dramatically smooth the under eye area, filling the tear troughs. The benefits from non-invasive tear trough correction will last eight to 12 months, sometimes longer. When the results begin to fade, repeat injections will be necessary to maintain healthy, youthful-looking eyes.
Benefits of Tear Trough Correction
One of the greatest benefits of correcting tear troughs through fillers is the instant results. In most cases, patients can enjoy dramatic improvement of under eye hollows with just one treatment. However, some patients may require multiple staged treatments to achieve optimal results. Regardless, patients will notice instant results, which will likely improve over time.

Tear trough correction with fillers does not require any surgery or long recovery periods. It is actually known as a "lunchtime procedure" and can be performed during the day without disrupting a patient's everyday schedule. As long as a patient avoids strenuous activity in the first 24 hours after the procedure, they can undergo tear trough correction on their lunch break.
Although this procedure does not involve needles and surgery, it offers long-lasting results. Patients can enjoy a smoother look under the eyes for up to a year before another treatment is needed.
The Ideal Candidate for Tear Trough Correction
While deep tear troughs normally appear in the 30s or 40s, patients as young as 20 may begin to notice under eye hollowness. The ideal candidate for tear trough correction is anyone who understands the procedure, is in generally good health, and hasrealistic expectations for their results.
What to Expect During a Tear Trough Consultation
At the consultation appointment, Dr. Naderi or Dr. Kulak will review the patient's goals, perform a skin evaluation, and go over the patient's health history to determine if the tear trough correction procedure is the right treatment for the individual's needs.
The initial appointment at the Naderi Center will provide an opportunity for patients to get to know the surgeon and staff. If it is decided that Tear Trough correction will provide the intended results, our surgeons will devel.
Tear Trough Correction Procedure
Non-invasive tear trough correction is performed in the Naderi Center's state-of-the-art office. The injections will take 30 minutes or less to perform. The procedure is not considered largely painful; most people report feeling a pinch or some pressure during the injections. A local anesthetic will be utilized to increase patient comfort. The surgeon will then administer small amounts of hyaluronic acid in the tear troughs. This will continue until the desired correction is achieved.
Recovering From Tear Trough Correction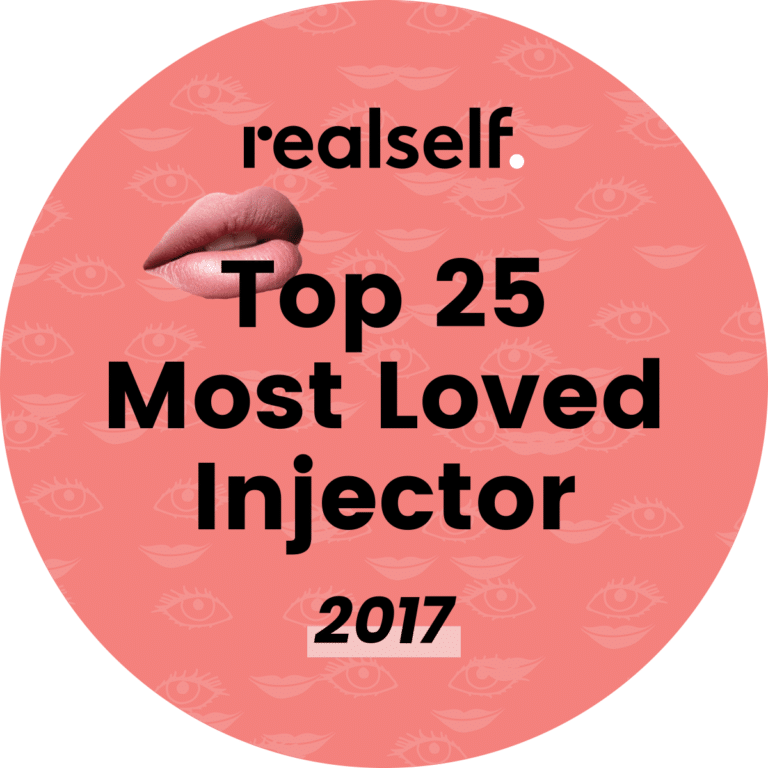 For the first four hours after the injections, patients are encouraged to remain upright, to allow the filler to settle. Strenuous activity and exercise should be postponed for 24 hours. Makeup can be worn the following day. It is important that patients avoid tanning, chemical peels, or facials of any kind for five to seven days, as the tissues will be extremely sensitive.
Patients can expect mild bruising and redness at the injection site over the first several days after their injections. Cold compresses can be used to keep down any swelling. These side effects will dissipate over the first week.
Potential Risks From Noninvasive Tear Trough Correction
Hyaluronic acid fillers such as Belotero and Restylane are considered safe and effective in the rejuvenation of the tear troughs. As the blood vessels below the eyes are more fragile than those elsewhere on the body, they should be treated carefully.
Tear trough correction should only be performed by a cosmetic surgeon with experience and demonstrated skill. Although complications are rare, they can occur. This may include infection, scarring, asymmetry of the eyes, embolism, and blindness.
Dr. Naderi is very professional, I liked the results of my tear trough injection, they were very natural which is what I wanted. I'll be coming there more often for lips and cheeks. Highly recommended!!
Frequently Asked Questions about Tear Trough Correction
What exactly is a tear trough?
The depressions between the lower eyelid and upper cheek are known as tear troughs. They extend outwards and downwards towards the cheek. Aging causes tear troughs to become deeper, longer, and more shadowed. While this is a normal part of aging, it can make a patient appear tired and worn rather than young and vibrant.
Are tear troughs caused by tears?
Contrary to popular belief, tear troughs are not caused by tears. They are the result of the face's natural anatomy and the way layers of tissue and bone interact with one another.
Who is a good candidate for tear trough correction?
Any man or woman experiencing dark circles or 'bags' under their eyes may make an excellent candidate for tear trough correction.
Why is hyaluronic acid or HA used?
HA is a substance that is naturally found in the body. It binds with the skin cells to add volume and stimulates the body's production of collagen. HA allows for immediate results that will continue to improve over time.
How long does the tear trough correction take?
For tear trough correction, patients are typically out of the office in 30 minutes or less.
Does tear trough correction hurt?
Most patients experience minimal to no pain during tear trough correction. A numbing medicine may be used to reduce discomfort.
How long is the recovery period, after tear trough correction?
Little downtime is required after tear trough correction; patients are back to their normal routine in 24 hours.
How long will my tear trough results last?
Patients can expect their results to last from six to twelve month, even longer. When the results fade, a repeat treatment with Belotero or Restylane will maintain a healthy-looking tear trough.
Will the results look natural?
The Naderi Center takes great pride in delivering natural-looking results to our patients. Since the fillers used are made from a naturally-occurring substance in the human body, patients won't have to worry about looking fake or overdone.
Can the results be reversed?
After receiving fillers for their under eye hollowness, patients are usually thrilled with the results. However, in the event a patient is dissatisfied for any reason, the results can be easily dissolved.
When is surgery a better option?
Sometimes, patients can enjoy greater benefits from undergoing a surgical procedure. This is particularly true if their lower eyelids or lower eyelid muscles have too much laxity or looseness or they have larger lower eyelid bags or festoons, which are pouches of tissue in the cheek area right below the lower eyelid.
Why Choose The Naderi Center for Tear Trough Correction
Dr. Naderi and Dr. Kulak understand that bags and hollows under your eyes can leave you looking tired. That's why they are committed to designing a customized treatment plan that can resolve these issues without the need for surgery. You can count on them to answer your questions and provide you with the high-quality care you deserve. They are strong advocates of non-invasive cosmetic treatments whenever possible, and look forward to meeting you.
Schedule a Tear Trough Correction Consultation at The Naderi Center
Are you concerned about your under eye hollowness and hoping to look younger and more refreshed? If so, schedule a tear trough correction consultation at the Naderi Center in Chevy Chase, Maryland or Northern Virginia. Our tear trough correction can bring back the sparkle and shine in your eyes. Call our Chevy Chase, Maryland office at 301-222-2020; or Reston, Virginia office at 703-481-0002.