Unfortunately, flabby, lax tissue along the upper arm is an all too common problem. Often referred to as 'bingo wings' or 'bat wings', this loose skin can affect any age, gender, or body type. Hereditary conditions, along with the normal aging process, can contribute to shapeless upper arms. Additionally, patients who have experienced a dramatic weight loss, like is seen with a gastric bypass, are particularly prone to this drooping skin.
Large upper arms can result in self-consciousness and even embarrassment. Since clothing may not fit well, some shirt sleeves may be too tight, while sleeveless attire and swimwear seem unattractive. Both women and men can struggle with stubborn fatty deposits along the upper arms, which even with proper diet and regular exercise may be impossible to improve. In this case, a brachioplasty will be necessary to restore youthful, trim arms.
Brachioplasty Expected Results
Restore a pleasant contour to the under portion of the upper arm
Eliminate localized deposits of fat and sagging tissue that are causing a "bat-wing" appearance to arms
Improve arm tone to achieve a look that can not be done with diet and exercise alone
---
Procedure Snapshot
PROCEDURE SUMMARY
What is the pain level after the surgery?
Mild to moderate
Anesthesia type (if applicable)
General anesthesia
Duration of Surgery
2 to 3 hours
Where will scaring for this procedure be?
Running along the under arm, from the armpit to the elbow
Timeframe to begin showing final results
2 to 3 weeks
When is the patient able to return to regular activities?
1 week
When is the patient able to resume exercise?
2-3 weeks
Cost of surgeon's fee
$4,000 – $6,000
---
---
Ideal Candidate for an Arm Lift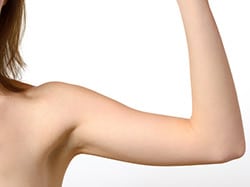 Good candidate for a Arm Lift:
Has hanging, loose, lax and excess skin along the upper arm
Has achieved an ideal and stable weight and is not significantly overweight
Has no medical conditions that will hinder surgical healing
Is a Nonsmoker
Is a healthy individuals without medical conditions that impair healing or increase risk of surgery
---
Arm Lift Surgical Technique
The arm lift procedure will be performed under general anesthesia at an accredited surgical center and you will be able to go home the same day. The arm lift procedure will take anywhere from two to hours to perform.
Steps to Performing an Arm Lift
STEP 1: An elliptical incision, running along the under arm, from the armpit to the elbow is made. The level of correction and individual patient's anatomy will determine the exact pattern and incision length.
STEP 2: Unwanted fatty tissue and skin is removed. Liposuction may be used to nicely contour the upper arm.
STEP 3: Remaining tissues is pulled taut and upper arm is sculpted to a desired contour.
STEP 4: Sutures are placed with a plastics closure to ensure proper healing.
STEP 5: Compression garment is applied to ensure proper healing and minimize swelling.
---
Cost
There are a variety of factors that determine the overall cost of your Arm Lift Procedure.
For more detailed pricing information visit here.
Surgeons fee: $4,000 – $6,000
Anesthesia Fee – depends on length of procedure
Hospital and Surgical Facility Fees: depends on length of procedure
Post-Surgery Garments: included with surgeon's fee at The Naderi Center
Pre-surgical Medical Clearance and lab tests: usually covered by medical insurance
Medication Costs: usually covered by medical insurance
Follow-up Visits: Included with surgeon's fee at The Naderi Center
---
Preparation for an Arm Lift
At The Naderi Center we believe the success of any cosmetic procedure can be improved with proper patient preparation. We go above and beyond to make sure that our patients are medically, emotionally and physically ready for surgery.
Please review our detailed instructions on Arm Lift Preparation in link below.
---
Recovery after an Arm Lift
The recovery from a Brachioplasty will take from one to two weeks. Patients generally feel well enough to return to work in seven to fourteen days, sometimes sooner. At this time, light activities can be resumed, although heavy lifting and vigorous exercise should be postponed for three to four weeks.
Bruising and swelling are common along the upper arm during the initial Brachioplasty healing period. To avoid unwanted swelling or fluid accumulation, Dr. Anderson recommends a compression garment be worn for two to four weeks. In some cases, drain tubes may also be necessary. Mild to moderate discomfort is not uncommon, so Dr. Anderson will prescribe pain medications for a comfortable healing period.
Are the result of an arm lift permanent?
As long as you maintain a stable weight the result of your arm lift will be permanent. As you age the skin will increase in laxity and the original firmness of the arms after your Brachioplasty will diminish slightly. However, with a stable weight and exercise the arm lift results are permanent.
---
Risk and Safety of Arm Lift Surgery
The brachioplasty is considered a safe and effective procedure when performed by an experienced plastic surgeon whom routinely performs this procedure.
Potential risks from an arm lift include
Risk of General Anesthesia
Unexpected bleeding
Poor scar healing
Infection
Nerve Injury
Fluid accumulation also known as a seroma
Numbness with skin sensation
Need for revision arm lift surgery
---
Photo Gallery preview
---
Arm Lift Specialist, Dr. Erica Anderson
Prior to scheduling a arm lift, a one-on-one consultation will be scheduled with Dr. Anderson. At this time, she will review the patient's medical history and current medications, as well as explain her techniques for the arm lift procedure. Dr. Anderson will show before/after photographs of her recent brachioplasty patients to create a full picture of the potential results. Finally, she will go over the benefits and limitations of the brachioplasty, as it applies to the individual patient, and the potential surgical risks. If the arm lift is determined to be the right procedure for achieving desired results, Dr. Anderson will create a personalized treatment plan.
---
Schedule a Consultation
If you are interested in the potential benefits of a brachioplasty, schedule your consultation with Dr. Anderson at the Naderi Center. Consultations are available at either the Reston, Virginia office (703.481.0002) or the Chevy Chase, Maryland office (301.222.2020). Please contact a patient coordinator for more information. For those coming from outside of the immediate area, please inquire about a virtual consultation with Dr. Anderson.
---
Questions to Ask



What is a brachioplasty?

The brachioplasty, sometimes referred to as an arm lift, is a surgical procedure designed to sculpt the upper arm by eliminating lax skin and excess fatty tissue.




How long will the results from my brachioplasty last?

The results from a brachioplasty are permanent. However, patients are advised to continue with a healthy lifestyle and consistent exercise routine, in order to ensure long lasting benefits.




When can I return to work after my brachioplasty at the Naderi Center?

Most brachioplasty patients feel well enough to return to work in one to two weeks after surgery.




Will my arm lift leave scars?

Yes, the brachioplasty procedure will result in a visible scar along the incision line from the elbow to the armpit. The scar can be concealed under clothing, and over time, will fade slightly.




Is liposuction a valid alternative to the brachioplasty procedure?

Liposuction effectively removes fatty deposits, however the technique does not address lax, stretched skin. Dr. Anderson's brachioplasty removes unwanted fatty tissue as well as the excess skin, creating a sculpted, slender upper arm that liposuction alone cannot achieve.
Contact Us