Doctor Shervin Naderi, MD, FACS a Double Board Certified Facial Plastic & Reconstructive Surgeon welcomes you to his practice at the Naderi Center for Cosmetic Surgery & Skin Care, offering two office locations to serve patients better within the area of Washington D.C. One office is located within the Barlow Building in Chevy Chase, Maryland, in the zip code of 20805. The other office is located within the Herndon/Reston area in the northern part of Virginia with the zip code of 20170.
These locations serve many local patients from not only Virginia, Maryland, and Washington, DC, but also the surrounding areas of West Virginia, Philadelphia, and Pennsylvania
Patients from throughout the United States and Across the Globe
Many of the patients that Dr. Naderi sees come from a variety of distant locales to consult his knowledge of cosmetic surgery, from other states such as California, Florida, Oklahoma, Georgia, North and South Carolina, Delaware, Michigan, Chicago, and even Alaska. Others fly in from other countries such as far away as Canada, England, Spain, Russia and even Iran.
Board Certified Plastic Surgeon
Dr. Shervin Naderi is a Board Certified Facial Plastic Surgeon that has significant experience in cosmetic and reconstructive Plastic Surgery of both the face and neck areas with particular emphasis on the nose. He is completely fellowship-trained and exclusively a face specialist. He is a clinical instructor with courses in teaching not only other dermatologists and doctors the fine art of how to inject Botox/Dysport and Dermal Fillers properly, but also teaches for Allergan and Medicis. In addition to being a surgeon and educator, he is also a published author and a Board Examiner for the American Board of Facial Plastic & Reconstructive Surgery, which is responsible for implementing the rigorous criteria by which other Plastic Surgeons are tested before receiving their Board Certification.
Take a Tour our Office. Click here
Click here for directions to our Virginia office.
Click here for directions to our Maryland office.
Dr. Naderi's Background
Having grown up in Newton, Massachusetts, Dr. Naderi attended Boston University, where he acquired his Bachelors & Masters Degrees. He went on to receive a Medical Degree (M.D.) from the Medical College of Pennsylvania – Hahnemann University School of Medicine (now known as Drexel University College of Medicine) in Philadelphia, Pennsylvania. Afterward, he went through an exhausting General Surgery Internship before completing a dynamic surgical residency in the field of Head & Neck Surgery, an area that is both esteemed and coveted. Dr. Naderi has completed over 4,000 cases as a primary surgeon by the time he had finished his chief year.
Once he had been completely trained and Board Certified to perform plastic surgery of the face and neck, he was also certified by both the American Board of Medical Specialties (ABMS) & the American Board of Otolaryngology. For Dr. Naderi, that was only the beginning. He then decided to train further in an accredited and competitive Fellowship in Facial Plastic & Reconstructive Surgery with Dr. Stephen W. Perkins, who is one of the top cosmetic facial plastic surgeons in the world. Dr. Perkins is also an author and a teacher that is recognized all over the world, serving as a past president of the American Academy of Facial Plastic & Reconstructive Surgery (AAFPRS). At the same time as he pursued his Fellowship, Dr. Naderi had also opened his own practice, which was concerned with facial plastic surgery of the nose (rhinoplasty) and surgery to combat the effects of aging.
A Real Surgery Specialist
Dr. Naderi's distinguished practices located in the Washington DC area focus on the following forms of Facial Plastic Surgery: Rhinoplasty, Revision Rhinoplasty, and Facial Rejuvenation using Botox and Dermal Fillers.
Dr. Naderi is a Specialist Cosmetic Surgeon, one that is Double Board Certified by the American Board of Facial Plastic & Reconstructive Surgery (ABFPRS) and the American Board of Otolaryngology (ABO) / American Board of Medical Specialties (ABMS). Both of these institutions are nationally and internationally recognized by the medical community, as opposed to several other boards that were created of late which grant certification to cosmetic and aesthetic medical practitioners without the required years of committed surgical preparation. Any Plastic Surgeon and certainly Facial Plastic Surgeon that you choose to be seen by should have had no less than six years of rigorous surgical training and be Board Certified by either The American Board of Plastic Surgery or the American Board of Facial Plastic & Reconstructive Surgery, if not both.
Dr. Naderi upholds a particular significance toward mentoring other young surgeons in the form of writing chapters in well-known surgical textbooks for head and neck plastics on a variety of subjects such as rhinoplasty (revisions in particular) to surgical techniques to prevent the appearance of aging (facelift). Dr. Naderi has also authored a number of scientific articles and given presentations on his work regarding lower eyelid surgery (fat transposition blepharoplasty) at the annual fall meeting of the AAFPRS in Los Angeles, California. Furthermore, Dr. Naderi frequently gives talks and Grand Round lectures at many of the most important medical centers, particularly to the surgical residents at the George Washington University School of Medicine. He is a clinical assistant professor of Facial Plastic Surgery at the Indiana University School of Medicine Department of Head & Neck Surgery. There he teaches surgical residents in both the traditional forms of Rhinoplasty and facial plastic surgery in addition to the newer techniques currently being developed, and the use of various lasers and peels in the field of plastic surgery to enhance desired results. Additionally, he is one of the usual lecturers for Aesthetic Skin Care students in Northern Virginia.
A Member of Many Prominent and Esteemed Surgical Associations
Dr. Naderi is both active and an officer within the American Academy of Facial Plastic & Reconstructive Surgery (AAFPRS), a Fellow of the prestigious American College of Surgeons (FACS), and a Diplomat of the American Board of Otolaryngology Head & Neck Surgery and the American Board of Facial Plastic & Reconstructive Surgery (ABFPRS). Dr. Naderi also serves the ABFPRS as an Oral Board Examiner during their taxing yearly diplomate examination in Washington, D.C.
He is a member of many other medical associations such as the American Medical Association, the Triologic Society, the Iranian Medical Society of Greater Washington, D.C., the Virginia Medical Society, the American Academy of Otolaryngology Head & Neck Surgery, and the Iranian-American Medical Association.
Besides having two bustling Facial Plastic practices in Chevy Chase Maryland, and in Herndon, Virginia (Northern Virginia), Dr. Naderi often writes articles about plastic surgery for the local media in newspapers, journals and magazines. The topics of these articles typically focus on Nasal Surgery and Facial Rejuvenation; they are aimed at the public as well as the local medical community. In the midst of his hectic agenda, Dr. Naderi also takes a moment to answer questions and respond to comments from patients all over the world on his blog, a featured part of the MakeMeHeal.com website. Previously a Medi-spa director, he imparts his experience to help prepare skin-care professionals and Master Aestheticians for the field at Virginia's most highly regarded Aesthetics and Beauty College, Yvonne de Vilar.
Our Two Locations
Dr. Naderi oversees two very eventful Facial Cosmetic Surgery practices. The first is located in Chevy Chase, Maryland and the second is in Fairfax County, Northern Virginia, only minutes away from Washington D.C. He holds the honor of being the very first Facial Plastic Surgeon within all of Loudoun County (which is the fastest growing county in the United States according to a 2006 Census report). Dr. Naderi is an attentive and all-inclusive cosmetic surgeon that has experience that is simply not found elsewhere. His proficiency is without peer and because of this, he knows how to treat each patient he sees as an individual in order to modify their treatment so that they receive the best outcome possible.
An Expert Surgeon You Can Trust
Whether it's quick and easy Botox or Restylane injections or other fillers to reduce the appearance of wrinkles, or surgical procedures that are more complicated such as rhinoplasty or facelifts, you can relax knowing that you and the people you love are in the care of an expert that truly cares for his patients. Regardless of the cosmetic treatment needed, from simple tucks, chemical peels and procedures that let you recover over the weekend, or drastic surgical methods to reduce signs of aging and skin damage like laser resurfacing or mini cheek lifts, Dr. Naderi will be able to accommodate you and have you looking your best.
Dr. Naderi is well known by his patients and his fellow doctors for attaining natural-looking results with his cosmetic procedures. Surgical signs are virtually undetectable when done by him, by utilizing concealed and well-placed incisions that allow for rapid healing and obfuscate the more obvious signs that one has had a cosmetic procedure. You will have to experience it for yourself in order to believe how youthful and well rested you'll look after your recovery, with only minimal pain and discomfort.
Being as experienced as he is, Dr. Naderi finds himself regularly consulted by other doctors for advice and by manufacturers to assess their latest products, as he is considered to be on the cutting edge of his field. Dr. Naderi always looks at each item that he is presented with for his consideration in a scientific and impartial manner. He is not one to make quick decisions or to jump on the same train that everyone else is, be it a procedure or device that is being touted as the next great thing. Some doctors will sell products without due consideration, perform procedures such as thread-lifts or contour lifts or use insufficiently tested machinery such as lasers due to the heavy marketing or media saturation surrounding them. Dr. Naderi simply refuses to place his patients at risk for harm in any way and only performs surgical procedures that are proven time and again to be effective and safe. Procedures such as the aforementioned thread-lifts or contour lifts are not procedures he will perform because, as well as many other plastic surgeons that he is acquainted with, are not truly convinced of their effectiveness when compared with the many unknown risks that are associated with them.
Rhinoplasty Surgical Procedures
Rhinoplasty has become a fundamental part of Dr. Naderi's practice, whereupon he continually works towards the desired aesthetic outcome that his patients desire but also looks to ensure that the nose continues to function at its maximum capacity in regards to breathing properly and despite the humidification of the air. Dr. Naderi was the first and continues to be one of only a few plastic surgeons in Virginia as well as Maryland that exclusively only works in the specialty of Facial Plastic Surgery. He is amongst a small percentage of surgeons that have undergone intensive and highly specific instruction to receive a strong background in rhinoplasty, a topic to which he has written and been published on countless occasions.
As he is exclusively a Facial Plastic Surgeon, but wishes to accommodate the needs of his patients, Dr. Naderi refers those desiring additional plastic surgery, such as breast augmentation or body contouring, to the best Board Certified Plastic Surgeons in the areas of Chevy Chase Maryland, Northern Virginia, and Washington D.C. that he is acquainted with. These include, naming a few, Dr. David Berman, Dr. Michael Brown, Dr. Phillip Chang, Dr. Andrew Goldberg, Dr. Christopher Hess, Dr. Marwan Khalifeh, Dr. Peter Klainer, Dr. Mitchel Krieger, Dr. Talal Munasifi, Dr. Behzad Parva, Dr. Amer Saba, and Dr. Navin Singh. These doctors are at the top of their respective areas and just as experienced as Dr. Naderi is, hence his trust in their abilities.
Dr. Naderi also prefers to give his patients as many options as possible and offers a multitude of beauty treatment and other services beyond facial plastic surgery, all of which are conducted by licensed master aestheticians. These treatments include chemical peels, facials, IPL photorejuvenation, and microdermabrasion, along with many other forms of aesthetic skin care that is medically supervised. Our facilities at this time are focused only on the face and do not offer laser hair removal or other types of body treatments.
It is Dr. Naderi's belief that it is crucial for his patients to not only be completely informed but to also feel totally comfortable with their decision in choosing to have elective plastic surgery as well as the surgeon that they elect to perform it. In the process of evaluating the needs of each patient, Dr. Naderi patiently explains in detail the procedure(s) that you might be taking into consideration, including the expected benefits, possible risks and a realistic expectation of the outcome of the surgery. This is all to ensure that you are carefully given the information you need to make an informed decision. Available alternatives are also discussed, even if Dr. Naderi has to refer the patient to other plastic surgeons or dermatologists elsewhere that are capable of performing these alternative treatments. It is common for Dr. Naderi to talk his patients out of undergoing surgical procedures that he feels are unnecessary and risky, especially when he sees that having that surgery will not in their best interests.
Dr. Naderi has been a proponent of using the latest cutting-edge technology that he deems as safe for his patients. As such, for many years now he has used the United Imaging Marketwise digital computer imaging (morphing) software, in order to demonstrate all of the benefits and limitations of any surgical procedure effectivelybefore any surgery has begun. This allows Dr. Naderi to discuss the goals of the patient and any areas of concern that he may have long before anyone goes into the operating room, by showing the patient a clear image of what they could look like after the surgery is performed. With this imaging technology, patients can have expectations that are more reasonable and be more satisfied with their results.
It is very important that you decide on a plastic surgeon that has had the best possible education, instruction, and experience there is. When going to a plastic surgeon for anything involving your face and neck, your plastic surgeon should have had six years of surgical training as a minimum, focused solely on the anatomy and surgical procedures of the head, face, and neck. Dr. Naderi has undergone an extensive education to ensure that has the experience and qualifications necessary to offer with confidence facial cosmetic procedures that are effective as well as safe.
Additionally, few surgeons have the same understanding of aesthetics, or the functional understanding of the nose and nasal surgery that Dr. Naderi has. You will see for yourself during your surgical consultation, as you become familiar with his integrity, knowledge, and overall compassion for his patients. He is a truly concerned, sincere, and compassionate doctor that cares only for the safety of his patients. Happy patients are satisfied patients, and their satisfaction is what compels Dr. Naderi into action every day.
Education
Bachelors degree in psychology with a minor in chemistry from Boston University.
Masters degree in medical sciences from Boston University School of Medicine.
Graduated from the Medical College of Pennsylvania – Hahnemann University School of Medicine (MCP-HU) in Philadelphia (currently known as Drexel University).
One-year general surgery internship at Indiana University.
Four-year, highly-sought-after and competitive residency in Head & Neck Surgery at Indiana University School of Medicine dealing with medical diseases and surgical resection of cancers, and reconstruction of facial defects following cancer or trauma; congenital disorders and deformities of the face, head and neck region.
Prestigious one-year fellowship in facial plastics and reconstructive surgery accredited by the American Academy of Facial Plastic & Reconstructive Surgery (www.AAFPRS.org) at Meridian Plastic Surgery Center under the direction of world renown surgeon, Dr. Stephen Perkins, past president of the American Academy of Facial Plastic & Reconstructive Surgery.
Professional Affiliations/Accomplishments
Board Certified by the American Board of Facial Plastic & Reconstructive Surgery (ABFPRS)
Board-certified by the American Board of Otolaryngology (ABO) and the American Board of Medical Specialties (ABMS).
Fellow of the American College of Surgeons (FACS).
Active member and officer of the American Academy of Facial Plastic & Reconstructive Surgery (AAFPRS).
Clinical associate professor at Indiana University School of Medicine where he instructs residents in modern techniques of facial plastic surgery.
Guest lecturer at George Washington University School of Medicine Department of Surgery.
Author of multiple chapters in major facial plastic surgery and head and neck surgery textbooks on nose surgery (revision rhinoplasty) and facelift surgery (rhytidectomy) techniques.
Author of multiple medical papers, the most recent of which was on new techniques in lower eyelid (blepharoplasty) surgery, which he presented at the AAFPRS's annual meeting in Los Angeles, California.
Board Examiner for American Board of Facial Plastic & Reconstructive Surgery
Awards
The Naderi Center is awarded the Spectrum Award for Excellence in Customer Service by City Beat News
---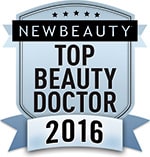 Dr. Naderi is recognized as Top Beauty Doctor 2016.
---
Dr. Naderi is recognized as Expert Injector 2016.
---
Dr. Naderi is a recipient of the 2015 RealSelf 500 Award.
---
Dr. Naderi was recognized by patients for having the shortest wait-time on Vitals On-Time Doctor 2014.
---
Dr. Naderi was chosen as the Most Compassionate Doctor of 2011 by his patients.
---
Dr. Naderi was chosen as an Elite Cosmetic Surgeon in DC by Thumbtack
---
Dr. Naderi was recently voted #1 among Top Rated Cosmetic Surgeons in Washington, DC.
---
Dr. Naderi was recently voted an Award Winning Cosmetic Surgeon for 2011.
---
Dr. Naderi was a recent recipient of the Award Winning Cosmetic Surgeons award.
---
Dr. Naderi was listed in the Global Directory of WHO'S WHO.
---
Dr. Naderi was recognized by the National Institute of Cosmetic And Plastic Surgery Research as Outstanding Cosmetic Surgeon.
---
Medical Publications
Book Chapters
Our Personal Approach and Philosophy
Stephen W. Perkins and Shervin NaderiIn: Revision Rhinoplasty.
Daniel G. Becker, Stephen S. Park.
Pages: 223-229
---
Secondary Rhinoplasty
Stephen W. Perkins and Shervin NaderiIn: Head and Neck Surgery – Otolaryngology.
Byron J. Bailey, Jonas T. Johnson, Shawn D. Newlands.
Pages: 2595-2610
---
Patients come to see Dr. Naderi from not only the surrounding areas of Maryland, Virginia, and Washington D.C. but from all over the country and the world. They come because they can entrust the care of their faces and those of the people they care for to Dr. Naderi, because he has the skills and the expertise combined with ethics and sincerity that is needed.
Patients have plenty of available choices today especially in the Washington DC area.  The ones who visit The Naderi Center have done their research and are looking for a safe and experienced cosmetic surgeon.  They do not come to Dr. Naderi looking for bargains or "cheap plastic surgery procedures."