Over the years, the body's production of collagen and elastin will start to diminish, causing the skin to lose its youthful shape and structure. Tissues can start to sag and wrinkle, which in turn, quickly adds years onto the appearance. Aside from the normal aging process, decades of sun damage, the harsh environment, smoking, stress, illness, acne scars, weight fluctuations, and genetics only further exacerbate these skin changes.
Traditionally, ablative laser and chemical treatments have been used to improve skin's texture and tone, although these techniques can provide significant improvements, often they are harsh, and can lead to excessive down time and side-effects such as post inflammatory hyperpigmentation (PIH). Luckily, at The Naderi Center, we offer patients microneedling, a revolutionary option to restore beautiful, youthful skin with much lower risk and very little downtime.
Microneedling, also referred to as Percutaneous Induction Needling (PIN), is a cutting-edge technique designed to trigger the skin's own healing process. Creating thousands of micro injuries in the tissues encourage the production of vital growth factors, including collagen and elastin, which restore a youthful appearance. The minimally invasive PIN procedure uses a small hand-piece, uniquely designed to deliver multiple, tiny wounds to the target tissue. As the body reacts to these micro-wounds, the natural healing properties take over, kick-starting collagen and elastin production. Over the next several months, the skin's repair system will plump tissues, smoothing fine lines and wrinkles and creating a firmer, tauter texture. Years can be erased from the appearance, without the expense or potential side-effects from a more invasive, ablative laser or chemical peel procedure.
Expected Results from Microneedling
Smoothen fine lines and wrinkles and lines
Reduce acne scars and surgical scars
Shrink large pores
Improve skin texture, tone, and color
Reduce appearance of stretch marks
Improve signs of sun damage and hyperpigmentation
---
Ideal Candidates for Microneedling
The great news about microneedling is that it is safe for most healthy adults who would like to improve the tone, texture, and appearance of the skin. Good candidates will be willing to commit to a series of treatments, and should have realistic expectations.
Good Candidates for Microneedling
Have sun damage resulting in hyperpigmentation
Have acne scarring
Have scars and stretch marks
Have uneven skin texture
Have increased skin laxity
Want to improve skin tone, color, and texture but are not candidates for laser or deep chemical peels
---
Microneedling Technique
Steps to Performing Microneedling
STEP 1: You will arrive 30 – 45 minutes prior to your appointment time for the application of topical numbing cream.
STEP 2: If PRP is to be performed, a small amount of your blood will be removed from your arm and used to extract the PRP solution.
STEP 3: Your face will be cleansed and prepped for the microneedling.
STEP 4. The microneedling pen containing tiny needles will glide over your skin. Your provider will be more aggressive with your treatment plan in areas that are most problematic.
STEP 5: The PRP solution will be applied to your skin and microneedled into the skin.
STEP 6: You will not wash your face until the next morning. At The Naderi Center, every patient is provided with a post-microneedling recovery kit that you will use for the next 5 – 7 days.
Between three and six micro-needling "PIN" treatment sessions are required for optimal long term results, although, the exact number will depend on the individual patient. Those with more severe sun damage, severe wrinkles, or deep scarring will require the greatest number of sessions. Patients will need to space treatments out approximately four to six weeks apart, giving tissues time to heal between sessions.
At The Naderi Center, we use the Collagen PIN, it truly is one of the best available microneedling devices on the market. The Collagen PIN's strong power and depth of penetration allows me to provide my patients with a more aggressive microneedling treatment that results in significant skin texture and tone improvement.

– Dr. Alexandra Snodgrass, Board Certified Dermatologist
PRP and Microneedling
PRP, or plasma-rich-platelets, is a component of blood that is rich in growth factors and cytokines which many research studies show helps aid in healing and recovery. PRP can enhance skin renewal and has been shown to be beneficial when used for acne scar improvement.
---
Cost of Microneedling
Microneedling (no PRP): $600
Microneedling w/ PRP: $1000 (Physician Price)
Microneedling w/PRP: $800 (Master Aesthetician Price)
---
Preparation for Microneedling
The following are guidelines will help you prepare for a successful microneedling treatment and great post treatment results.
If you have active acne in the area of treatment, please call to reschedule.
You may be placed on a medication called Zovirax three days before the treatment to prevent an outbreak of cold sores. You will continue this medication as prescribed on your medication bottle.
Please arrive with fully cleansed skin: no makeup, moisturizers, perfume, cologne or any other products on the skin.
Avoid Retin-A, retinoids, topical antibiotics, exfoliants, hydroquinone and benzyl peroxide 3 days prior to treatment.
Topical numbing cream will be applied pre-treatment. Notify us of any medication allergies, PREGNANCY OR NURSING.
No sun exposure, tanning beds or self-tanning products for three days prior to the procedure. Procedure will be canceled if you are sunburned.
None of the following can be used or performed two weeks prior to treatment: chemical peels, waxing, and chemical depilatories.
Do not shave the area to be treated the day of the procedure.
Bring a hat and/or scarf on the day of your procedure to wear after your treatment.
Cick here for Pre and Post-Treatment Care Instructions.
---
Recovery after Microneedling
After the treatment, your skin will be red and flushed similar to a moderate sunburn. The redness should be greatly reduced within 24-48 hours. During the healing process you may experience swelling, burning, itching, bruising, soreness, skin tightness, flakiness, sensitivity, and dryness. It may take up to 5-7 days for the skin to heal depending on the extensiveness of your treatment.
Day 1
It is normal and expected for your skin to feel red, sun-burnt, tight, dry, swollen, and sensitive to the touch. You may also experience some stinging.
Drink plenty of water, avoid make-up, and use only the products in your post-treatment kit. You may reapply the kit moisturizer repeatedly throughout the day.
Stay away from exfoliants or glycolic acids that are present in other cleaners as these can make your skin very dry after the procedure.
Use Tylenol for pain but avoid Motrin and Ibuprofen as these may decrease the wanted effects of inflammation after the procedure
Avoid the sun and apply sunscreen every hour while outdoors.
If PRP was included in your treatment, do not wash off the PRP solution until the morning after your treatment.
Day 2
Skin feels dry, tight, and red. Use your post-treatment cleanser and cream.
Use your post-treatment care kit as instructed. Do not use any of your own products.
Day 3
Pinkish skin. Less swelling.
Mineral make-up is okay to start using. Continue with post-treatment care kit.
Your skin may start to flake or peel. Do not pick or exfoliate the skin.
Day 4 – 6
Minimal swelling, minimal bruising, may have some flaking.
May start to use your own mild cleanser and moisturizers. Continue with sunscreen use. You may resume exercise.
Day 7
Starting to look great! Resume regular products for skin, including vitamin A products.
Continue to avoid sun exposure.
There may be areas that are darker that flake off after a week.
Day 8 – 28
Avoid direct sun exposure. Use a minimum of SPF 30 while outdoors and reapply every 1- 1½ hours.
For best results and efficacy, we recommend a series of 3-5 treatments at 4-6 week intervals and then treatments for maintenance at least once a year
Many patients will begin to notice their initial results only a few days after a microneedling treatment. After 10-14 days, as the body's natural production of collagen and elastin increase, the skin will become plumper, smoother, and tighter. Over the following several months, new tissue will form, bringing healthy cells to the surface of the skin, further improving the appearance.
Click here for Pre and Post-Treatment Care Instructions.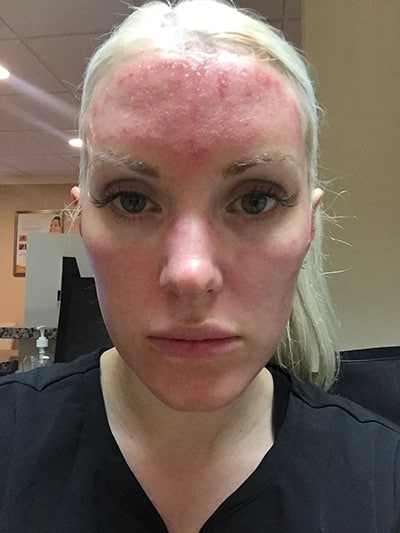 Actual Patient Results of Microneedling Treatment, Immediately after treatment, day after treatment and one week after treatment.
---
Risks, Safety, and Potential Complications after Microneedling
Microneedling can provide dramatic results for almost anyone looking for a safe, minimally invasive method to rejuvenate their appearance. As the PIN technique is gentle on the skin, the method is safe for all ages, skin types, and ethnicities. An ideal candidate will be in overall good health and understand the microneedling process and its limitations. Patients should have reasonable expectations for their microneedling results. Those with an active skin infection will have to postpone their PIN treatment. One single session of micro needling does not give the same results as one session of aggressive CO2 laser or a deep chemical peel, but 3-6 sessions do provide dramatic results with much lower risk and downtime.
Patients who are undergoing radiation treatment or have an active skin infection should not undergo the treatment. Additionally, those with a history of poor wound healing, or people who have used Accutane acne treatments within the last 3 months, are not good candidates. It's important to be honest with your doctor when determining candidacy, so he or she can ensure you choose the procedure that is right for you, and above all, a treatment that is safe for your needs.
---
Microneedling Specialists at The Naderi Center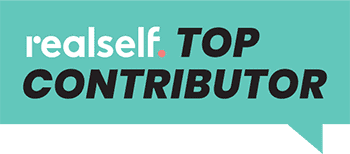 Prior to scheduling a microneedling session at The Naderi Center, a personalized consultation will be arranged with one of our board certified physicians or licensed Master Aesthetician. At this time, the provider will perform a quick examination of the tissues and discuss treatment plan goals. The microneedling procedure will be explained, as well as any other appropriate treatments. During the consultation, additional cosmeceutical medical grade creams or lotions may also be suggested or additional procedures such as Ultherapy that can further compliment the results from microneedling. When skin treatments, like skin care and microneedling, are combined with anti aging lifting techniques, like Ultherapy, conservative Botox treatment, or a dermal fillers, comprehensive skin rejuvenation is achieved.
---
Schedule your Microneedling Consultation
Interested in learning more about microneedling? Contact The Naderi Center in Reston, Virginia by calling 703-481-0002 or in Chevy Chase, Maryland at 301-222-2020. Potential patients can also fill out our simple, online contact us form. A consultation coordinator will be happy to answer your microneedling questions or assist in arranging an initial consultation appointment. The Naderi Center's two locations, in Reston and Chevy Chase, are centrally located, close to Bethesda, Leesburg, Alexandria, and Washington D.C. Anyone coming from outside of the immediate area is encouraged to speak with their patient coordinator about scheduling an online consultation, or assistance with local transportation or accommodations.
---
Microneedling FAQs
What Microneedling office is near me?
If you live in the states of Virginia or Maryland, The Naderi Center for Plastic Surgery and Dermatology offers microneedling among its services. For a full list of services, please visit our Locations page.
Contact Us
"*" indicates required fields