Laser resurfacing, often referred to as a laser peel, lasabrasian, or laser vaporization involves removing the outer layer of damaged skin to reveal a underlying softer, smoother, and younger looking skin. Laser resurfacing treats many skin deformities from fine lines, wrinkles, scarring, uneven coloration, age spots, sun spots, skin laxity, texture irregularities, and dull tones. Laser resurfacing is commonly performed on the face, neck, and chest. Laser resurfacing allows patients to get the most optimum skin resurfacing results typically with just one treatment. Recovery period from resurfacing ideally takes 7-14 days in which patients are advised to stay out of the sun and apply a regiment of skincare products to enhance recovery and healing.
Actual patient results from full face CO2 Laser Resurfacing Treatment performed at The Naderi Center
Laser Resurfacing Expected Results
Improve appearance of scars (including acne scars)
Diminish appearance of wrinkles and fine lines
Treat age spots
Even coloration and improve hyperpigmentation
Remove freckles
Improve skin laxity
Smoothen texture irregularities
Laser Resurfacing Procedure Snapshot
PROCEDURE SUMMARY
What is the pain level after laser resurfacing?
Mild – Moderate
Anesthesia type (if applicable)
General anesthesia or in office with oral sedation
Duration of Surgery
1 hour
Where will scarring for this procedure be?
No scarring, but redness and swelling are to be anticipated
Timeframe to begin showing final results
4-6 weeks with full results at 6 months
When is the patient able to return to regular activities?
2 weeks
When is the patient able to resume exercise?
2 weeks
Cost of surgeon's fee
$3,500 – $8,500
---
Ideal Candidate for Laser Resurfacing
Good candidates for laser resurfacing
Are of a lighter skin tone, Fitzpatrick Skin types 1-3
Desire to reduce fine lines around eyes, lips, or forehead
Desire to tighten any loose skin on both lower and upper eyelids
Have unwanted marks, hyperpigmentation, age spots, or freckles
Have unwanted facial scars (including acne scars)
Are in overall good health and hold realistic treatment expectations
Are non-smokers
Who is NOT a candidate for laser resurfacing?
Although laser resurfacing can deliver dramatic results, show significant improvement in wrinkles, as well as help smoothen out acne scars, it will not completely eliminate deep wrinkling or severely sagging skin. This is where the expertise of an experienced physician would help you determine whether surgical options combined with laser resurfacing are right for you. Laser resurfacing is also not an option for patients of skin type 4 or above, as it can result in hyperpigmentation during the healing process. Even skin types less than 4 are ideally placed on a combination of tretinoins and hydroquinone as a pre-treatment 6-8 weeks prior to performing their procedure. This pre-treatment regiment of tretinoin and 4% hydroquinone prepares the skin for the induced injury from the laser and optimizes healing and outcomes.
---
Laser Resurfacing Technique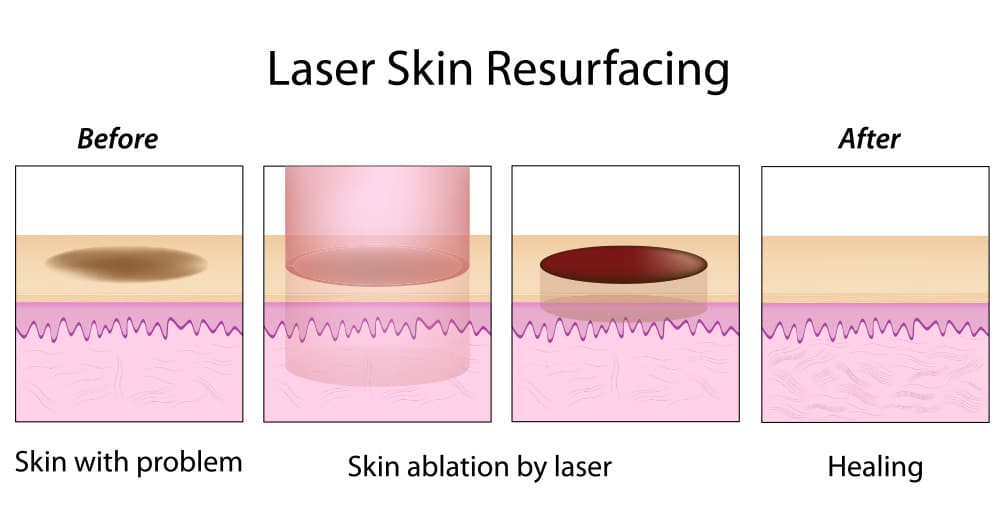 Ablative Lasers
Ablative Laser. This type of laser technology removes epidermis, also known as the outermost layer of the skin while at the same time heating up the dermis, the underlying skin. Ablative lasers are also sometimes referred to as wounding lasers and produce the most dramatic facial rejuvenation results. Ablative lasers have been used for skin conditions since the 1980s. Ablative lasers include the 2940-nm erbium:YAG laser and 10,600-nm carbon dioxide (CO2) laser, and combination CO2 Er:YAG lasers. Typically ablative lasers target and heat up water molecules in the skin. As the water molecules are heated up they turn into a gas and the adjacent skin cells are vaporized. Ablative lasers uses very short pulsed light energy or continuous light beams that are delivered in a scanning pattern. These pulses last less than a millisecond or one thousandth of a second. With the intensity of the light being so extreme, the laser will precisely remove a thin layer of the skin as well as stimulate collagen production. The hope is that with removing layers of the skin we can treat pigment as well as texture problems within the skin.
Ablative Non-Fractionated vs. Fractionated Lasers
Ablative non-fractionated lasers remove the entire epidermal layer of the skin in a uniform fashion, peeling the skin in a deep and even manner. Non-fractionated ablative lasers are great for the treatment of uneven skin texture and unwanted pigmentation. The major risk of non-fractionated laser use is permanent skin hypopigmentation. Examples of ablative non-fractionated lasers include Sandstone Medical Technologies Matrix LS-40, Lumenis UltraPulse & AcuPulse, Sciton Contour TRL, Syneron & Candela SmoothPeel, and the Focus Medical NaturaLase ER.
Most photorejuvination ablative lasers today are fractionated
Ablative fractionated lasers emit heat and energy into the skin through thousands of tiny, narrow, deep microscopic columns of laser light. Fractioned lasers treat a specific "fraction" of the skin, allowing for areas of undamaged skin to exist adjacent to the injured skin. The intact skin sites help to re-epithelialize, or heal the injured sites, allowing for a speedier recovery and less anticipated reactions such as swelling and redness. The risk of hypopigmentation is significantly reduced with fractionated ablative lasers. Ablative fractionated lasers include such models as the Lumenis Ultrapulse Encore (Active FX/ Deep FX/ Total FX), Lumenis AcuPulse MultiMode, Cynosure, Inc. SmartSkin, Alma Lasers, Inc. Harmony Platform Pixel CO2 and Sciton ProFractional (XC).
Non-ablative lasers
Non-ablative laser. Non-ablative lasers use specific wavelengths of light that allows for tissue to be heated up without causing the water in the tissue to evaporate. It is the evaporation of water that causes injury to the skin surface, otherwise known as ablating the skin. Rises in skin temperature leads to a process known as neocollagenesis, or the creation of new collagen. Collagen production helps to tighten the skin and make it appear more youthful. Since surface skin is not wounded the recovery time is much shorter, however the results are also less impressive and may require patients to get multiple treatments. Some examples of non-ablative lasers used for resurfacing include ResurFX, Alma Harmony XL, Candela Smoothbeam, and CoolTouch CT3Plus.
Actual patient results from full face CO2 Laser Resurfacing performed at The Naderi Center
---
Before & After Photos
---

The Naderi Center's Trusted Resurfacing Lasers
Lumenis® UltraPulse™
The Lumenis® UltraPlus™ laser is one of the leaders in CO2 laser resurfacing technology. The UltraPlus resurfacing laser offers great versatility through its differing configurations. The Lumenis® UltraPlus™ has a broad range of applications which include dyschromia (unwanted pigmentation), deep and fine wrinkles, acne scars, and other unwanted cosmetic lesions. To minimize procedure discomfort, patients are typically provided with general anesthesia during their procedure.
Sciton® Contour TRL™
The Sciton® Contour TRL™ (Tunable Resurfacing Laser) is a dual mode erbium: YAG that has become one of the gold standard resurfacing lasers used to improve skin tone and texture. The Sciton® Contour TRL™ can treat a variety of skin conditions including mild to deep wrinkles, peri-oral and peri-orbital fine lines, acne scars, pigmentation changes, and increased skin laxity. The Sciton® Contour TRL™ has adjustable resurfacing depth settings which allow for a variety of treatment types including a nanolaser peel, microlaser peel, and deep surfacing. The Sciton® Contour TRL™ lighter treatments, such as the nanolaser peel, allow for less downtime and quicker recovery. For patients desiring an in-office resurfacing procedure without the risks of general anesthesia, this laser is a great option.
Actual patient results from full face CO2 Laser Resurfacing performed at The Naderi Center
Will I need more than one laser resurfacing treatment?
For the majority of patients, one laser resurfacing treatment is sufficient to address most skin concerns. Full and final results are seen typically six months after resurfacing is performed. Depending on the skin condition you are trying to treat, for example with acne scarring and deep wrinkles you may need more than one treatment. Follow-up resurfacing treatments may sometimes be performed with other less invasive modalities such as with chemical peels, micro-needling, or at home medical grade skincare.
---
Cost of Laser Resurfacing
There are a variety of factors that determine the overall cost of your laser resurfacing
For more detailed pricing information visit here.
Surgeons Fee: $3,500-$8,500
Anesthesia Fee: depends on length of procedure
Hospital and Surgical Facility Fees: depends on length of procedure
Post-Laser Balms and Recovery Kit: included with surgeon's fee at The Naderi Center
Pre-Surgical Medical Clearance and Lab Tests: usually covered by medical insurance
Medication Costs: usually covered by medical insurance
Follow-Up Visits: included with surgeon's fee at The Naderi Center
---
Preparation for Laser Resurfacing
At The Naderi Center, we believe the success of any cosmetic procedure can be improved with proper patient preparation. We go above and beyond to make sure that our patients are medically, emotionally, and physically ready for surgery. Please review our detailed instructions on skin laser resurfacing in the link below.
Download and print before-and-after Co2 Laser Resurfacing Pre-Operative instructions here.
---
Recovery after Laser Resurfacing
Immediately after laser resurfacing, the skin will feel raw and stinging for the first few days and you will be provided with pain medication as well as a post-recovery kit with products that will aid with healing. Some patients do not have to take any strong pain medication and do well with over the counter pain medication such as Tylenol. The first few days you will be instructed to cover any raw surfaces of the skin with a thick layer of our post-recovery ointment. We advise that you keep the skin moist at all times in order to minimize crusting and drying out of the skin. It is extremely important that you stay out of the sun during the recovery period. Moderate to severe amounts of swelling is expected in the areas treated, especially around the eyes and lips. The swelling will get greater by the 2nd and 3rd day and should begin to subside by the 4th and 5th day. Keeping your head elevated when laying down, as well as walking around will help with swelling. Within 24-36 hours you will notice that the treated areas begin to look like a deep, raw sunburn. During the first 7 days, the delicate skin is undergoing a "toughening up" process. By the 7th and 10th day, most of the crusting will begin to disappear and the new skin will appear intensely pink or red. Within 10-14 days, most patients can begin to wear the best makeup after laser resurfacing to ensure optimal results.
The following are expected and normal to experience in the first few days of your procedure:
Burning sensation, like having an intense sunburn
Redness
Itchiness
Tightness sensation
Pinpoint bleeding, which should stop after the first 24 hours
Oozing which is yellowish
Swelling of the face, especially around the eyes
Please reference our in-depth and detailed post-laser resurfacing instructions.
Download and print before-and-after Co2 Laser Resurfacing Post-Operative instructions here.
These photos demonstrate the healing process over two-weeks after CO2 Laser Resurfacing procedure.
How long can I expect to maintain my results after my laser resurfacing procedure?
CO2 Laser resurfacing treatment is fairly intense, but if you want dramatic improvement, the results will be worth it. You will have a fresh, rejuvenated complexion with results that can last for years. Combined with a good medical grade skincare regiment, you can preserve your new beautiful skin for a longer period of time. Touch up treatments with other resurfacing lasers that are not as aggressive can be done to also help maintain the rejuvenated skin. Additionally, avoiding sun exposure is the single most important factor in preserving your more youthful skin.
---
Risks, Safety, and Potential Complications after Laser Resurfacing
Deep laser skin resurfacing is one of the most commonly performed procedures at The Nader Center by our specialists. During the consultation appointment, your physician will further discuss the risks and potential complications during the laser resurfacing process in great detail.
Possible Complications after Laser Resurfacing
Risks of general anesthesia
Skin changes or discoloration
Risk of hyperpigmentation and hypopigmentation
Cold sore reactivation
Bacterial infection
Prolonged redness and or swelling
Milia formation (small white bumps formed during recovery)
---
Laser Resurfacing Specialists at The Naderi Center, Dr. Jessica Kulak and Dr. Alexandra Snodgrass
Achieving dramatic laser resurfacing results is dependent on both the type of laser that is selected as well as the expert hands that perform the procedure. At The Naderi Center, we have intensely researched and scrutinized the resurfacing lasers on the market in order to decide which lasers to include in our practice. Board Certified facial plastic surgeon, Dr. Jessica Kulak, as well as Board Certified dermatologist, Dr. Alexandra Snodgrass, have years of experience with the types of laser resurfacing modalities they use on their patients. During your consultation, our specialists will help you come up with a comprehensive plan that will address your skin concerns.
---
Schedule your Laser Resurfacing Consultation
Known as a leader in cosmetic and plastic surgery procedures, The Naderi Center has been serving patients in the Virginia, Maryland, and Washington D.C. area for more than 10 years. The Naderi Center is known for being the source of physicians and surgeons that are specialized in their realm and scope of practice. Patient's come to The Naderi Center when they want an expert on the procedure or condition they are trying to improve. Contact one of The Naderi Center's two offices for more information, or to schedule your laser resurfacing consultation. A patient coordinator can be reached at our Reston, Virginia office at 703-481-0002 and at our Chevy Chase, Maryland office at 301-222-2020.
---
Laser Resurfacing Questions to Ask
When is it advised to go back into the sun after CO2 laser resurfacing?

Strict sun avoidance for the first eight weeks after treatment is crucial. YOU WILL BURN AND HYPERPIGMENT IF YOU HAVE DIRECT SUN EXPOSURE. Sun exposure will significantly hinder the healing process after laser resurfacing. If you must go outside, wear a wide brim hat, sunglasses (if you had resurfacing around eyes only), a SPF 50 sunscreen, and stay in the shade. Even after you have healed from your resurfacing procedure, we advise avoiding the sun in order to obtain maximum longevity of your results.

Can I bathe and wash my face after CO2 laser resurfacing?

You may bathe normally, but be cautious of getting soap on your healing face. Always apply the post-recovery ointment immediately after showering. Your skin should be washed frequently the first few days with only cool tap water and soft cotton balls. DO NOT USE ANY CLEANSERS; SOAPS OR TONERS while the skin is still raw. Once the skin starts to heal, you will start to use a prescribed skincare regiment that will optimize healing which includes a face wash, recovery cream, and sunscreen with SPF 50.

When is the best time to do laser resurfacing?

Most physicians would agree that fall and winter are the best seasons to perform laser resurfacing. A big part of that has to do with sun avoidance, both before and after the laser resurfacing procedure. During the colder months, most people are indoors and the daylight hours are less, minimizing sun exposure. If you show up for your procedure with sunburn, the procedure will be cancelled. Sunburned skin does not heal well. However, if you live in parts of the country like Miami, FL where avoiding the sun any time of the year is nearly impossible, then there is not perfect time of the year to have laser resurfacing done. No matter what time of the year you have laser resurfacing performed, it is important that you continue to take care of your skin by always wearing sunscreen with a minimum of SPF 30 and avoiding direct sun exposure.

I am prone to getting cold sores, is there anything that I need to do to prevent a break out after my laser treatment?

Prior to laser resurfacing your doctor will want to know if you have a history of cold sores. Any type of injury or insult to the skin can reactivate the herpes virus, which is responsible for cold sores. Laser resurfacing can definitely prompt a cold sore break out, and that is why we place patients with a history of cold sores on anti-viral medication prior to their procedure and a few days after. The medication will significantly minimize the risk of a cold sore break out.

Does the actual laser resurfacing procedure hurt?

Yes, laser resurfacing done with an ablative laser is uncomfortable. Laser resurfacing is ideally done under general anesthesia to ensure maximum patient comfort. If performed with oral or IV sedation, the surgeon applies numbing cream as well as often times combined with injections of local anesthesia to the face.

I was told that I am not a candidate for CO2 laser resurfacing because of my Fitz Patrick skin type. What options for resurfacing do I have?
Just because you are not a CO2 laser resurfacing candidate, does not mean that you are not a candidate for all types of resurfacing procedures. Patients of all skin types are candidates for resurfacing procedures such as microneedling, chemical peels (VI peel), micro-laser peels, and medical skincare regiments, which induce skin resurfacing.
Do my medical conditions and medications I take on a regular basis affect whether I can have laser resurfacing done?
Absolutely! Certain medications and medical conditions may make laser resurfacing unsafe to perform. That is why it is crucial that you inform your doctor of all medical conditions, medications, and supplements that you are taking. A few of these medications and conditions include the following: •Isotretinoin (Accutane) taken for treatment of acne impairs wound healing •Blood thinners and medications which increase risk of bleeding (motrin, aspirin, ibuprofen, naproxen) •Smoking can impact healing •Certain antibiotics and other medications can induce hyperpigmentation post-laser treatment •Diabetes can slow down healing and recovery •Active acne •Autoimmune disease or weak immune system
Is it important what kind of laser device my doctor uses?
In the last decade, the laser technology has advanced tremendously, and there are lots of options when it comes to purchasing lasers. At The Naderi Center, we do the research and scrutinize the competition before deciding what is the best device to use for our patients. Additionally, it is not just the laser that is important, it is also the physicians experience with the laser that ensures a patient gets optimal results.
What laser resurfacing office is near me?
If you live in the states of Virginia or Maryland, The Naderi Center for Plastic Surgery and Dermatology offers laser resurfacing among its services. For a full list of services, please visit our Locations page.
Contact Us
"*" indicates required fields