Download and print pre-operative instructions for Rhinoplasty.
Unhappy with your nose's form or function? Seeking a solution in Virginia? Discover Dr. Shervin Naderi's 25 years of rhinoplasty expertise. Your path to a confident and balanced nose starts here.
Dr. Naderi performs on patients from all over the world. He has 25 years of experience dedicated to primary rhinoplasty and revision rhinoplasty. His refined surgical technique draws regional, national, and international patients to the Naderi Center for Rhinoplasty & Cosmetic Surgery. Your facial symmetry represents the essential aesthetic goal incorporated by Dr. Naderi into surgically straightening a dip, narrowing the nasal bridge, or refining the tip of your nose.
Benefits of Rhinoplasty
Enhancing both form and function, rhinoplasty offers a range of benefits. By sculpting the nose's appearance, it can boost self-confidence and align facial harmony. Breathing improvements and reduced snoring are often additional perks. Here are more benefits:
01
Enhanced Aesthetic Balance
Achieve facial symmetry with a reshaped nose. Rhinoplasty tailors its size, shape, and proportions, enhancing overall facial aesthetics.
02
Improved Breathing
Address breathing difficulties through structural adjustments during rhinoplasty. Correcting deviated septums or airflow obstruction leads to improved respiratory function.
03
Boosted Self-Confidence
Rhinoplasty's transformative effects often result in heightened self-esteem. A harmonious nose can enhance overall facial appearance, leading to increased self-assurance.
What is rhinoplasty? Rhinoplasty is a surgical procedure used to reshape the nose. It can reduce or increase the size of the nose, refine the tip or bridge of the nose, narrow the nostrils, or change the angle between your nose and upper lip. Rhinoplasty is often done for medical reasons, such as correcting a birth defect or breathing problems. However, rhinoplasty can also be performed for cosmetic reasons, to enhance facial symmetry and boost self-confidence.
---
Rhinoplasty Procedure Snapshot
PROCEDURE SUMMARY
What is the pain level after the surgery?
Mild to moderate
Anesthesia type (if applicable)
General Anesthesia
Duration of Surgery
About 2 hours
Where will scars for this procedure be?
Incisions inside and under the nose with possible tiny ones on side of bridge
Timeframe to begin showing final results
3 to 5 years for final results, but patients typically enjoy their new nose as soon one month after surgery
When is the patient able to return to regular activities?
Most regular work activities resume after 1-2 weeks
When is the patient able to resume exercise?
No exercise for at least 1 month
Cost of surgeon's fee
$14,000 -20,000 +
---
Types of Rhinoplasty procedures
Ethnic rhinoplasty modifies your nose, creating a more natural appearance while complimenting and maintaining your ethnicity. The most common ethnic modifications include a modification of the nasal bridge, narrowing or decreasing your nostrils, or a modification of your nose angle.
Learn more about Ethnic Rhinoplasty (African American Rhinoplasty)
Before & After Photos
Functional problems, including a deviated septum as well as breathing impairments, are the most common functional nasal surgical repairs. Rhinoplasty opens nasal airway obstructions with septoplasty, vestibuloplasty, turbinate reduction, valvuloplasty, or osteotomies.
Learn more about Functional Reparative Rhinoplasty
Open Rhinoplasty
In an open rhinoplasty, the surgeon makes a small external incision on the underside of the nose between the nostrils. Then he makes additional incisions on the inside of the nose that are not visible. An open rhinoplasty fully opens the nose, providing improved visualization of the nasal structures and a more direct route for surgical manipulation. After the surgery, a small scar will be visible below the nose base but as the healing process occurs it will be less visible.
Endonasal Rhinoplasty
In an endonasal rhinoplasty, also known as a "closed rhinoplasty", the surgeon creates the cuts within the nostrils. These incisions are not visible after surgery. Endonasal rhinoplasty offers a limited view and dissection of nasal tissues.
Related information: Rhinoplasty Types of Areas
---
Rhinoplasty with Dr. Shervin Naderi
Shervin Naderi, M.D., F.A.C.S. is a member of the American Academy of Facial Plastic and Reconstructive Surgery (AAFPRS), a fellow of the American College of Surgeons (FACS) and a diplomat of the American Board of Otolaryngology Head and Neck Surgery, and of the American Board of Facial Plastic and Reconstructive Surgery (ABFPRS). The Naderi Center has two locations in the metropolitan D.C. area: Reston, Virginia and Chevy Chase, Maryland.
---
History of Rhinoplasty
The history of plastic surgery and its milestones are tightly interwoven with the history and progress in rhinoplasty. In the 16th century, the Italian surgeon, Gasparo Tagliacozzi, who is considered as one of the forefathers of plastic surgery, devised a clever "flap" using skin from the arm of a patient to reconstruct the nose by attaching the arm to the nose for a period of time until the arm skin developed its own blood supply from the nose. Although by today's standards, such a procedure would be considered primitive, this concept of a "distal flap" is one of the cornerstones of modern reconstructive techniques for very large total nasal defects using methods such as a "Radial Forearm Flap."
The father of modern plastic surgery, John Orlando Roe, who was an Otolaryngologist (ENT) from Rochester, New York, is accurately given credit for performing the first endonasal or "closed" rhinoplasty and for being the father of aesthetic rhinoplasty. Later on, Jacques Joseph, from Berlin, used this technique to help a young man who was so embarrassed by his overly large nose that he had avoided appearing in public.
The Taboo Period
During the "taboo period," plastic surgery was seen as superfluous and was not taken seriously by most surgeons. Cosmetic surgery and rhinoplasty were merely available to the select few of wealth and advantage. However, today more than ever before, cosmetic surgery is in the spotlight. It has gained wide acceptance as a valid field of medicine. The rewards of self-improvement, increased self-confidence, and well-being are available for the first time to the general public.
This new "birth" of cosmetic surgery has also resulted in a "flooding" of the market by devices, cosmetic procedures, and promises that are not always grounded in science and medicine but rather in "marketing" and "hype." Plastic surgery is being "sold" today at an alarming rate to the public, in the media, and in cosmetic surgeons' offices.
Rhinoplasty Today
Fortunately, the field of rhinoplasty and aesthetic surgery of the nose has largely been shielded from such hype and exposure; (with the few exceptions of the doctors offering "no-downtime-rhinoplasty" by injecting fillers like Radiesse into the nasal bridge in order to create a straighter profile). Overall, rhinoplasty has evolved properly and gradually over the last several hundred years into the safe, effective, and impressive surgery that it is today when performed by a true "Rhinoplastic Surgeon."
Rhinoplasty is widely considered by all kinds of surgeons to be the most difficult of all surgeries. Hence, the Rhinoplastic Surgeon is considered to be the most meticulous, skilled and exquisite of all plastic surgeons. Aesthetic surgery of the nose is a three-dimensional operation of millimeters. Successful Rhinoplasty requires skill, artistry, a complete understanding of the nose and its architecture, as well as its functional physiology.
Trust a Facial Plastic Surgeon
Facial plastic surgeons who by training are specialists of the nose are inherently better equipped to deal with these issues. The six years of surgical training focusing specifically on the face and nose results in unparalleled skill and expertise.
Dr. Naderi has held a position at Indiana University School of Medicine as a Clinical Assistant Professor of Facial Plastic Surgery where he has taught many surgical residents the proper techniques of rhinoplasty for both aesthetic and functional purposes. Furthermore, many Virginia plastic surgeons quite often refer their "tough noses" to Dr. Naderi, favoring his expertise and skills.
As the centerpiece of the face, the nose can draw significant attention to itself. Given all the intricacies of rhinoplasty, you can be rest assured with Dr. Naderi's unrivalled expertise in the greater Washington D.C. and Northern Virginia area. Dr. Naderi takes the time to go over all of your options with the aid of cutting edge "digital computer imaging" to show you what you may look like after surgery. He confidently encourages all his patients to seek opinions from other doctors, so they can feel totally comfortable with their ultimate decision to undergo rhinoplasty as well as their choice of surgeon.
Patients who choose Dr. Naderi as their rhinoplasty specialist surgeon do so based on the carefully calculated decision and wise desire to trust a "specialist" with their face and nose. Dr. Naderi is a board certified facial plastic surgeon (exclusively performs plastic surgery on the face), but above and beyond this, his busy surgical practice is focused on the nose (rhinoplasty). Patients who choose Dr. Naderi do not do so based on price.
He is not inexpensive! He takes excellent, skillful, artistic, and compassionate care of his patients and their noses. While no one can guarantee a "perfect" nose, his multitude of happy and grateful patients from all over the world are testimony to his skill. Do not choose Dr. Naderi if you are seeking a bargain. Choose Dr. Naderi if you want a surgeon who has the specialized skill and high ethics to take excellent care of you or your loved one.
---
Rhinoplasty Consultation
Dr. Naderi is devoted to taking the time to understand your rhinoplasty goals. Dr. Naderi works with you to determine the right look to enhance your facial features with computer generated outcomes. Previous surgeries, your past and present medical conditions, allergies, and current medications determine whether or not you are a candidate.
Dr. Naderi will share suggestions for the type of procedure or combination of procedures that will accommodate your anticipated outcome as well as any associated risks and complications. He will show you rhinoplasty before and after images. In roughly 25% of consultations, Dr. Naderi may not suggest a rhinoplasty procedure. Dr. Naderi's consultation goal is for his patients to make the most informed and intelligent decision about their potential rhinoplasty procedure.
---
Computer Nose Imaging & Rhinoplasty Consultation Virginia
Digital computer imaging for rhinoplasty patients is VERY important. Computer morphing or imaging is the best way of ensuring that the plastic surgeon and the rhinoplasty patient have similar goals, expectations, and plans for the nose job. Computer imaging is a "road map" for the plastic surgeon. The road map is planned out during the rhinoplasty consultation and then the "road trip" is carried out by the plastic surgeon, bearing the goals of the computer imaging in mind during the surgery. The imaging is not a guarantee of the outcome, but it's the only accurate method of dialogue between the plastic surgeon and the rhinoplasty patient.
The computer-imaging should be performed only by the surgeon doing the surgery. However, imaging or photo-shopped pictures can be shown to the surgeon to relay one's desires and fears.
The reason computer imaging is crucial is because there is no other way for the patient to visualize his or her new nose and new face before surgery takes place. The time of the nose splint or cast removal should not reveal a total surprise! More important, the images should be fairly accurate and representative of the goals of the surgery, as well as fairly realistic.
(1 a, b, c, & d) Samples of Dr. Naderi's actual patients with pictures of their "before rhinoplasty", "computer imaging", and "actual after rhinoplasty" showing how close and realistic his results often are. It is important to understand that computer imaging is a "road map" and a tool for dialogue and not an exact replication of the rhinoplasty outcome.
For example, a patient with a simple dorsal hump who wants a dorsal hump removal may see several plastic surgeons. Obviously, they all plan on removing the hump, but the degree or aggressiveness of reduction determines if a small residual hump remains or if the profile will be straight, slightly curved, or completely ski-sloped! Seeing the surgeon's plans on the large computer screen before rhinoplasty will allow the patient to discuss and adjust the surgical plans before it's too late. Of course, we are discussing a best-case scenario where the plastic surgeon is actually experienced and skilled but may not be "on the same page" as the patient – if computer imaging is not used. It is important to seek a doctor who uses nose imaging so you can visually see a proximate result of the surgery. Please Learn more about the latest 3D imaging technology click here to learn more about the latest 3D imaging technology offered at The Naderi Center for our plastic surgery patients.
---
Cost and Role of Medical Insurance in Nasal Reshaping Surgery in Virginia
Patients who choose Dr. Naderi as their rhinoplasty specialist surgeon do so based on the carefully calculated decision to trust a "specialist" with their face and nose. Dr. Naderi is a board certified facial plastic surgeon (exclusively performs plastic surgery on the face only) but above and beyond this, his busy surgical practice is focused completely on the nose (rhinoplasty). Patients who choose Dr. Naderi do not do it based on price, as he is not inexpensive. He takes excellent, skillful, artistic, and compassionate care of his patients and their noses.
He is ethical and talks 20-30% of his patients out of undergoing an unnecessary rhinoplasty! While no one can guarantee a "perfect" nose, his multitude of happy and grateful patients from all over the world are testimony to his skill. Do not choose Dr. Naderi if you are seeking a bargain. Choose Dr. Naderi if you want a surgeon who has the specialized skill and high ethics to take excellent care of you and your loved ones during and after surgery. Dr. Naderi's primary rhinoplasty total cost ranges from around $16,000 – $27,000+, which includes the cost of anesthesia and hospital fees.
Cost of Nose Job Surgery
There are a variety of factors that determine the overall cost of your primary rhinoplasty.
For more detailed pricing information visit here.
Surgeons Fee: $14,000 – $20,000 +
Anesthesia Fee: depends on length of procedure
Hospital and Surgical Facility Fees: depends on length of procedure
Pre-Surgical Medical Clearance and Lab Tests: usually covered by medical insurance
Medication Costs: usually covered by medical insurance
Follow-Up Visits: Included with surgeon's fee at The Naderi Center
---
Rhinoplasty Pre-Procedure
If you smoke, you will be asked to stop for at least two weeks before the date of your surgery. Smoking significantly impairs your circulation and slows the healing process. Medications taken, including over-the-counter products, vitamins, and herbal products will be reviewed. Aspirin or any aspirin-containing drugs should be avoided before and after surgery. Aspirin, Ibuprofen, and products containing aspirin and ibuprofen may inhibit blood clotting, which causes bleeding problems during and after surgery. If you need a fever reducer or pain reliever, take Tylenol or another brand of acetaminophen.
---
Rhinoplasty Procedure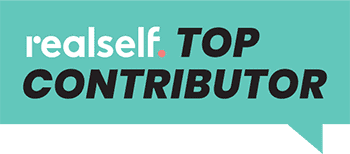 Rhinoplasty procedures take roughly two to three hours and require general anesthesia. During the rhinoplasty procedure, Dr. Naderi will make incisions along your nose, accessing the tissue and bones of the nasal structure. The two most common incision techniques are open and endonasal. There are also multiple methods for augmenting your nose or smoothing surface deformities.
To reduce or increase the size of your nose, the surgeon may excise or add cartilage to your nose. This procedure adjusts your interior nasal support structures, allowing us to modify the tip of your nose by uplifting, lengthening, shortening or thinning your nose.
Dr. Naderi may take autologous cartilage grafts from your nasal septum, which is in the interior wall of your nose dividing one air passage from the other. This option creates the best opportunity for a natural-appearing result. If there's not enough cartilage and bone in the nasal septum (due to previous surgery), then we may use ear or rib cartilage. In some cases, bone from the skull may be an option. S
kin and other soft tissues will remodel the shape of your nose, assuming the shape of the modified underlying structure. Dr. Naderi will place the skin back over the nose. He then places a splint over the nose to support it as it heals into its new form. We might also need to use nasal packing to temporarily support the nose's new structure further.
Profile View – External Nasal Anatomy
Base View – External Nasal Anatomy
3/4 View – External Nasal Anatomy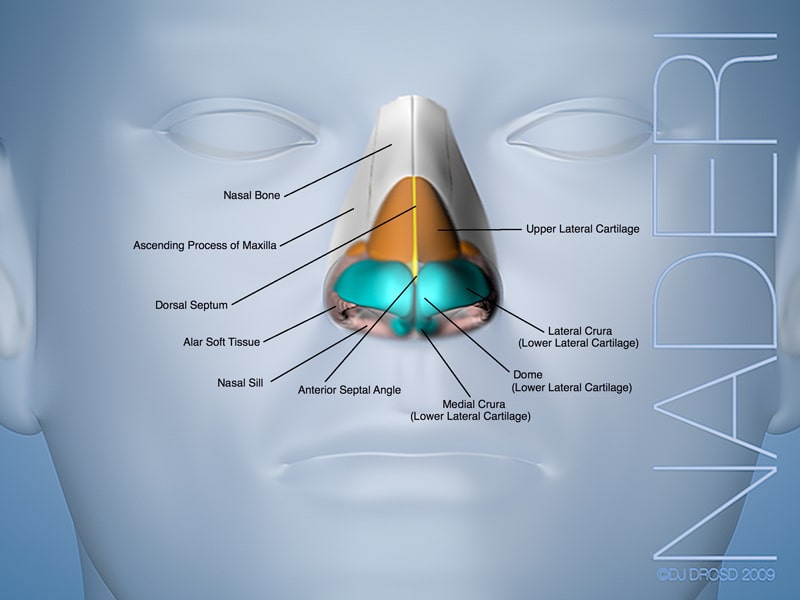 Front View – External Nasal Anatomy
Related Information:
---
Anesthesia Options for Rhinoplasty procedure in Virginia
We can use various types of anesthesia for rhinoplasty. The most commonly used types of anesthesia for a nasal reshaping operation are general anesthesia and IV sedation anesthesia. Some doctors prefer using local anesthesia. All anesthesia forms have risks, just as all surgeries have risks. However, these risks are minimal in the proper setting when we don't take short-cuts and properly trained board certified anesthesiologists use the proper equipment. Here are the major differences:
General Anesthesia:
Usually done at hospitals or major surgery centers.
Rhinoplasty patient is totally asleep and feels no pain and has no major memory of rhinoplasty surgery.
An endotracheal (breathing) tube protects the airway.
Breathing machine breathes for patient.
Patient must be medically in great shape to tolerate general anesthesia.
IV Sedation Anesthesia:
Also known as "twilight anesthesia"
There is no breathing tube.
Rhinoplasty patient breaths on their own.
Tough to control proper sedation level so patient can be "too awake" or "too asleep" which can affect the plastic surgeon's work.
Patient can move and talk or act inappropriately which can all affect plastic surgeon's work.
No good way of protecting the airway from blood dripping down the back of the throat onto the airway.
Oral Sedation Anesthesia:
We may use an oral sedative like Valium to lightly sedate the patient.
Typically oral sedation works best for minor office procedures like lip implants.
Local Anesthesia:
With local anesthesia, the rhinoplasty patient is totally awake.
The injectable numbing fluid (lidocaine) goes into the nose to numb the nose.
We can also use numbing fluid with other types of anesthesia. But with local anesthesia, the numbing injections are the only method for numbing and pain control.
Relatively safer than other forms of anesthesia but uncomfortable and impractical for most rhinoplasties.
Patients can become tired or cramped during longer cases.
Difficult to numb the nasal bones.
---
Rhinoplasty Post-Procedure
We can typically remove the splint we use to support your nose and the bandaging around it within a week after surgery. In case nasal packing was necessary, we need about two days after the surgery to remove it.
There will be bruising and swelling around your nose and eyes which may persist for several days. Your face may have some puffiness. Cold compresses will help mitigate swelling and reduce discomfort during recovery. We may prescribe pain medication. You can resume physical activities and a normal routine generally within two weeks, depending upon how fast you heal.
Learn more about rhinoplasty types of area
---
Best Age for Rhinoplasty
One of the most common questions on the mind of younger patients, their parents and much older patients is, "what is the best age for a nose job?" There is no upper age limit for rhinoplasty as long as older patients are healthy and in good medical condition. Rhinoplasty in the 70's can actually make patients look younger by correcting a droopy "ptotic" tip or a "hanging" nose. Often times, a much older rhinoplasty patient will look more rested and youthful, as if they underwent a facelift by just improving their nose. There are plenty of older patients who have wanted a nose job for many years but, for one reason or another, were not able to accomplish their goals until later in life. These patients are often extremely grateful and appreciative after a successful nasal reshaping by a rhinoplasty specialist.
The youngest age for rhinoplasty is usually 16. Some surgeons won't perform rhinoplasty on anyone younger than 18, so that the patient can sign the surgery consents as an adult. This approach is not fair to younger patients, especially since the typical age for otoplasty (ear pinning) is around 4 to 6 years of age. What is more important than legal age is mental and physical age. Occasionally on rare instances , a rhinoplasty surgeon will consider performing a nose job on a teenager as young as 14 if the patient has essentially completed their physical growth. For example, if the teenage rhinoplasty patient is 5'3″ tall but both parents are 6 feet tall, then we should wait for the teenage growth spurt and completion of physical development.
However, if the teenage rhinoplasty patient is relatively the same height as his or her parents, then it may be safe to assume further drastic changes in growth will not occur. More important than physical growth and maturity is mental and emotional maturity. While there are some 14 year olds that have the proper attitude and mental outlook towards rhinoplasty, there are some 40 year olds who do not possess such mental strength and emotional maturity to undergo elective nasal reshaping surgery. We sometimes see teenage nose job patients who are much more mature and realistic than their own parents.
The most important factor with teenage rhinoplasty is to make sure the desire for changing one's nose is internally driven and not forced on the teenage patient by the parents. It's also as important to make sure the patient has realistic goals about the outcome. All things being equal, a successful rhinoplasty can increase the self-confidence of any patient, especially the teenager who is self-concious about his or her nose.
---
Rhinoplasty procedure: Down-time, Healing, & Facts
Each patient has a somewhat different experience after his or her rhinoplasty, but there are some usual trends. For example, if your plastic surgeon does not pack your nose, post-operative pain is rare. Dr. Naderi does not routinely pack the nose of his patients, so many of his patients do not take any pain medication after their surgery. If your plastic surgeon uses an excellent technique, it will minimize bruising and swelling. Shorter operative durations (surgery time) will also usually translate to less post-rhinoplasty swelling.
The less bruising and swelling patients have, the quicker they will recover. Typically, Dr. Naderi's rhinoplasty patients will have about one week of down time. This down time is often due to the desire for privacy. Patients will need to wear a very small cast on their nose for 5 to 7 days. Most rhinoplasty Chevy Chase patients will stay home during this period, in order to avoid public appearances. Some patients who are not concerned about such privacy issues will go back to work or school as early as 2 to 3 days after their rhinoplasty. Dr. Naderi generally sees his post-operative patients the very next day, and then 4 to 6 days later to take off their nose cast (and sutures if their surgery was an open rhinoplasty). At that point most patients can head back to work or school with the aid of a little cover-up makeup if there are some light bruises still lingering.
Dr. Naderi asks his patients not to exercise in the gym for 2-3 weeks to prevent nosebleeds and minimize swelling. Heavy exercise will increase swelling. Excess heat, changes in altitude, and other factors can also adversely affect swelling.
For most patients, their "true down time" is only the first 5 to 7 days with the tiny cast on their nose. Dr. Naderi asks his patients not to wear glasses or partake in contact sports for 1 to 3 months after their rhinoplasty if their bones need to set. While it's a fact that healing after rhinoplasty takes years, the down time for most patients is about a week. But the nose will continue to change for weeks and months and even years. It may surprise you to see how your noses continue to refine and get more definition even years after surgery takes place.
Take a look at some products our plastic surgeons recommend as part of your post-op care kit.
---
Psychological Issues after Rhinoplasty Procedure
While the majority of patients undergoing rhinoplasty are well adjusted mentally and have a positive outcome after surgery, there are some important exceptions that must be noted. The information below is a combination of simple observations and scientific facts, none of which have the intention to judge or degrade any patients. These are just a collection of points that patients who have or plan to undergo a cosmetic rhinoplasty should understand.
Rhinoplasty has sometimes had a certain secrecy or taboo associated with it. In some people's eyes, it is somehow more acceptable for patients to undergo a facelift or a tummy tuck, since these are aimed at reversing signs of aging. This way of looking at cosmetic surgery seems to justify a surgery that "reverses aging" over a procedure aimed at "changing or modifying" someone's look. We see this kind of phenomenon occasionally with patients who have no problem getting Botox shots in a spa but "are not ready" to get Botox shots in an actual plastic surgeon's office. In the patient's mind, one procedure seems to be a "spa treatment" while the other is considered "plastic surgery."
Several decades ago, the male rhinoplasty patient received much more attention after psychological "experts" published scientific papers claiming male rhinoplasty patients suffered from gender identity issues and that the nose represented a phallic symbol that was being altered!
There are also plenty of patients who have had nose jobs in the past but will call it a "septoplasty" or "sinus surgery" even when providing their past medical and surgical history to their own doctors. Some will go through enormous lengths in order not to reveal their "secret" to their own family or spouses.
Other patients won't go out in public with the nose cast, while others will wait for the swelling to resolve completely. Some will become depressed, and "live" on plastic surgery chat rooms if there is even the least minor of asymmetries. Others will be satisfied, happy, leading perfectly productive lives even with the worst "botched" nose jobs.
Body Dysmorphic Disorder (BDD) is one of the most common psychological diagnoses amongst rhinoplasty patients. Depression is also a common presenting symptom with patients seeking rhinoplasty. While a patient with BDD should almost never be offered a cosmetic rhinoplasty, depression is usually not a pure contraindication to getting a rhinoplasty.
With all of the taboo and underlying psychological issues that may be present with rhinoplasty, it is extremely important for the rhinoplasty specialist to get to know the patient seeking a nose job. Rhinoplasty is not a "simple procedure." A nose job is not reversible, like Botox; it does not wear off in a few months. It's not like getting a haircut; it won't grow back.
Therefore, it is very important for the surgeon to understand the underlying motivations or rationale for the patient seeking rhinoplasty. Regrettably, sometimes we see plastic surgeons who place their own financial motivations before their patients' well-being. More often, we see plastic surgeons who just simply do not take the time to diagnose such nuances of rhinoplasty. And, sometimes, even the sharpest plastic surgeon may fail to pick up warning signs of a problematic patient. As the old saying goes, "you cannot please all the people all the time," but it's important to identify such patients who will potentially be unhappy with even the best of rhinoplasty results.
Unfortunately, too often we see parents who are extremely critical of their children. These parents often grab their teenage child's face in a rough manner and point to its flaws harshly. Many times, these parents have had rhinoplasty themselves and may have had parents who passed down these criticisms.
Sometimes, we see teenagers who have been teased badly in school by their peers or bullied on social media. Many times, their parents add to the stress by ridiculing their desire for improvement of their nose.
We often see that it is much better to have a situation with a parent who does not think their child needs a nose job than a scenario where the parent is the primary driving force behind pushing their child towards an early nose job. Parents role should focus on providing support and enhancing their children's emotional self-confidence, rather than tearing down the self-confidence of their children by pointing out physical flaws.
At times, older patients in their 30's, 40's, or 50's come in for rhinoplasty and break down in tears recalling how their parents or friends teased them and treated them harshly when they were younger. These old comments have left deep psychological scars that can become refreshed by certain social triggers.
The parents, friends, and relatives of a patient can provide a good support network, but they can also be very detrimental to the patient by not understanding the facts and providing untimely negative comments.
Sex change or transgender patients often seek changes in their nose to fit their more feminine or masculine goals. With proper screening and counseling, these patients many times have very successful outcomes.
Certain patients come in with evidence of lack of attention to the rest of their visage or appearance. Sometimes, these patients are morbidly obese, have not taken care of their bodies or faces, and may not be wearing presentable or even clean clothing but for some unexplainable reason, they want the "perfect nose." Some patients have already had 4, 6, or even more "successful" previous rhinoplasties by some of the top rhinoplasty specialists in the world, but they continue to be unhappy and seek that "perfect unachievable nose."
An ideal rhinoplasty patient is a healthy patient, both mentally and physically, who wants to improve their nose and does not expect the new nose to change their life drastically. The goal of a nose job should not be to get a better job or a better spouse or to change one's face from "self perceived ugly" to "beautiful."
Above all, the goal of a nose job should be to improve the nose and balance the face. That's it!
However, we do see, time after time, how a good outcome can improve the self-confidence of a patient and their "quality of life."
These are all complex matters that require careful thought and attention by the rhinoplasty specialist, as well as his staff, who get to witness each patient's behavior from the initial phone call onwards.
Related Information: Complications in Rhinoplasty
---
Rhinoplasty Surgery Aftercare
---
Teenage Rhinoplasty Virginia
The youngest age for rhinoplasty is usually 16. Some surgeons will not perform rhinoplasty on anyone younger than 18, so that the patient can sign the surgery consents as an adult. This approach is not fair to younger patients, especially since the typical age for otoplasty (ear pinning) is around 4 to 6 years . What is more important than legal age is mental and physical age. In rare instances, a rhinoplasty surgeon will consider performing a nose job on a teenager as young as 14 if the patient has essentially completed their physical growth.
---
Rhinoplasty Videos
---
Related articles
---
Rhinoplasty FAQs
Are you a Candidate for Rhinoplasty Surgery?
Rhinoplasty corrects the size or shape of your nose for aesthetic and functional reasons. Dr. Naderi takes pride in engaging in a frank discussion with patients, addressing your unique facial features and the potential impact of rhinoplasty. He provides an honest opinion regarding the effectiveness and realistic expectation of rhinoplasty with the help of digital computer imaging. His patients must be in good health and at least sixteen years of age.
What is a septoplasty, and can it be performed with a rhinoplasty?
A septoplasty is a procedure that straightens the septum to provide better airflow in patients who are suffering from a deviated septum. Surgeons often perform rhinoplasty and septoplasty together. Cartilage removed from the septum in order to straighten your nose can be used during rhinoplasty surgery for grafts. Postponing aesthetic rhinoplasty until after your septoplasty may mean that septal cartilage is not available for use as grafts and may require that cartilage be taken from your ears or ribs. Combining the surgeries also allows for a single week-long recovery, rather than two separate ones.
What are the potential rhinoplasty risks?
During your consultation, Dr. Naderi will explain any potential risks that may occur as he assesses your aesthetic goals. Rhinoplasty is a complex procedure and although the risks are unusual, they do exist as with every form of surgery. A rhinoplasty, also known as a nose job or a nose job procedure, was performed on over 67,563 patients in 2015. Nose cosmetic surgery continues to grow in popularity.
Is it normal for the nasal tip to be hard after rhinoplasty?
To some extent, yes, because a rhinoplasty will create swelling and scar tissue which is hard, andbut grafts will also add firmness to the nose during a rhinoplasty. Much of that initial hardness improves after 3-5 years, but some of it stays.
Can the front view be fixed with rhinoplasty?
The nose is a three dimensional structure. Changing one view will affect the other views as well but you are not alone. I have had many patients who have had very nice profiles but they either did not like their nasal tip or bulbous tip or they did not like their wide nasal bridge or even had a crooked bridge despite a nice profile. While your profile may change slightly, the nose as a whole should improve and the nose can be narrowed and refined from the front view with a rhinoplasty
What sort of complications or problems following rhinoplasty are addressed with steroids?
Steroids after a nose job do not address complications. Steroid injections to the nose are used to decrease swelling and scar tissue, which aren't really "complications." SThe steroids aren't risk free and may cause dimpling of the skin orand may take an area of the nose with excess swelling and fullness and create a depression, since their action is not precise nor controllable.
Does open rhinoplasty leave any scars?
During a closed rhinoplasty all of the incisions are in the inside of the nose and during an open rhinoplasty there is one additional incision made on the columella which is the skin separating the 2 nostrils. This very small incision if placed properly and close properly should be nearly imperceptible. Please be aware that if nostril reduction is necessary those incisions are independent of either closed or open rhinoplasty technique and those scars may be more visible. There are some great surgeons that do every rhinoplasty through an open approach and there are some great surgeons that do every rhinoplasty through a closed approach.

But there are also plenty of lousy surgeons that do open or closed rhinoplasty. What is important is the actual surgeon. I would much rather choose a closed rhinoplasty that was done well to an open rhinoplasty that was done poorly and vice versa. Personally I do both approaches and I tailor each surgery to each patient's nose and needs. While closed rhinoplasty usually creates less swelling and quicker healing at the tip many patients do require open rhinoplasty for better more structural tip work.
What rhinoplasty office is near me?
If you live in the states of Virginia or Maryland, The Naderi Center for Plastic Surgery and Dermatology offers rhinoplasty among its services. For a full list of services, please visit our Locations page.
---
About The Naderi Center for Plastic Surgery and Dermatology
Shervin Naderi, M.D., F.A.C.S. focuses primarily on the nose. His practice is located in Reston, Virginia, and Chevy Chase, Maryland. He is a member of the American Academy of Facial Plastic & Reconstructive Surgery (AAFPRS), a Fellow of the American College of Surgeons (FACS) and a Diplomat of the American Board of Otolaryngology Head and Neck Surgery and the American Board of Facial Plastic and Reconstructive Surgery (ABFPRS).
Dr. Naderi is affectionately known as "The Nose Man" by his Board Certified plastic surgeon colleagues in the District of Columbia metropolitan area.
Learn more about reconstructive corrective surgery
Contact Us
"*" indicates required fields