Sagging, loose skin around the waist is not uncommon, especially for people who have experienced a large weight loss or seen severe weight fluctuations. The normal aging process can also cause skin to droop, as it loses its youthful elasticity and shape. Even on a thinner individual, this billowy tissue will cause clothing to fit poorly, diminishing confidence in the appearance. Unfortunately, the excess skin does not only look unsightly, it can also rub and chafe on surrounding areas, limiting activities and mobility.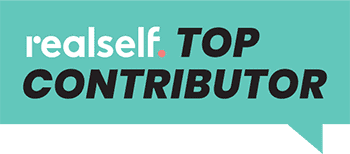 The body lift is a surgical procedure created specifically to restore a beautiful, youthful shape to the lower body. Also known as a belt lipectomy or circumferential tummy tuck, the body lift procedure will lift, tighten, and sculpt the buttocks, thighs, hips, and stomach. For some individuals who have struggled with weight loss, the body lift may create a sculpted figure for the first time in their life.
Body Lift Expected Results
Improve appearance of sagging, droopy skin, fat and tissue around the abdomen, lower back and buttocks area
Achieve a more trimmer and shapely figure
More smooth and tighter skin surface
---
Body Lift Procedure Snapshot
PROCEDURE SUMMARY
What is the pain level after the surgery?
Moderate
Anesthesia type (if applicable)
General anesthesia
Duration of Surgery
4 to 6 hours
Where will scaring for this procedure be?
Circumferential or beltline, incision around the lower abdomen and above the buttocks
Timeframe to begin showing final results
6-8 weeks
When is the patient able to return to regular activities?
2 weeks
When is the patient able to resume exercise?
3-4 weeks
Cost of surgeon's fee
$18,000 – $20,000
---
Ideal Candidate for a Body Lift
Almost anyone who is seeking an improvement in excess, loose skin and fat around their mid-section, and is in overall good health, may benefit from the body lift procedure. This surgical technique is especially good for those patients dealing with inches of loose skin following massive weight loss. Candidates should understand our surgeon's body lift technique, and be fully committed to the recovery process.
Good Candidates for Body Lift:
Are at an ideal body weight
Have significant sagging and loose soft tissue in one or more body areas, typically abdomen and buttocks
Women should have completed family planning and have achieved a satisfactory stable weight
Are in good health
Do not have any medical conditions that may delay and impair wound healing
Have a positive outlook and realistic goals for what body lift surgery can accomplish
Are non-smokers
---
Body Lift Surgical Techniques
The body lift procedure will take between four and six hours to perform.  You will be under general anesthesia for the procedure. Our body plastic surgeons will perform the procedure at a nearby accredited surgery center. In most situations, an overnight hospital stay is recommended for maximum patient comfort.
STEPS TO PERFORMING A BODY LIFT
STEP 1: Beltline Incision- A circumferential, or beltline, incision around the lower abdomen and above the buttocks will be made.
STEP 2 Excision and Removal of Tissue- Unwanted fatty tissue, skin, and muscle from the stomach, flanks, and lower back is excised.
STEP 3: Liposuction- Liposuction may be performed to add additional contouring benefits.
STEP 4: Body Sculpting- The surgeon will lift the remaining muscle and tissue of the thighs, buttocks, and abdomen. The area will be sculpted to a more taut appearance and a new, properly placed umbilicus (belly button) will be created.
STEP 5: Closure of Incision and Placement of Surgical Drain- The surgeon will perform a meticulous and delicate closure of the incisions designed to minimize scarring. A surgical drain will be placed which will be removed in the following few days.
---
Cost of a Body Lift
There are a variety of factors that determine the overall cost of your Body Lift.
For more detailed pricing information visit here.
Surgeons fee: $18,000 – $20,000
Anesthesia Fee: Depends on length of procedure
Hospital and Surgical Facility Fees: Depends on length of procedure
Post-Surgery Garments: Included with surgeon's fee at The Naderi Center
Pre-Surgical Medical Clearance and Lab Tests: Usually covered by medical insurance
Medication Costs: Usually covered by medical insurance
Follow-Up Visits: Included with surgeon's fee at The Naderi Center
---
Preparation for a Body Lift
At The Naderi Center we believe the success of any cosmetic procedure can be improved with proper patient preparation. We go above and beyond to make sure that our patients are medically, emotionally and physically ready for surgery.
Please review our detailed instructions on Body Lift Preparation in link below.
---
Recovery after a Body Lift
The body lift recovery period will take about two weeks depending on the extensive nature of the surgery. Most patients are comfortable returning to work in 10-14 days.  Moderate pain and discomfort can be expected following a body lift. Our body plastic surgeons will prescribe appropriate pain medications to help during this time. Bruising and swelling are also common. A compression garment will need to be worn for several weeks to limit swelling. Small drainage tubes are put in place after the body lift procedure, and then removed in five to ten days.
Adequate rest following a body lift is essential for proper healing. Patients should fill their medications prior to the body lift procedure and make sure they are on hand when retuning home from surgery. Assistance from a loved one or friend is important for the first several days following a body lift, as patients are usually sore and tired. Heavy lifting (including that of small children) and strenuous exercise must be postponed for four to six weeks following surgery.
---
Risks, Safety and Potential Complications of Body Lift Surgery
Our specialists have been performing the body lift procedure for more than a decade. While the procedure is considered a safe technique, and can provide satisfying results, there is a small chance for complications to occur.  By choosing an experienced, board certified cosmetic surgeon, patients can ensure their body lift is safe and will deliver satisfying results.
Possible Complications after a Body Lift can include
Risk of general anesthesia
Excessive bleeding or hematoma
Infection
Poor incision healing
Skin changes or discoloration
Fluid accumulation or seroma
Nerve damage or numbness in the skin
Death of fatty tissue or fat necrosis
Reoccurrence of skin looseness, especially if weight is gained
Chronic pain
Recurrent looseness of skin
Asymmetric results
Need for revision surgery
Unfavorable scar formation
---
Body Contouring Specialists
The Naderi Center's body lift is ideal for anyone dealing with sagging, lax skin and tissue around the stomach, thighs, flanks (love handles), and lower back. Our exclusive breast and body surgeons have extensive experience in body contouring procedures, and have been providing the body lift technique to their patients for over a decade. A comprehensive body lift consultation will be arranged prior to scheduling the surgical procedure. At this time, our surgeons will go over the patient's medical history and current medications prior to performing a physical evaluation. Once she has explained her body lift technique in full, our doctors will address concerns and answer any remaining questions. She will use before and after photographs of her recent body lift procedures to assist patients in visualizing their potential results.  After the recovery, risks, and costs have been discussed, our specialists will determine if the body lift is the best procedure for the individual's situation.  Afterward, you will meet with one of our caring and knowledgeable patient coordinators that will help guide you through the logistics of scheduling surgery, costs, recovery timeline, and pre-surgical clearance.
---
Schedule your Body Contouring Consultation
Do you still have questions about the body lift procedure? To find out more, contact the Naderi Center's Reston, Virginia office at 703-481-0002 or the Chevy Chase, Maryland office at 301-222-2020. Virtual consultations are available for those patients traveling from outside of the immediate area.
---
Body Lift Questions to Ask
What is a body lift procedure from the Naderi Center?

A body lift, sometimes referred to as a belt lipectomy, is a surgical procedure designed to remove the lax skin and fat from the abdomen, backside, and hips.

Will I make a good candidate for a body lift?

Anyone who is struggling with excess, lax skin around their waist and lower body may make a good candidate for the body lift procedure. Patients should be at or close to their ideal body weight before the procedure. It is also important candidates be in generally good health, understand the surgical procedure and recovery commitment, and hold realistic expectations for the final results.

How long can I expect my body lift procedure to take?

Depending on the individual patient's situation, a body lift can take from three to six hours to complete.

Will my body lift leave scars?

Yes, a scar will remain along the incision lines, following the body lift procedure. While the scar will fade somewhat over time, it will remain visible.  Once you have healed from surgery your surgeon will prescribe a scar creme as well as advise you on techniques to minimize the appearance of your scars.

When can I return to work after my body lift procedure?

Most people feel well enough to return to work about two weeks after their body lift procedure at the Naderi Center.  A body lift can encompass a number of different procedures, your surgeon will be able to estimate a timeframe in which you will be healed enough to return to work.

What body lift office is near me?
If you live in the states of Virginia or Maryland, The Naderi Center for Plastic Surgery and Dermatology offers body lift among its services. For a full list of services, please visit our Locations page.
Contact Us
"*" indicates required fields