Vaginal rejuvenation refers to a surgical technique that has been designed to improve the aesthetic appearance of the labia. While some women are born with large or elongated labia, in other cases, the trauma of childbirth can cause the labia to become lax or misshapen. In either situation, large labia can be source of physical pain, pinching under tight clothing and pulling during intercourse. Their unusual appearance can also cause a loss of self-confidence during intimate situations.
Labiaplasty Expected Results
Removal of stretched, excess tissue, creating a proportionate, pleasing look to the labia majora and labia minora
Decrease in discomfort and pain when wearing tight fitting clothing or participating with certain physical activities such as biking
Possible opportunity for enjoyable sexual activity, free from pain or discomfort.
PROCEDURE SUMMARY
What is the pain level after the surgery?
Mild
Anesthesia type (if applicable)
General anesthesia
Duration of Surgery
1 to 2 hours
Where will scarring be for this procedure?
Along the wedge excision of labia minorum. Contouring of the labia majorum can also be done if it is required.
Timeframe to begin showing final results
4 to 6 weeks for proper healing to occur
When is the patient able to return to regular activities?
1 week
When is the patient able to resume exercise?
6 weeks
Cost of surgeon's fee
$4,000 – $6,000
---
Ideal Candidate for Labiaplasty
Good Candidates for a Labiaplasty
Has labia that are large or misshapen
Experiences pain or discomfort during sexual intercourse due to excess skin
Experiences discomfort under jeans or tight clothing
Has a noticeable 'bump' of enlarged labia that can be seen in swimwear or tight pants
Has no medical conditions that will hinder surgical healing
Is a non-smoker
Is a healthy individual without medical conditions that impair healing or increase risk of surgery
Labiaplasty Procedure is on the Rise in Popularity
Labiaplasty procedures have increased in popularity in recent years. According to public awareness about problems with hyperplastic labia minora, an increasing number of women are seeking treatment not only for aesthetic concerns but also for functional and/or psychological reasons. Although variation in the shape and size of the labia can be expected, it seems that in recent years the trend has leaned towards a smaller and more hidden labia minora. The reason woman opt to undergo a reduction of their labia minora may vary between aesthetic and function purposes. According to a study performed in 2008, "32% sought surgery for functional impairment or discomfort, 37% sought surgery for aesthetic purposes, and 31% sought surgery for a combination of these reasons" (RD, 2008). Understanding the full realm of symptoms associated with a larger and/or misshapen labia minora is important in discovering how to attain surgical relief. According to several studies, labiaplasty surgery has a satisfaction rate of over 90% in patients (Willis, Wong, & Patel, 2019). As more research into labiaplasty continues to be studied, surgeons are able to better understand reasons for the procedure and therefore are able to advance their techniques for an optimal result.
The increase in popularity with Brazilian waxing, genitalia shaving, and Brazilian laser hair removal has also caused more women to pay attention to their genitalia. Women may compare the appearance of their genitalia to the hairless and flapless or "tucked in" genitalia of women on the internet or in pornography. Unfortunately, exposure to unrealistic media images of female genitalia may make some women feel self-conscious and desire to pursue vaginal rejuvenation surgery.
---
Labiaplasty Surgical Techniques
Anatomy of the Labia
In order to better understand labiaplasty techniques, knowledge of the anatomy of the external genitalia is helpful. Below we have labeled parts of the external genitalia that your surgeon may refer to when describing their approach to a labiaplasty.
Mons Pubis—The inverted triangular mass of adipose tissue, covered by pubic hair.
Labia Majora—The outer lips of the two folds of tissue that extend posteriorly from the mons pubis. These folds contain hair and their appearance can vary from "full and tight" to "lax and baggy." (Hamori, Bandwell, & Alinsod, 2017)
Labia Minora—The inner lips of the two folds of tissue that extend posteriorly on each side of the opening into the vagina. These folds are hairless and range in different pigments.
Clitoris—An oval-shaped erectile organ located below the urethra and is connected to the mons pubis. It contains several sensory nerve endings.

---
Different Labiaplasty Techniques
Wedge Technique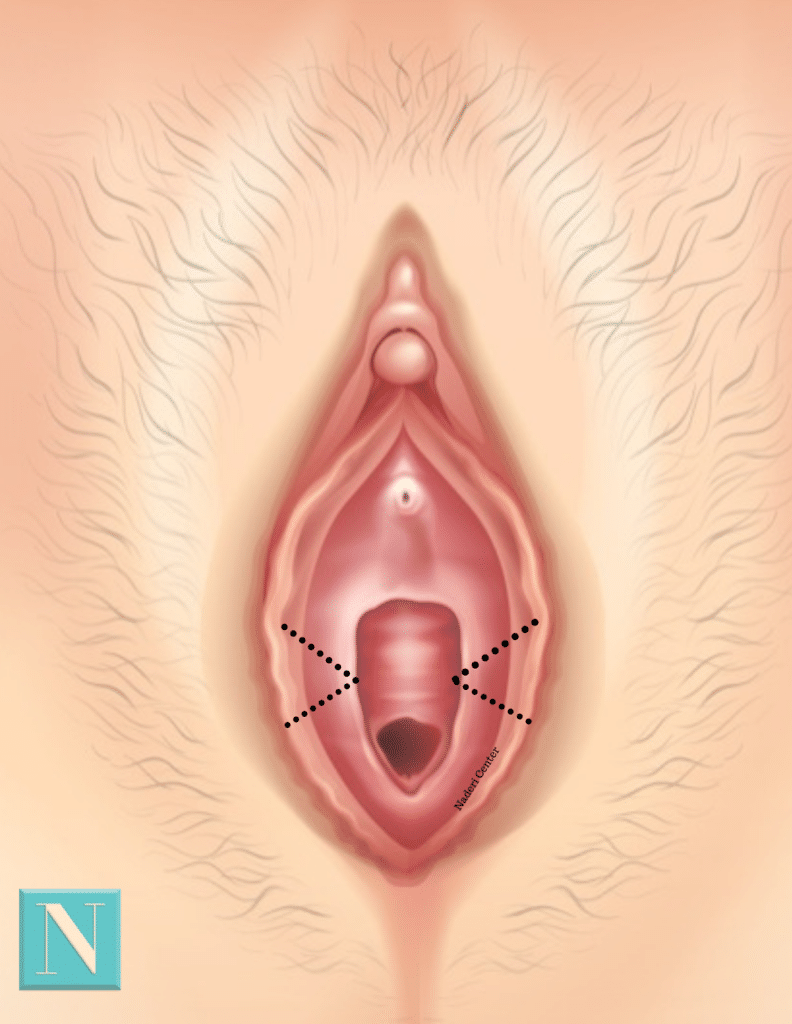 The wedge technique receives its name from the v-shape "wedge" incisions made on both sides of the labia. The v-shape wedge is cut and stitched back together to reduce the most enlarged part of the labia. Our body plastic surgeon, Dr. Erica Anderson, has preference for this technique because of its ability to address both height and width of the labia minora. The wedge technique does this by shortening the height of the labia minora from anterior to posterior, while also decreasing the width by removing, typically, the most protuberant part of the minora. Other advantages of the wedge technique are preservation of the outer edge contour, less noticeable scarring, and less sensitivity at the incision line. A disadvantage of this technique would be a higher chance of incision line separation. However, strictly following post-operative instructions will lessen this probability.
Edge Technique (Linear Technique or Trim Technique)
The edge technique, also known as either the linear or trim technique, is very simple in its' explanation and technique. This approach consists of the linear removal or trimming of the outer, most protruding edge of the labia. Often times the outer edge of the labia is darker in coloration, causing self-consciousness in women and may even be one of the reasons women opt for a labiaplasty procedure. This technique targets the darker-colored portion of the tissue, leaving a more even toned labia appearance. However, with the incision line following the outer edge of the labia minora, this technique does not preserve the natural edge and contour of the minora and has the highest probability of noticeable scarring.
Z-Plasty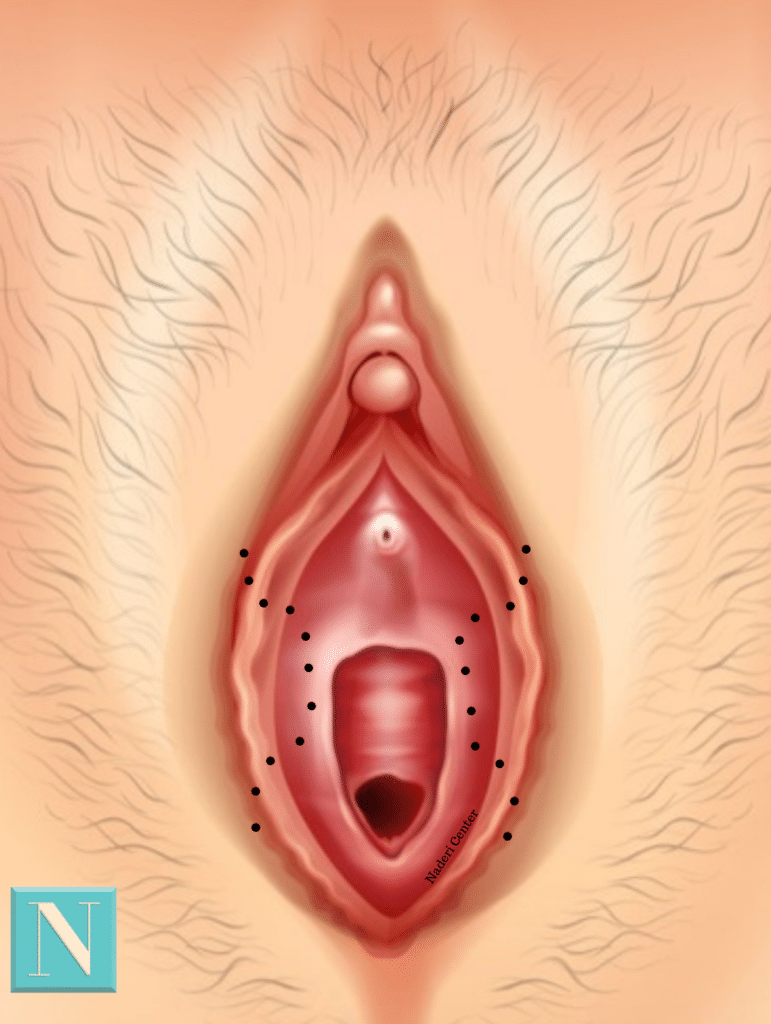 Z-plasty is a surgical technique that is used for many different types of procedures within the plastic surgery field. It was developed for optimal function and aesthetics of scarring. Using z-plasty on the labia is an extension of the wedge technique and yields very similar advantages. Instead of a v-shaped incision, a z-shaped incision is used alternatively. The z-plasty technique ensures less tension on the incision line, which typically leads to even better scarring.
De-epithelialization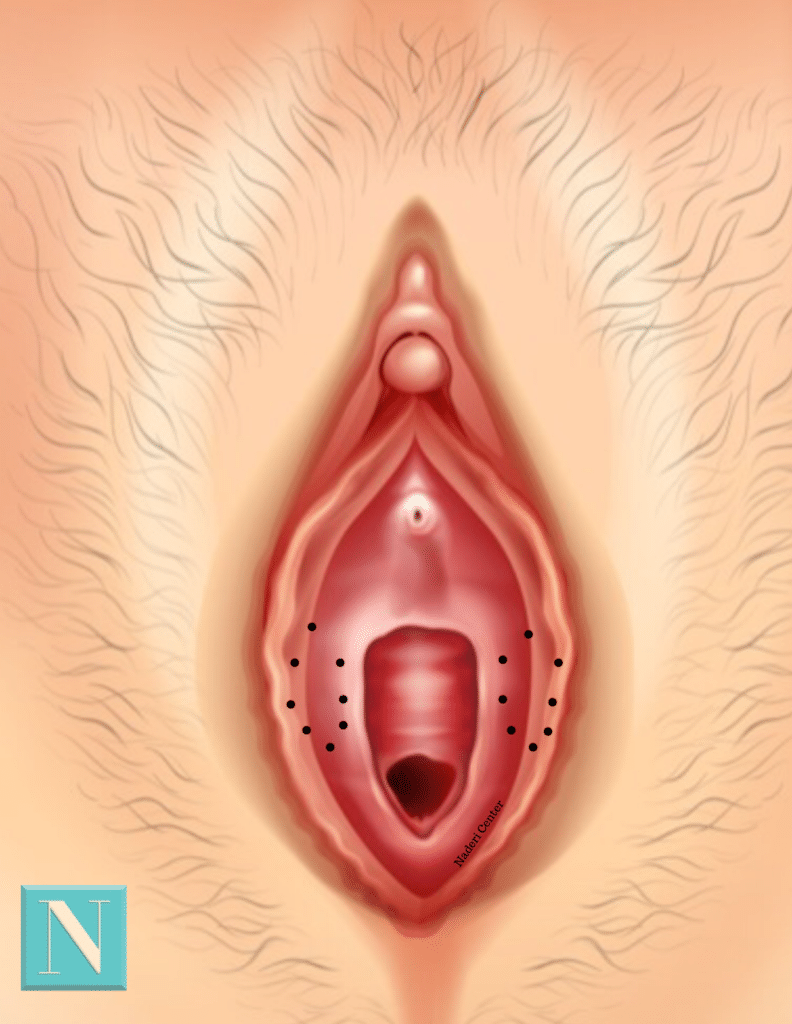 The de-epithelialization technique involves oval shaped incisions made in the inner, most central part of each minora. The procedure is performed in approximately 30 minutes. The de-epithelialization technique removes this inner part of the minora and is then stitched back together. The main advantage to this technique is the preservation of natural labia contours. However, de-epithelialization only reduces the width of the minora while keeping the vertical length the same.
Our Preferred Labiaplasty technique
Dr. Anderson performs her vaginal rejuvenation procedure at an ambulatory surgery facility, taking approximately one to two hours under general anesthesia. Women are back home recovering the same afternoon. Dr. Anderson begins by making an excess wedge excision of labia minorum. Contouring of the labia majorum can also be done if it is required. Once the desired youthful appearance of the labia has been achieved, Dr. Anderson will place dissolvable sutures for proper healing. Dr. Anderson understands that there is a very diverse anatomy when it comes to the female genitalia and there is not one labiaplasty technique that may be performed on every patient. For this reason, Dr. Anderson evaluates each of her patients in order to devise a custom plan based upon each specific patients' main complaints and what is most bothersome to them. With that being said, there are certain techniques that Dr. Anderson finds to be superior to others. Specifically, Dr. Anderson tends to perform more labiaplasty surgeries using the wedge technique; this is because the wedge technique addresses both the anterior to posterior length of the labia minora as well as the over height.
What is "the Barbie" Look?
If you are researching vaginal rejuvenation you may come across a term known as "the Barbie" look or the Barbie surgery. "The Barbie" is commonly referred to as a procedure that will involve surgically trimming both the labia minora as well as the labia majora. The idea is that a woman's genitalia will appear smooth and "tucked-in" like the plastic doll Barbie.
---
Before & After photos
---
Cost of Labiaplasty treatment
There are a variety of factors that determine the overall cost of your labiaplasty procedure.
For more detailed pricing information visit here.
Surgeons Fee: $4,000 – $6,000
Anesthesia Fee: depends on length of procedure
Hospital and Surgical Facility Fees: depends on length of procedure
Pre-Surgical Medical Clearance and Lab Tests: usually covered by medical insurance
Medication Costs: usually covered by medical insurance
Follow-Up Visits: included with surgeon's fee at The Naderi Center
---
Preparation for your Labiaplasty
At The Naderi Center we believe the success of any cosmetic procedure can be improved with proper patient preparation. We go above and beyond to make sure that our patients are medically, emotionally, and physically ready for surgery.
Please review our detailed instructions on labiaplasty preparation in link below.
---
The Labiaplasty Recovery Process
Patients should expect their labiaplasty recovery to take about one week. Most women are back at work or school in a few days. There will be no need to remove sutures, as dissolvable stitches are used with Dr. Anderson. Bruising and swelling are common around the labia, however this will resolve. Dr. Anderson will prescribe any necessary pain medication, although discomfort after labiaplasty is generally mild. Exercising and sexual activity should be postponed for four to six weeks, allowing the labia time to fully heal.
---
Risks, Safety, and Potential Complications of Labiaplasty
Dr. Anderson has years of experience in vaginal rejuvenation procedures, and brings the most innovative techniques to her patients. Today's vaginal rejuvenation procedures are safer and more effective than ever before, although there is always the small chance for complications to occur. Patients should choose a skilled, experienced provider, such as Dr. Anderson, to ensure they receive satisfactory results. It is imperative to stay compliant with postoperative instructions and activity restrictions to reduce the risk of experiencing complications. During the consultation appointment, Dr. Anderson will discuss the risks and complications that can accompany vaginal rejuvenation techniques.
Potential Complications after a Labiaplasty can include
Risk of General Anesthesia
Excessive bleeding
Unfavorable scarring
Infection
Nerve damage or loss of sensation in the operated area
Pain with Intercourse
Chronic dryness of the vaginal area
Flap necrosis, or death of cells in the living tissue
Need for Revision Surgery
---
Labiaplasty Specialist, Dr. Erica Anderson
Dr. Erica Anderson brings her patients cutting-edge options for vaginal rejuvenation at the Naderi Center. As a female surgeon, Dr. Anderson understands her patient's most delicate aesthetic desires, allowing her to create a personalized vaginal rejuvenation treatment plan to meet these needs. She brings years of experience to each procedure, and is regarded as one of the country's most sought after vaginal rejuvenation surgeons. Dr. Anderson's techniques can be performed alone for excellent results, but may also be included in a more extensive physical rejuvenation process, such as the Mommy Makeover.
The Labiaplasty Consultation
Women interested in vaginal rejuvenation should begin their journey by making a consultation appointment with Dr. Anderson. During this time, Dr. Anderson will review the medical history, perform a brief physical exam, and fully explain the vaginal rejuvenation technique. She will listen to patient concerns and answer any questions about the procedure. Once it has been determined that vaginal rejuvenation is the right technique to meet an individual's needs, Dr. Anderson will create a personalized treatment plan.
---
Schedule your Labiaplasty Consultation
To get additional information on the vaginal rejuvenation process at The Naderi Center, contact our Northern Virginia office at 703-481-0002 or our Chevy Chase, Maryland office at 301-222-2020. Consultations with Dr. Anderson can be scheduled in-person, as well as online. The Naderi Center has two convenient locations, easily reached from anywhere in the Washington D.C. metropolitan area. Anyone coming from outside of Maryland, Virginia, or Washington D.C. may want to discuss travel advice and reservation assistance with one of the Naderi Center's expert patient coordinators.
---
Labiaplasty Questions to Ask
What is the difference between Vaginoplasty and Labiaplasty
A vaginoplasty and labiaplasty both fit under the classification of vaginal rejuvination surgery. A "Vaginoplasty" refers to the surgical procedure that "tightens" vaginal walls and the vaginal canal. Patients typically seek a vaginoplasty after childbirth to increase sexual gratification, vaginal dryness and excessive vaginal vault relaxation. Vaginal tightening can be performed both surgically as well as now days there are a variety of different non-invasive laser techniques. Labiaplasty is a cosmetic surgical procedure to remove excess tissue of the labia minora and majora. Patients typically seek labiaplasty due to having misshapen labia.

Will labiaplasty surgery enhance and improve sexual intercourse?
Often times woman with enlarged labia experience embarrassment, low self-confidence, and hesitation towards participating in sexual intercourse. However, the affect tends to be more psychological for many. During a study performed on "The Impact of Labiaplasty on Sexuality", researchers found that the after effect of patients who underwent the procedure showed most improvement in the "pain and enjoyment domains" of sex. (Turini T, 2018). Overall the researches found the procedure to have a positive influence on functionality during intercourse Enlarged labia can also have a physical effect on sexual intercourse and can in some cases hinder getting pregnant by making penile penetration more challenging.

How do I know if I am a good candidate for the labiaplasty procedure?
A good candidate for labiaplasty is a patient who is experiencing discomfort, irritation, aesthetic dissatisfaction, or self-consciousness due to the size, shape, and/or the functionality of their labia. Patients often seek a labiaplasty procedure for both cosmetic and medical reasons.

Will I have a lot of pain after my labiaplasty procedure?
Pain level after labiaplasty is typically mild to moderate. It is normal to experience discomfort and swelling for a few days to weeks following the procedure. Symptoms are manageable with cold compresses and pain medication.

When can I resume sexual intercourse after a labiaplasty procedure?
Healing of the labia after surgery typically takes around 4-6 weeks. However, it is important to attend all follow-up appointments with the surgeon so the surgeon can evaluate and clear you for sexual intercourse based upon your progress in recovery.

Should I wait to have children first before undergo my labiaplasty?
No. When to undergo a labiaplasty procedure is largely up to the patients' own personal discretion and preference. If the patient is fully educated on the procedure and its potential risks, has found an experienced surgeon, and feels ready for the labiaplasty procedure then there is no reason to wait until after childbirth.
Will there be scars after surgery? If so, how big will it look?
Scars will be minimal after surgery. Dr. Anderson prefers the wedge-type labiaplasty, as this makes resulting scars virtually undetectable.
Is Labiaplasty covered by insurance?
In some instances where a labiaplasty is not considered to be an elective cosmetic procedure and done more for infertility issues it may be covered by your health insurance. The Naderi Center does not participate with insurance for the labiaplasty procedure.
Can I have other procedures performed simultaneously with my labiaplasty?
Yes, it is common for our patients to have more than one procedure performed at the same time as their labiaplasty. Often times a "mommy makeover" which involves breast surgery as well as a tummy tuck performed at the same time as a labiaplasty.
What labiaplasty office is near me?
If you live in the states of Virginia or Maryland, The Naderi Center for Plastic Surgery and Dermatology offers labiaplasty among its services. For a full list of services, please visit our Locations page.
Citations:
Willis RN, Wong CS, Patel BC. Labiaplasty Labia Minora Reduction. [Updated 2019 Jun 10]. In: StatPearls [Internet]. Treasure Island (FL): StatPearls Publishing; 2019 Jan-. Available here.

RD, M. (2008). Labiaplasty of the labia minora: patients' indications for pursuing surgery. – PubMed – NCBI. [online] Ncbi.nlm.nih.gov. Available at: [Accessed 5 Apr. 2019].

Turini T, e. (2018). The Impact of Labiaplasty on Sexuality. – PubMed – NCBI. [online] Ncbi.nlm.nih.gov. Available at: [Accessed 5 Apr. 2019].

Shahrooz Sean Kelishadi, Joshua Brandon Elston, Arun Jay Rao, John Paul Tutela, Nana N. Mizuguchi, Posterior Wedge Resection: A More Aesthetic Labiaplasty, Aesthetic Surgery Journal, Volume 33, Issue 6, August 2013, Pages 847–853, here.
Christine A Hamori, Paul Banwell, Red Alinsod (2017). Introduction. Female Cosmetic Genital Surgery-Concepts, Classification, and Techniques. New York: Thieme Medical Publishers Inc.
Textbook online: Simplified classification for labial protrusion
Contact Us
"*" indicates required fields