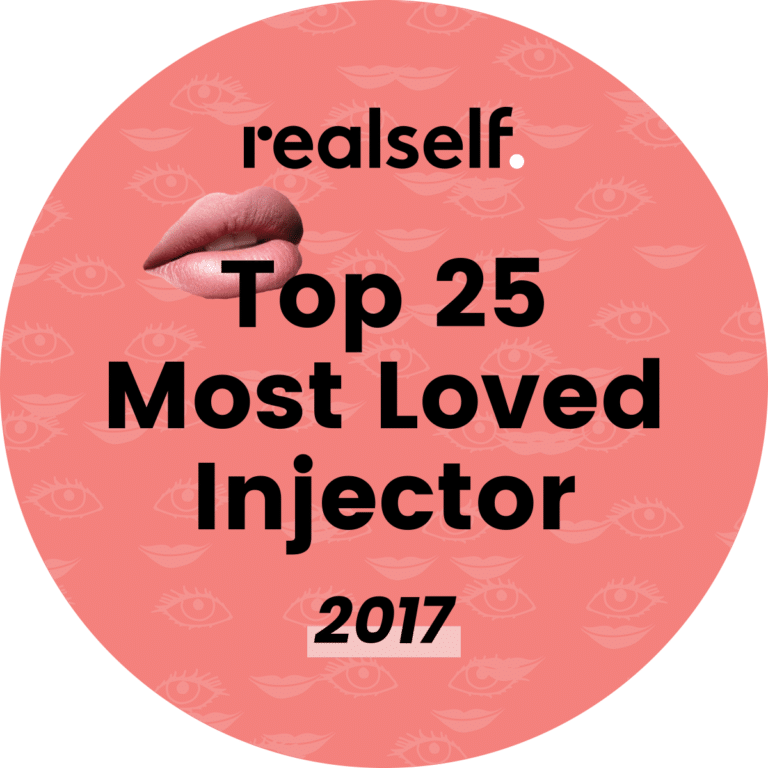 The face often loses volume with age, primarily due to a natural decline in healthy, fatty tissues. Along with the normal aging process, illness, dramatic weight loss, and genetic disposition can also contribute to these changes. Unfortunatley, a thinning dermal layer can add years to the appearance. Decreasing volume may result in hollow areas under the eyes, boney facial contours, and sunken cheeks. The appearance may take on a haggard, frail look, as the stores of vital facial volume are depleted. Although there is little that can be done to reverse this loss of volume, a noninvasive treatment is available.
Sculptra is a unique dermal filler, specifically designed to correct the shallow to deep facial wrinkles and creases resulting from diminishing facial volume. Unlike other products on the market today, Sculptra is made from Poly-L-Lactic Acid. The injectable will plump the targeted area by replacing lost Collagen, a vital substance providing structure to the skin. Poly-L-Lactic Acid is a biocompatible material, so it is safely absorbed and eliminated by the body. Fully approved by the FDA in 2009, Sculptra can treat a wide variety of cosmetic issues.
Sculptra can improve the look of:
Deep Nasolabial Folds
Sunken Temples
Hollow Cheeks/Cheekbones
Thin Chin
Boney Jawline
The results from Sculptra are long lasting; patients will not require a repeat session for two years or longer. The injectable can provide excellent benefits used on its own. When paired with complementary treatments however, such as Botox Cosmetic, patients can enjoy exceptional, long lasting results.
The Ideal Sculptra Candidate
Both men and women, struggling with a loss of facial volume and fine lines, can experience dramatic results from Sculptra injections. Individuals interested in a noninvasive way to treatment the early signs of aging, without the trauma of surgery, will find Sculptra can restore a youthful appearance in minutes. Ideal candidates for Sculptra should be in overall good health, understand the treatment process, and have realistic expectations for their results.
Prior to receiving Sculptra injections, potential patients are encouraged to have a consultation appointment with Dr. Naderi or Dr. Kulak. At this time, the surgeon will sit with the patient to discuss their unique needs and goals. A brief skin evaluation will be performed and their medical history reviewed. If it is determined that Sculptra is right for the patient, a personalized treatment plan will be created.
The Sculptra Procedure
Sculptra injections are performed in the Naderi Center's state-of-the-art office suite. A treatment will take less than an hour to complete. As Sculptra is mixed with Lidocaine, an anesthetic, the injections cause little to no pain. A topical numbing cream may also be used before treatment, to further enhance a patient's comfort level.
The results from Sculptra are not immediate. Over the next several months, as the body's Collagen supply is replaced, a gradual improvement in the skin's texture will be seen. This keeps the face looking natural, yet increasingly rejuvenated. On average, three Sculptra treatments are needed to acquire the desired results. These are performed over the course of about three months, with four weeks between injections. After this series of treatments, patients will be able to enjoy their results for up to two years before repeat injections are necessary.
Recovery After Sculptra Injections:
There is no downtime required after Sculptra injections. Patients can resume work and normal activities the same afternoon. Vigorous exercise is best postponed for the first 48 hours. Light bruising and mild swelling around the injection site is common, but should dissipate over the first week. Redness or discoloration may also be seen. The area may temporarily become tender or itch, but all side effects from a Sculptra treatment will normally resolve in 10-14 days.
The Potential Risks from Sculptra:
Sculptra injections are considered safe and efficient when performed by an experienced provider. It is important that patients only trust their appearance to a reputable cosmetic surgeon, such as Dr. Naderi or Dr. Kulak. While minimal, Sculptra does carry the risk for allergic reaction, facial nodules, and inflammation.
The injectable is not for use on the Frown Lines, forehead, around the eyes, or the mouth. Patients with a known allergy to Lidocaine, suffer from Lupus, Sijogren's Syndrome, Rheumatoid Arthritis, or who are pregnant/nursing should not use Sculptra.
As one of the country's top cosmetic surgery practices, the Naderi Center consistently provides patients with extraordinary results in the safest of environments. For more information on Sculptra, or any other rejuvenate treatment, contact our office at 703-481-0002.
FAQ:
Am I a good candidate for treatment with Sculptra?
If you are experiencing the early signs of aging and a loss of cheek volume, you may make an excellent candidate for Sculptra. Patients should also be in generally good health, holding realistic expectations for the results
Will I need more than one Sculptra session?
To reach optimal results, more than one Sculptra treatment may be required. Injections are normally spaced four to six weeks apart.
How long does a Sculptra treatment take?
Sculptra injections are quick; the how procedure will take less than 30 minutes in Dr. Naderi's office.
How long will the results of Sculptra last?
Benefits from Sculptra injections can last between 18 and 24 months, sometimes longer.