A brow lift, which is also known as a forehead lift, is a plastic surgery procedure designed to improve the appearance of forehead lines and wrinkles as well as a drooping brow. Sagging eyebrows may make one appear tired, sleepy, or not alert. During the brow lift procedure, our surgeon will smoothen wrinkles and elevate the eyebrows to revitalize the forehead area and restore a more youthful appearance. A brow lift can be performed as a single procedure or in combination with other procedures, such as a facelift or eyelid lift.
Brow Lift Expected Results
Improve the appearance of "forehead lines", horizontal lines across forehead
Improved appearance of "frown lines," vertical lines on the bridge of the nose between the eyebrows
More elevated, youthful, and natural appearing eyebrow position
Decreased hooding of eyebrows onto the upper eyelids.
Brow Lift Procedure Snapshot
PROCEDURE SUMMARY
What is the pain level after the surgery?
Minimal to discomfort
Anesthesia type (if applicable)
MAC (monitored anesthesia care) or general anesthesia (Clindamycin 900mg if allergic to penicillin).
Duration of Surgery
1 to 3 hours
Where will scaring for this procedure be?
Endoscopic technique utilizes 4-5 small (1cm) incisions placed behind the hairline. Temporal brow lift is done by placing two small incisions that are placed behind the hairline. Hairline advancement (forehead shortening) combined brow lift is performed with hidden incisions at the junction of the hairline and forehead. Direct brow lifts are done by removing skin directly above the eyebrows
Timeframe to begin showing final results
1 to 2 weeks
When is the patient able to return to regular activities?
1 week
When is the patient able to resume exercise?
2 weeks
Cost of surgeon's fee
$7,000 – $9,500
---
Ideal Candidate for a Brow Lift
A good candidate for a brow lift should:
Have age-related forehead changes
Have forehead wrinkles or lines that cause an angry, tired, or sad appearance
Have a drooping brow that has caused impaired vision
Be in overall good health and hold realistic surgical expectations
Be a non-smoker
---
Brow Lift Surgical Techniques
The brow lift procedure will be performed at an accredited outpatient surgical facility or hospital under general anesthesia or in some cases under deep sedation. The forehead lift takes about 1 – 2 hours to complete depending on the surgical technique utilized by your surgeon.
Endoscopic Brow Lift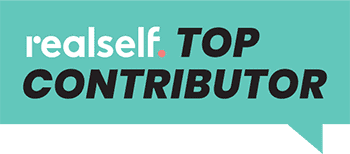 The endoscopic brow lift is a procedure that elevates the brow using small incisions. The endoscopic technique utilizes 4-5 small (1cm) incisions placed behind the hairline. A specialized camera device known as an endoscope is utilized to help the surgeon visualize the surgical region and assist with elevation of the forehead and brows to the desired position. A small fixation device known as an endotine is placed to secure the brow in the elevated position. Over a period of 3-6 months, the endotine will dissolve as the brow and forehead heal and a youthful appearance is restored.
When patients have a high hairline or significant forehead skin laxity, Dr. Kulak modifies the endoscopic brow lift. She shortens the forehead length by removing skin through a hidden incision along the hairline (pre-trichial modification). The benefit of this type of incision is that it is specifically designed to heal with minimal scarring and is well concealed by the hairline.
Temporal brow lift or lateral brow lift
A temporal, or what is also known as a lateral brow lift, can be performed in cases where a patient only needs minimal elevation of the outer portion of the brow. A temporal brow lift is helpful because it tightens the temple area and also helps treat wrinkles and deep lines in this region. A lateral brow lift is perfect for treating stubborn or deep "crows feet", or periorbital lines that cannot be improved using noninvasive treatment options like Botox.
The temporal brow lift is performed through two small incisions that are placed behind the hairline. Patients who undergo the procedure usually experience minimal downtime and recover quickly. Often times, the procedure is performed in combination with an upper blepharoplasty, or eyelid lift to minimize the incision on the eyelids.

Hidden Incision Brow lift
In balding male patients with deep forehead lines, a brow lift is occasionally performed through a hidden incision that is made through one of the deep forehead lines. Once the incision is made, the muscles above the eyes are incised, thus smoothing frown lines. The skin is then excised to elevate the brow.
A Direct Brow lift
This is a procedure that is occasionally performed on older patients to remove skin directly above the eyebrows. Typically, patients have thick brow hair and the incision used to perform the procedure is well hidden. The procedure can be performed under local anesthesia in the office and tends to have minimal downtime.
---
Photo Gallery Preview
---
Cost of a Brow Lift
There are a variety of factors that determine the overall cost of your brow lift.
For more detailed pricing information visit here.
Surgeons Fee: $7,000 – $9,500
Anesthesia Fee: depends on length of procedure
Hospital and Surgical Facility Fees: depends on length of procedure
Device Fees: Endotine
Pre-Surgical Medical Clearance and Lab Tests: usually covered by medical insurance
Medication Costs: usually covered by medical insurance
Follow-Up Visits: Included with surgeon's fee at The Naderi Center
---
Preparation for a Brow Lift
At The Naderi Center we believe the success of any cosmetic procedure can be improved with proper patient preparation. We go above and beyond to make sure that our patients are medically, emotionally, and physically ready for surgery. Please review our detailed instructions on brow lift preparation in the link below.
Click here to download and print our preop and post-operative brow lift instructions.
---
Recovery after a Brow Lift
Bruising and swelling are common after a brow lift. Typically, these symptoms will begin to fade within 1-2 weeks. To control swelling, patients are advised to keep their head elevated as much as possible for the first few days after their procedure. Discomfort tends to be minimal with the endoscopic approach, though pain medication can be prescribed if necessary. Bandages may be removed within a day or two. Stitches or staples are usually removed within a week. Most patients can return to work in about a week, though more strenuous activities will need to be postponed for about two weeks.
Patients will notice initial results after their surgical bandage is removed. As swelling goes down and healing takes place, results will continue to become more visible. It typically takes approximately 3 months for final results to be seen. Results include the following:
The reduction or elimination of forehead lines and wrinkles
A raised brow that does not droop or sag
A natural, youthful, and revitalized forehead
Patients who live a healthy lifestyle and use sun protection can expect long-lasting results. In many cases, results can last up to 10 years.
---
Risks, Safety and Potential Complications after a Brow Lift
The brow lift is on of the most commonly performed procedure at The Nader Center by Dr. Jessica Kulak. During the consultation appointment, Dr. Kulak will further discuss the risks and potential complications during the brow lift process in great depth.
Possible Complications after a Brow Lift Include
Risks of general anesthesia
Excessive bleeding
Skin changes or discoloration
Poor incision healing or scar healing
Hair loss around areas where incisions were placed
Eye dryness or irritation
Nerve damage or numbness on the skin or itching sensation
Facial nerve damage resulting in facial muscle weakness or paralysis
Infection
Need for revision surgery
Facial asymmetry
---
Brow Lift Specialists, Dr. Jessica Kulak
Dr. Jessica Kulak is a double board certified facial plastic surgeon who specializes specifically in aging face surgery. Dr. Kulak exclusively performs a handful of procedures on the face and performs them routinely and expertly. An initial consultation with Dr. Kulak is an important part of the brow lift process. During your consultation, Dr. Kulak obtains and reviews your complete medical history and examines your forehead shape, size, and position. Dr. Kulak will also analyze the hairline and facial features. Dr. Kulak and you will then have a very thorough discussion regarding goals and surgical outcomes and options.
---
Schedule your Brow Lift Consultation
To get additional information on the brow lift surgery and process for scheduling surgery at The Naderi Center, contact our Northern Virginia office at 703-481-0002 or our Chevy Chase, Maryland office at 301-222-2020. Consultations with Dr. Kulak can be scheduled in-person, as well as online. The Naderi Center has two convenient locations, easily reached from anywhere in the Washington D.C. metropolitan area. Anyone coming from outside of Maryland, Virginia, or Washington D.C. may want to discuss travel advice and ask for reservation assistance with one of the Naderi Center's expert patient coordinators.
---
Brow Lift Questions to Ask
How do I know which brow lift procedure will be right for me?
The definitive way to determine which procedure will be right for you is to attend an initial consultation with Dr. Kulak. During your consultation, Dr. Kulak will examine your brow and invite you to discuss your surgical goals. After she has a clear understanding of what you are trying to achieve with your procedure, she will choose a procedure that best treats your condition and needs.

Will I look unnatural after my procedure?
No, Dr. Kulak takes great care not to elevate the eyebrows too high to avoid the creation of unnatural appearing brows.

Will I have a noticeable scar after my procedure?
All surgical incisions result in scars. Because Dr. Kulak carefully places incisions along natural skin folds within the hairline, scars from her incisions are not noticeable. In many cases, patients cannot even notice their own scars.
What can I do to maximize my results?
Regularly applying sun protection, exercising, eating a well-balanced diet, and not smoking are the most important measures to keep in mind to maximize your results. Avoiding alcohol in excess is also recommended.
Can I have a brow lift if I am bald or have thin hair?
Yes, Dr. Kulak can use special incision techniques to perform your procedure and hide your surgical incisions and scars.

What procedures can I combine with my brow lift?
A facelift and eyelid lift are commonly combined with a brow lift. If you are interested in these or other procedures, you can discuss all of your treatment options with Dr. Kulak at your initial consultation.
Are their noninvasive treatment options that I can consider?
Botox can sometimes be used to achieve a temporary lift of the brow for 3-4 months. Dr. Kulak can skillfully inject Botox into the muscles around the eyes to bring down the brow and allow the eyebrows to lift. The result is a more open look to the eyes. Ultherapy can also provide a noninvasive brow lift. The Ultherapy procedure stimulates collagen production by delivering focused ultrasound energy to the skin's foundational layer without cutting or disrupting the surface of the skin. There is no downtime and results are seen approximately 3-6 months after treatment.
Is it possible to see before and after photos of some of Dr. Kulak's patients who have had a brow lift?
Absolutely! Dr. Kulak can show you pictures of patients who had a condition similar to yours. She will go into great detail while explaining their results and how yours will be similar and different. After you have seen before and after photos of Dr. Kulak's patients, you will know exactly what to expect after your procedure.
Is there anything I can do to prepare for my initial consultation?
Dr. Kulak advises her patients to think about the reasons why they want a brow lift and what goals they want their procedure to achieve. She also asks patients to bring a list of all the medications or herbal supplements they are taking and/or are allergic to.
Other than a surgical browlift, what other options do I have to help elevate my eyebrows?
While a surgical brow lift is the most permanent means to achieve an elevated brow, other less invasive options exist. Botox can be injected in specific areas of the forehead to obtain a non-surgical brow lift, this must be carefully done as inexperienced hands may possibly give the patient the "surprised" overly elevated eyebrows. Another great option is Ultherapy. Ultherapy uses ultrasound energy to encourage collagen production by fibroblast cells. As a result, this treatment helps to lift and tighten the skin. When used on the forehead around the brows, Ultherapy can give a patient a subtle brow lift. Additionally, another option is to place a small amount of injectable filler around the brow and temple region to give the allusion of a more lifted look. A consultation with one of our surgeons can help determine what your best options are.
How do I schedule my initial consultation?
To schedule your initial brow lift consultation with Dr. Kulak in Chevy Chase, Maryland, or Northern Virginia, please visit our contact page.
What brow lift office is near me?
If you live in the states of Virginia or Maryland, The Naderi Center for Plastic Surgery and Dermatology offers brow lift among its services. For a full list of services, please visit our Locations page.
View more frequently asked questions about brow lift
Contact Us
"*" indicates required fields