Because the nose is our most prominent facial feature, we tend to focus on its flaws rather than its good qualities. Many people are born with crooked noses, disproportionately large or small noses, or simple imperfections that can have a big impact on self-esteem. Rhinoplasty is a popular surgery that corrects either functional or cosmetic problems in the nose (often both). The surgery is extremely effective and has been used since ancient times to alter and reconstruct the nose. However, it is major cosmetic surgery, and many people who want simple cosmetic changes are often reluctant to undergo the procedure in order to get the results they want.
Fortunately, modern aesthetic medicine has advanced significantly and there are now more options than ever for improving facial aesthetics without using surgical techniques. While some concerns can only be addressed using traditional rhinoplasty techniques, minor changes can often be made using minimally-invasive injectable fillers. Dr. Naderi is able to offer many patients in the Washington D.C. area the option of a non-surgical rhinoplasty or "fifteen-minute nose job".
What is Non-Surgical Rhinoplasty?
A non-surgical nose job is a treatment that uses dermal fillers to correct minor cosmetic imperfections in the nose. The physician uses these injectables to fill in dents, create the illusion of structural changes, and make minor improvements to the overall appearance of the nose. The dermal filler used in this procedure are temporary so patients will need to have touch-up procedures periodically to maintain the results of the treatment. However, many patients favor the non-surgical rhinoplasty for its convenience and minimal invasiveness.
Dr. Naderi shows microdroplet technique for non-surgical nose job
The Benefits of Non-Surgical Rhinoplasty
Of course, the biggest benefit of the non-surgical approach over the traditional is that it requires no incisions or downtime. Traditional surgical rhinoplasty results in swelling that can take up to a year to fully resolve and it is overall a much more invasive and expensive option for improving the aesthetics of the nose. Patients who are not ready to commit to the surgical option but would like to improve their facial balance and aesthetics can benefit from non-surgical rhinoplasty. The procedure can improve a drooping nasal tip, fix slight crookedness, and even smooth out a hump or bump on the bridge of the nose. Non-surgical rhinoplasty has many of the same psychological benefits of surgical rhinoplasty, with many patients experiencing a boost in self-esteem immediately following the procedure.
Before & After Photos
Are you a Candidate for Non-Surgical Rhinoplasty?
Good candidates for liquid rhinoplasty are healthy adults, who would like to make minor cosmetic changes to their nose. People who don't want (or can't) undergo surgery for safety reasons can be good candidates for a Liquid Rhinoplasty. However, people who need major changes to the aesthetics or structure of the nose will be better with a surgical rhinoplasty. Liquid rhinoplasty is not suitable for patients who want to improve nasal function or make major changes to the nose. Prospective patients need to understand the limitations of a non-surgical nose job and evaluate with their surgeon as to whether or not the procedure will meet their needs and goals.
Your Nose Job Consultation
Even though the "fifteen minute nose job" is not a surgical procedure, you will still need to meet with Dr. Naderi before you commit to the procedure. This consultation is important as it will allow Dr. Naderi to assess your candidacy for the procedure and help you to understand all your options for nose reshaping. Dr. Naderi will make sure you are healthy enough for the procedure and also ensure that your goals are achievable. If not, he may suggest you consider traditional rhinoplasty or a different procedure to help you achieve your desired outcome. Be sure to ask any questions you have, and take this opportunity to get to know Dr. Naderi.
The Non-Surgical Rhinoplasty Procedure
The nonsurgical rhinoplasty procedure is very straightforward. Dr. Naderi typically uses a numbing cream prior to the procedure to ensure patient comfort, but you will not require anesthesia. The actual injection process takes just one to five minutes, and patients will be able to see the changes taking place throughout the procedure. The type of filler will depend on the patient, and we will discuss it prior to the treatment. There are no incisions to close, and patients can leave almost as soon as the injections are complete.
Recovery and Downtime after Non-Surgical Rhinoplasty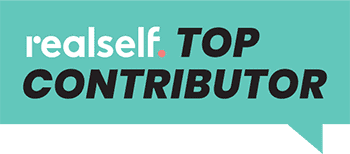 Because liquid nose jobs are non-invasive, patients can get back to their normal activities right away. There may be some tenderness, swelling, and bruising, but these minor side effects should subside quickly after the procedure (post op). The liquid rhinoplasty is a great option for people with busy schedules. This is because it requires no downtime and the results are immediate.
Non-Surgical Rhinoplasty FAQs
How long do the results last?
Unlike traditional rhinoplasty surgery, liquid rhinoplasty does not produce permanent results (the exception is with Artefill injections, which are not typically recommended for the nose). The longevity of the results largely depends on the type of filler used. Hyaluronic acid fillers like Restylane usually last about 8 months, while Radiesse (made from calcium hydroxylapatite, a bone-like substance) can last up to 18 months. Eventually, these fillers are naturally absorbed by the body. Your surgeon will decide which filler is best for your specific situation.

Are there any risks?
Injectable fillers are very safe treatments overall. Swelling, redness, tenderness, and bruising are all normal temporary side effects. More serious complications like infections are very rare, particularly when the treatment is performed by a board certified facial plastic surgeon.

Are there any problems that can't be fixed using the non-surgical technique?
Yes. The overall structure of the nose cannot be addressed without surgery. The non-surgical nose job is best for people who need only minor changes made to the nose. Fixes for very large nasal humps, extremely crooked noses, and other major changes are only possible using surgical techniques.

Does it hurt?
A topical numbing cream is used to make the injections more comfortable, and the entire process takes only a few minutes. However, you may experience minor discomfort after the treatment. Your surgeon will give you tips on how to relieve this discomfort following the procedure.

Which filler is best for my non-surgical nose job?
You should discuss filler options with your surgeon. He or she will have the experience to choose the filler that will give you the results you're looking for.

Can I get a surgical rhinoplasty after I've had a non-surgical treatment?
Yes, once the filler has been completely absorbed, patients can undergo permanent nose surgery. The liquid rhinoplasty is often a great way to "test out" a new look and ensure patients are happy with their new and improved nose before making a permanent change.
Who should perform my treatment?
Even though liquid rhinoplasty is non-invasive and temporary, it should only be performed by a qualified, board-certified facial plastic surgeon. There is an art to this procedure, and a trained plastic surgeon will be able to reduce the potential for complications while creating the best possible result.
How old do you have to be to get a liquid rhinoplasty?
Most fillers are approved for adults at least 18-21 years of age. However, we can use a non-surgical nose job as a treatment for teenagers with parental and doctor consent. The nose does not stop growing until the mid to late teens, and a liquid nose job can sometimes be a good alternative for patients who are still growing but don't like the appearance of their nose.
Is it possible to have an allergic reaction to the fillers?
While it is rare, some patients can have an allergic reaction to some fillers. If necessary, you may required a skin test before the procedure to ensure safety.
Will the treatment make my nose look bigger?
Only if that is the goal of the procedure! A plastic surgeon can sculpt and shape the nose to create many different illusions and help patients reach different goals, including changing the size of the nose.
What non-surgical rhinoplasty office is near me?
If you live in the states of Virginia or Maryland, The Naderi Center for Plastic Surgery and Dermatology offers non-surgical rhinoplasty among its services. For a full list of services, please visit our Locations page.
A New You in 15 Minutes or Less
Liquid rhinoplasty has many benefits for the right candidates. If you think you might like a more refined, balanced nose without surgery, please contact us at The Naderi Center to schedule a consultation appointment. Our offices are located in Chevy Chase, Maryland (301-222-2020) and Reston, Virginia 703-481-0002.
Contact Us
"*" indicates required fields