Aging does not bypass any of us, and the first signs of it are often found in the face. Even if we have not spent a lifetime out in the sun, crow's feet form around the eyes, skin becomes dry and loses its elasticity, and fine wrinkles show up around the mouth.
These are all natural signs of aging, but who of us has not tanned too much as a teenager, or exercised daily outdoors, or enjoyed sitting out on the park bench for lunch?
Add ultra-violet damage to our naturally aging skin, and you may see freckles, age spots, spider veins, and leathery and mottled skin accumulate to detract from our appearance.
These photoaging effects are determined by our genetics, skin color, and the amount of time spent in the sun. Add more damage from smoking and you could look 15 or 20 years older than you really are.
Results of Fraxel treatment
See before and after photos of laser resurfacing here. These patients underwent CO2 Laser resurfacing, Fraxel Laser resurfacing, or other non-invasive treatment. Sometimes patients opt for non-surgical treatments, especially for skin issues, rather than surgery. The benefits include lower cost and less down-time.
Now you can easily reverse the signs of aging with Fractionated CO2 Laser (Fraxel ) treatments. This safe, minimally-invasive laser skin resurfacing dramatically reduces finely etched wrinkles and will rejuvenate your skin. This new technology does not affect surrounding areas, which greatly improves recovery time. With treatments ranging from mild to deep, the procedure stimulates facial cells to grow and replace older cells, allowing new collagen in the skin to form. The recovery time is much faster with Fractionated CO2 Laser (Fraxel ) treatments than traditional CO2 laser rejuvenation procedures.
Fractionated CO2 Laser (Fraxel ) treatments are individualized, and our doctors will discuss with you the final results that you desire. The mildest treatments of Fractionated CO2 Laser (Fraxel ) use CO2 laser light energy to reduce fine lines around the eyes and age spots. Moderate depth Fractionated CO2 Laser (Fraxel ) is a deeper treatment for wrinkles and blemished skin. Deep Fractionated CO2 Laser (Fraxel ) is a more aggressive ablative carbon dioxide laser treatment that treats deep wrinkles and furrows, acne scars, severe skin damage, and tightens the skin as well. Recovery time is generally longer with more aggressive Fractionated CO2 Laser (Fraxel ). It may be a week before you are comfortable appearing in social situations, but it is still considerably a shorter recovery time than with the older traditional CO2 laser methods.
Results can be seen with just one Fractionated CO2 Laser (Fraxel ) treatment, but the maximum benefit depends on what you want to see when you look in the mirror. The milder the treatment, the more treatments are needed for maximum benefit. Often patients require anywhere between two to six sessions. At each session, a topical anesthetic is applied prior to the procedure and may be combined with a Valium as a mild sedative. You will need someone to drive you in, drive you home, and stay with you for a few hours. The deeper Fractionated CO2 Laser (Fraxel ) treatments are, the more uncomfortable, but many patients tolerate these Fractionated CO2 Laser (Fraxel ) treatments without any problems. The deeper the treatments, the more dramatic the results.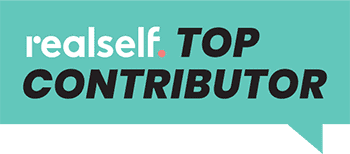 The laser targets a portion of the skin much like a checker board, leaving other parts of the dermis unaffected for quicker recovery, healing, and shorter down time. The treatment last between one hour. Then the healing process of the dermis begins. Your face will feel sunburned, and later will look tan. Patience is required as it may be two to three months before the results are visible, but as you can see from the photos of The Naderi Center's patients here, dramatic results can be seen as early as 2 weeks after your Fractionated CO2 Laser (Fraxel ) procedure.
Dr. Shervin Naderi has extensive experience and expertise with various laser treatment. He is a Board Examiner for the American Board of Facial Plastic & Reconstructive Surgery and he examines other facial plastic surgeons on these laser devices. Dr. Naderi is conveniently located near all Northern Virginia and greater Washington, D.C. areas with locations in Reston, Virginia and Chevy Chase, Maryland. Call us today at 703-481-0002 or 301-222-2020 to schedule a consultation and learn more about Fractionated CO2 Laser treatment and what it can do for you.
Fraxel FAQs
What Fraxel office is near me?
If you live in the states of Virginia or Maryland, The Naderi Center for Plastic Surgery and Dermatology offers Fraxel among its services. For a full list of services, please visit our Locations page.
Contact Us
"*" indicates required fields