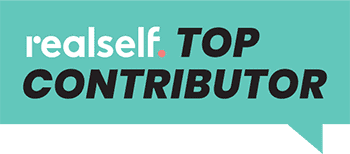 Chemical Peels are cosmetic procedures that remove the outer layers of skin (exfoliation) and allow the growth of new skin cells to provide a wide range of aesthetic benefits. Chemical peels can improve the appearance of skin on the face, neck and upper chest or décolletage. Depending on the strength of the Chemical Peel, a variety of skin concerns may be improved from coarse & dull skin to blotchy and hyper-pigmented skin, to acne and acne scars, to looseness, laxity and facial wrinkles and lines. Fine lines caused by facial expressions can be reduced along with wrinkles. Freckles and age spots caused by sun damage can be improved. Acne and acne scar can be treated. Skin that has become dull with sun exposure and age becomes more youthful, giving the face a refreshed, energetic look and feel.
How Chemical Peels Work
Chemical peels are scheduled &/or performed at The Naderi Center for Cosmetic Surgery and Skin Care Clinics in Reston, Virginia and Chevy Chase, Maryland. Deeper Chemical Peels may be performed by Dr. Naderi in the hospital operating room under anesthesia while lighter ones may be performed by Dr. Naderi's Master Aestheticians at The Naderi Center. Sometimes, deeper peels may be performed by Dr. Naderi in the office under a combination of local anesthesia with oral sedation.
Chemical Peel Consultation
A consultation with Dr. Naderi &/or The Naderi Center Master Aestheticians will help you understand the procedure in order to decide which peel is right for you. The kind of peel that is right for your skin depend on your skin condition but also on your race, ethnicity, skin color, sex as well as your lifestyle and tolerance for various "down times."
Most dermatologists and plastic surgeons categorize peels into three basic categories of chemical peels: mild strength, medium strength and deep strength. Dr. Naderi's vast and specialized experience has resulted in his new categorization of Chemical Peels into 5 general strengths: Light Peels, Mild Peels, Mild-Medium Peels, Medium Peels, and Deep Peels. Each peel has vastly different outcome and recovery times.
The Light Chemical Peels
Most Spa Peels, fruit acid peels, Alpha hydroxy acid (AHA) peels and Beta hydroxy acid (BHA) peels, refresh the facial skin and give patients a healthier looking and smoother feeling skin by exfoliating the very top layer of dead skin and unclogging pores. These light peels address areas of dryness and coarse regions of the face. These peels are often made from acids that occur naturally in fruits and other foods, such as glycolic acid from sugar cane and citric acid from citrus fruits. The AHA peel, sometimes referred to as a "lunchtime peel," removes the outer superficial layer of the skin or stratum corneum. The peel only takes fifteen to twenty minutes to perform although our Master Aestheticians usually take 30-60 minutes to pamper you during the peel. First the skin is cleaned with alcohol and the peel is applied for the appropriate time. Once removed the skin may look slightly sunburned but the redness is not so bright that you need to take time off work. The best results are seen with regular treatments. Fine wrinkles and uneven pigmentation may be minimized with repeated peels. The peel may help clear up acne by unclogging blocked pores although initially the acne may get worse by bringing the "junk" to the surface. This light strength peel, while safe for people of any skin color, is contraindicated if Accutane (an acne medicine), is being taken. Pregnant women and people with active cold sores, infections or allergies to peels should not have peels.
The Mild Chemical Peels
We categorize the SkinMedica Illuminize Peel and Vitalize Peel into the mild chemical peel category. These peels are stronger than the light peels. While the light peels are often offered at many medi-spas, the mild peels are usually reserved for more advanced medi-spas or Dermatologists' and Plastic Surgeons' offices. Illuminize peel uses a combination of Phytic, Mandelic and Malic acids to brighten and improve the skin tone and color while Salicylic acid provides anti-acne benefits. Vitalize Peel uses a blend of AHA (alpha hydroxyl acids) and retinoic acid to encourage exfoliation of the epidermis and new collagen synthesis. The Vitalize peel effectively reduced pore size and smoothes ruddy complexions.
The Mild-to-Medium Chemical Peels
We categorize Vi Peel and Vi Precision Peel into the mild-medium depth strength of chemical peels. Per Dr. Naderi's classification, Obagi Blue Peel as well as 10% to 20% TCA (trichloroacetic acid) peels are also in this category. These chemical peels are the strongest peels that can usually be tolerated by awake patients in the office of a plastic surgeon or dermatologist. The Vi Peel uses a synergistic blend of TCA, Phenol, tretinoic acid, and Vitamin C to improve the skin tone, pigmentation and feel in just one week. Vi Peels often cause redness and peeling for about 5 days with a severe sun burn appearance. Some patients take time off to heal while the vast majority of patients continue to go to work or school with no down time from this peel. The Vi Precision Peel is a 25% stronger version of the Vi Peel for those patients desiring an even more significant peel outcome. The Obagi Blue peel is essentially a proprietary chemical peel based on TCA as its active ingredient in 10, 15 or 20% increments.
The Medium Strength Chemical Peels
The medium strength chemical peel, 35% TCA (trichloroacetic acid), improves age spots, sun spots, freckles, melasma, fine wrinkles, skin tone, skin texture and may even improve dark circles under the eyes. Optimal results require some skin preparation prior to the peel. Applying retin-A to the skin daily for four to six weeks prior to the peel will speed up the exfoliation process and allows a deeper penetration of the peel. Retin-A also speeds up the growth of new skin cells and facilitates healing. Adding an alphahydroxy acid such as glycolic acid increases the effects of retin-A. Using a bleaching agent, like 4% Hydroquinone, will decrease the chances of the 35% TCA peel from producing post inflammatory rebound hyperpigmentation, especially on darker skinned patients. Once Dr. Naderi applies the peel, you may feel a burning sensation. Sedatives or pain pills may be offered to tolerate this. The peel is applied to small sections of skin at a time and kept on for two to ten minutes. An iced saline solution is applied to counteract the peel and the burning sensation stops. The entire procedure may take up to 20 minutes. Your skin will be covered with a special ointment to keep the skin moist. You will need someone to drive you home from the procedure. Each day you will wash your face 6 times a day using just tap water and then l apply the ointment to your face to keep it moist. In a few days, the outer layers of skin darken, stiffen and look and feel leathery. The skin will begin to peel and flake off. Once the old skin is peeled away, your new skin is bright and pink, but the medium peel does not permanently affect skin color. With makeup, you should be able to return to work in five to seven days. Usually Dr. Naderi prefers to perform the 35% TCA peel in the hospital Operating Room with you under mild Anesthesia for your comfort. Pain is negligible to minimal after the procedure but many patients do not tolerate the medium depth 35% TCA peel awake. Small areas can be numbed using Lidocaine in the office but for full face and neck chemical peel, anesthesia in the hospital O.R. is beneficial.
The Deep Chemical Peels
The deep strength chemical peel is a usually an 88% phenol peel that improves more serious skin problems. The old Baker-Gordon Peel was also based on the 88% Phenol peel with the addition of Croton Oil but it is no longer performed. Deeper wrinkles and lines, acne scars, age spots and pre-cancerous growths like Actinic Keratosis (AK) are all treated. This peel may be applied to the entire face or to proper facial subunits (with a medium or mild-medium peel to the rest of the face to blend everything for a total refreshed look). The face may become one or two shades lighter in color much like a deep CO2 Laser, due to the bleaching effect that it has on skin. The phenol peel may penetrate as deep or even deeper than Dermabrasion or CO2 Laser. The patient is sedated and given local anesthesia but most often the Deep Peels are done in the O.R. at the hospital under general anesthesia. Dr. Naderi applies the peel which takes only a few minutes or less. An ointment is applied to the face. Pain medication may be prescribed for the first several days. The face will be red, oozing and you will have to wash your face 6 times a day to avoid crusting. After several days it will become dark and stiff and begin to flake. This will last for another seven to ten days, and afterwards your face will be smooth and bright red, appearing sunburned. The sunburned look may last months but once the redness disappears, the skin will be lighter in color. This deep strength phenol peel is not recommended for people with heart problems. Due to the bleaching nature of the process it is not recommended for freckled patients or dark skinned patients.
Contact Us
Call for more information or to book a consultation at The Naderi Center for Cosmetic Surgery & Skin Care in Chevy Chase, Maryland, 301-222-2020 or Reston, Virginia, 703-481-0002 .