With so many different types of breast implants out there, it's difficult to sort out which one is made for you. Here we break down the fundamentals of different implant types, shapes and manufacturers. Equipped with this knowledge you and your surgeon can have a more thorough and meaningful consultation about choosing the right implant for you.
"At The Naderi Center we offer a variety of breast implant options for our patients because we feel that breast implants are NOT one size fits all."

–Breast and Body Specialist, Board Certified Plastic Surgeon
What type of implant should you choose?
Silicone (gel) Implants vs. Saline Implants
Silicone Implant
Saline Implant

Gel filled implant with a silicone shell
Natural feel and appearance
Larger incision
One size
Prefilled by manufacturer with a silicone gel
If implant ruptures: removal of silicone gel necessary
Wrinkles & ripples less common
FDA approved for women over 22

Saline filled implant with silicone shell
Round and firm feel and appearance
More discreet incision
Adjustable sizing
Filled by board certified plastic surgeon inside of the body with a sterile saline solution
If implant ruptures: saline removal not necessary
Wrinkles & ripples common
FDA approved for women over 18
What type of texture should your implant have?
Smooth Surface vs Textured Surface Implants
Smooth Surface
Textured Surface

Soft texture
Helps to create a more natural feel
Outer shell is structured to allow the implant to move naturally with breast tissue
Available in round shape only

More rough and aggressive texture
Helps to adhere to the surrounding tissue
Less chance for repositioning
Available in round or teardrop shape
What is the shape of your implant?
Anatomical 'Teardrop' Shape Breast Implant vs Round Shape Breast Implants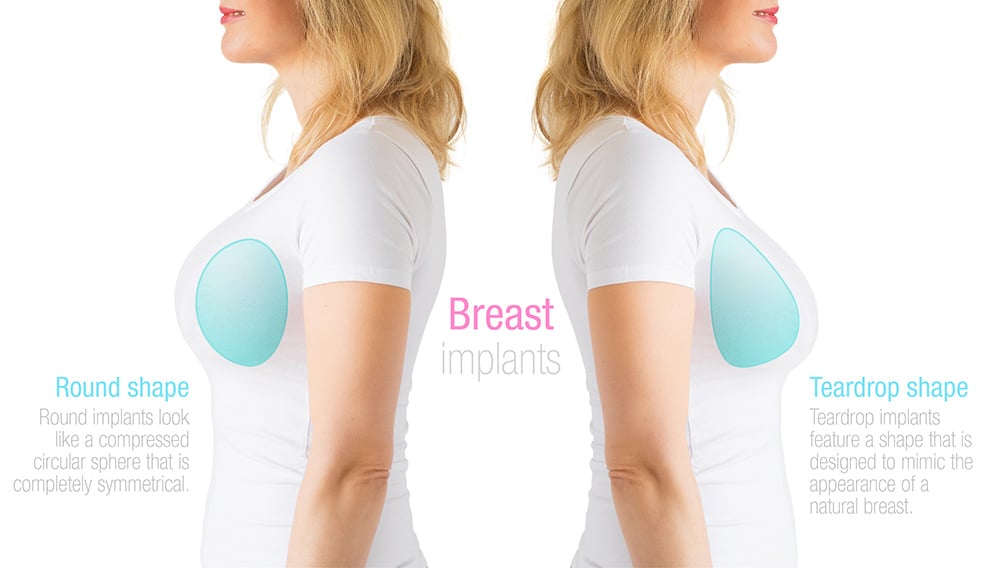 Anatomical 'Teardrop' Shape
Round Shape

Also called the "Gummy Bear Implant"
Natural teardrop shape
Mimics the natural contour and feel of the breast
Smaller at the top and more mass at the bottom of the implant
Filled with thick silicone gel
Form stable & holds shape regardless of if flat on the back or standing up
Requires a textured surface implant to prevent rotation of the implant
Best for women with petite builds with not that much breast tissue, women who have breastfed, or those with breast asymmetries

'Classic' implant
Round to provide lift and cleavage
Smooth shell filled with saline or silicone gel that flows freely
Shape will change as the patient lies down and stands up. There is a more rounded look when flat on the back, but a more natural effect when standing up
Available in both smooth and textured surfaces
Implant rotation is not a major concern since implant looks the same at any angled view
Best for women with firm breast tissue who want a more rounded shape
What are the different types of breast implants?
Sientra (Opus) Brand Implants
All Sientra Opus implants have an exclusive high-strength cohesive gel, flat back design, and the highest level of gel-shell integration. The high-strength cohesive gel helps for shape retention and high resistance and the flat back design creates a smooth conformation against the chest wall to prevent wrinkling of the implant. The gel-shell integration allows the inside of the implant to maintain strength and softness. Sientra Opus implants are available in smooth and microtextured surface options.
Luxe Round Shape: 250 options available with 5 projection levels. Available in both smooth and microtextured shell surface options.

High Strength Cohesive Gel (HCG): Helps to create a soft feel that is similar to breast tissue
High Strength Cohesive Gel+ (HCG+): Great for shape retention and is designed to minimize wrinkling and rippling

Curve Shaped (Anatomical Tear-Drop): 90 options with 2 projection levels. Available only in microtextured shell surface option.

High Strength Cohesive Gel+ (HCG+): Great for shape retention and is designed to minimize wrinkling and rippling
Mentor (Johnson & Johnson) Brand Implants
Mentor brand implants come in a variety of sizes and projections as well as offer both smooth and textured surface materials that are great for breast augmentation or breast reconstruction following a mastectomy.
Mentor MemoryGel & MemoryGel Extra: made with a cohesive silicone gel

Rounded shape
Available in a smooth or SILTEX textured surface
Available in 3 degrees of firmness (Cohesive I, II, III)
Available in 6 different projection options: Classic, Moderate Plus, High Profile, Ultra-High Profile, Xtra Moderate, and Xtra High Profile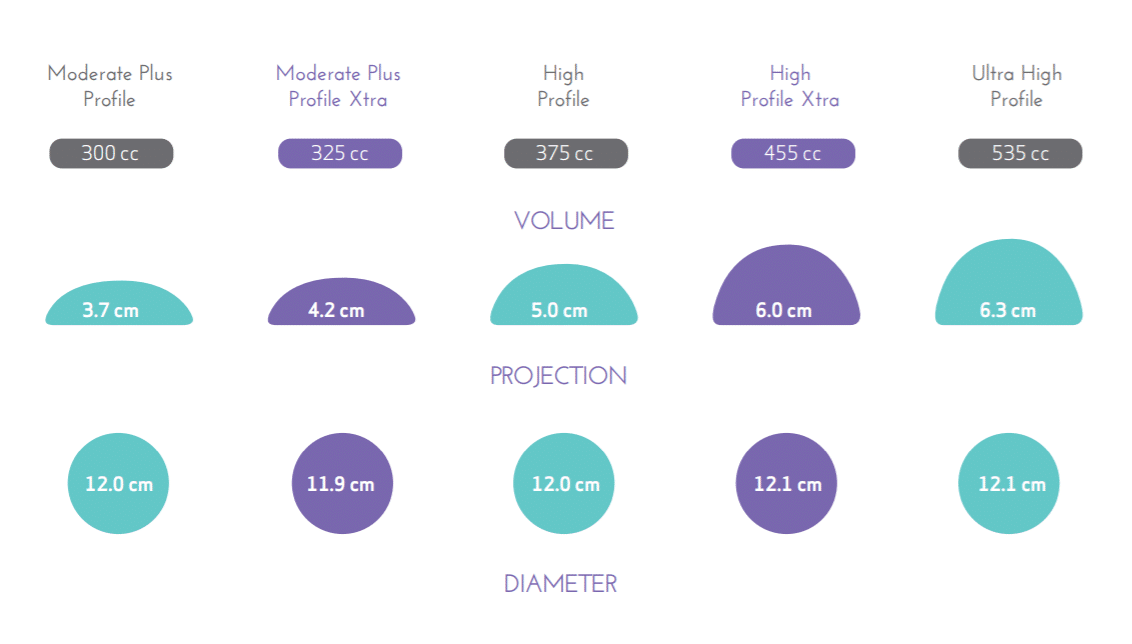 Mentor MemoryShape Contour Profile Gel (CPG): made with a cohesive silicone gel

Anatomic 'teardrop' shape
Available in SILTEX textured surface
Mentor Saline Implants:

Round shape
Available in 3 projections: Moderate, Moderate Plus, and High Profile
Allergen (Natrelle) Brand Implants
Allergen Natrelle Brand implants are best known for their Natrelle Inspira Breast or 'Gummy' Implants which use a gummy silicone gel that sticks together to help maintain the shape of the implant. Allergen Natrelle Brand also offers Natrelle Saline-Filled implants that come in a variety of round sizes, profiles, and fullness degrees from low to moderate to high.
Natrelle Inspira Breast or 'Gummy' Implants

Smooth texture and round shape
Only collection with 3 different types of gummy gels: Gummy, Gummier, Gummiest
The gummier the gel, the more it holds its shape when held

○ Available in 4 degrees of fullness: Maximal, Enhanced, Moderate, and Minimal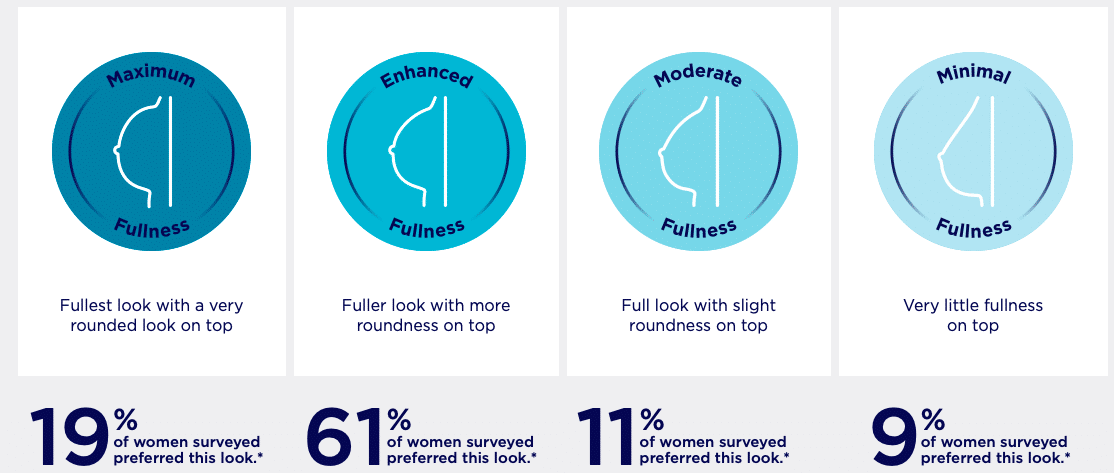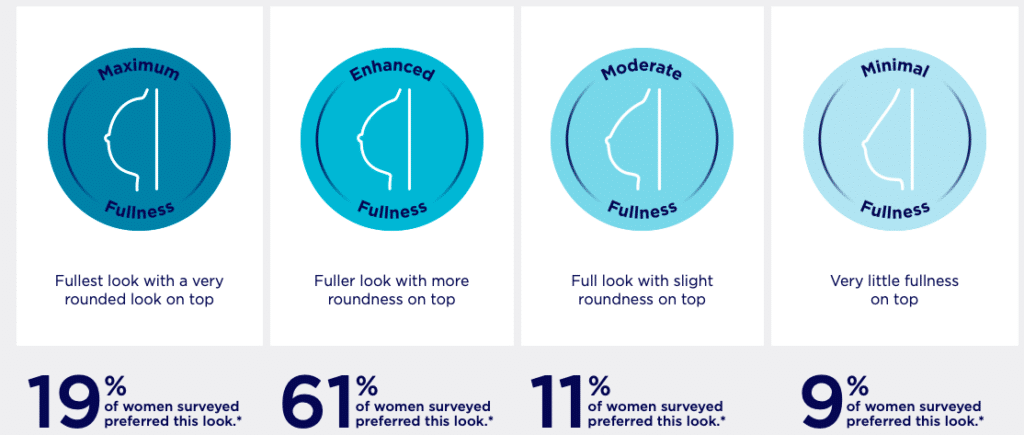 ○ Available in 5 different profile options: Low, Low Plus, Moderate, Full, and Extra Full