VISIA® is a state of the art photo imaging system that takes in depth pictures of the skin and analyses them using cross polarized light to "see" what is in the underlying layers of your skin. Using the VISIA® we provide high quality, standardized facial images that allow us to track your progress throughout your skincare journey!
Expected Results after a VISIA® Analysis
Better identification of red and brown spots
Visualization of UV damage not visible to naked eye
Identification of wrinkles and fine lines
Visualization of skin texture irregularities
Determination of skin age relative to actual age
Meaningful comparisons of skin changes with time
---
Ideal Candidate for VISIA®Skin Analysis
Good candidates for VISIA® skin analysis
Want to correctly identify and quantify skin tone, texture, and pigmentation problems
Want to visually and accurately compare progression and improvement of skin with skincare treatments
---
The VISIA® Visual Analysis Technique
The VISIA® Visual analysis allows us to identify problem areas of the skin in order to develop an effective skincare treatment regiment and monitor improvements to the skin. With VISIA® we can accurately treat your skin with optimal results with a fully customized treatment plan. While the classic method of a skin analysis uses a more hands on approach and is very reliable, it is unable to predict how your skin will age or what damage lies in the deeper layers of your dermis.
SPOTS
VISIA® identifies red or brown skin marks that stand out based on the color of the background skin tone. Spots can be signs of skin damage, hyperpigmentation, freckling, melasma and other photo damage. Spots are usually visible with the regular examination of the skin, however, the VISIA focuses on these spots without any interference or changes from camera lighting.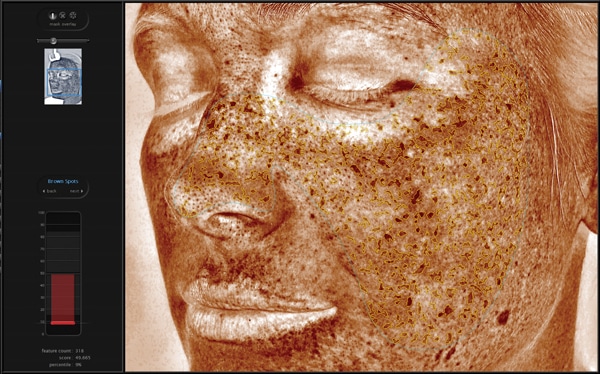 WRINKLES
VISIA® identifies any creases within the skin from fine lines and wrinkles to deep folds and furrows. Usually, these lines are a sign of decreased skin elasticity from photo damage, facial expressions, and normal effects from aging.
PORES
Skin pores are small openings, usually occupied by hair follicles, that are found all over the body. Pores are responsible for releasing sebum, the body's natural moisturizer. When pores over produce sebum or become clogged, they enlarge and can appear black. A VISIA® analysis can identify pores as well as demonstrate how certain skincare products and treatments are helping to reduce pore size.
SKIN TEXTURE
VISIA® provides patients with a in-depth analysis of their skin, facial skin texture, as well as identify elevated and depressed areas of the skin. By performing a series of VISIA® skin analysis your provider can monitor the effectiveness of your skincare treatments in improving and smoothening out your skin texture.
PHOTODAMAGE OR UV DAMAGE
The VISIA® analysis is able to show photo damage that is beyond what is visible with natural light. UV spots are formed when melanin accumulates underneath the skin in response to UV radiation. By detecting UV spots underneath the skin one can really understand the extent of the skin's photo damage and aging.
RED AREAS
Skin redness can be indicative of a variety of inflammatory skin conditions including acne, rosacea, psoriasis, and seborrhea. Small veins on the skin's surface known as telangiectasias, can be better identified.
PORPHYRINS
Propionibacterium acnes (P. acnes), a type of Gram-positive anaerobic bacteria, is found in human skin cells and often associated with acne. P. acnes produces a compound known as porphyrins that has a fluorescent property which can be visualized with the VISIA® analysis.
The VISIA® Quantitative Analysis
ADVANCED AGING SIMULATION
The VISIA® aging simulation software allows predictions of how you may age up until the age of 80. It is able to show you where you will form wrinkles and have more pigmentation based on the images it analyzes (VISIA® can show you both aging and reversal).
AGE PERCENTILE SCORES
Using the world's largest skin feature database, the VISIA® can assign an age grade to your skin in comparison to other patients within the same age group and skin type. This patented comparison to norms analysis uses information about wrinkles, pores, UV spots, red areas, wrinkles, texture porphyrins, and brown spots to predict your skin age.
You will be given a "True Skin Age" compared to your actual age. This feature will score your results and combine them to give you an accurate reading. Optimally, we hope that our "True Skin Age" is younger than our actual age. (Most damage is reversible with the proper treatment plan. If you don't score well on the True Skin Age, don't worry! Our Board Certified Plastic Surgeons and Licensed Aestheticians will be able to formulate a customized treatment plan for you!)
EYELASH ANALYSIS
The VISIA® analysis also includes a module to perform eyelash analysis. The eyelash analysis can give both numerical and graphic information which is important when pursuing treatments to improve eyelash numbers, length and thickness.
---
Cost of VISIA® Skin analysis
The VISIA® skin analysis is performed on all patients at The Naderi Center that are soon to get started on a skincare treatment plan at no extra cost. The VISIA analysis is used as a tool during the skincare consultation in order for your provider to correctly visualize and analyze the areas of your skin that need improvement.
---
Preparing for your VISIA® Skin Analysis
Please cleanse your face with your normal cleanser one hour prior to arriving to your appointment. This will ensure that you will have an accurate reading for your porphyrins and red areas. If you cleanse too close to your treatment time, your reading will be slightly off. Please wear a dark shirt and do not wear any facial jewelry during the appointment.
It is recommended to do monthly follow ups for a VISIA® analysis if you are using a skincare regimen. If you are receiving a laser treatment or a peel, VISIA® follow ups are recommended after 90 days.
---
VISIA® Skin Analysis at The Naderi Center
At The Naderi Center, our goal is to help you achieve glowing, smooth, and clearer skin. The VISIA® skin analysis is an advanced technology tool that is used frequently by our doctors and aestheticians to guide treatment and monitor skin improvements.
---
Schedule your VISIA® Skin Analysis Consultation
Call 703-481-0002 to schedule your VISIA Skin analysis consultation or contact us online.
VISIA® Skin Analysis FAQs
What VISIA® Skin Analysis office is near me?
If you live in the states of Virginia or Maryland, The Naderi Center for Plastic Surgery and Dermatology offers VISIA® Skin Analysis among its services. For a full list of services, please visit our Locations page.
Contact Us
"*" indicates required fields