Download and print before-and-after Erbium Laser instructions here.
Erbium lasers, like carbon dioxide lasers, are powerful ablative lasers designed to remove the outer layers of the skin using a burst of energy. Laser resurfacing, also known as a laser peel, has advantages over other methods of resurfacing. Some of these advantages include less bleeding, more precision with the ability to target tiny areas like moles, and most importantly, a shorter recovery time. Patients who have had Erbium laser treatments recover twice as quickly as those who have had CO2 laser treatments. There is little burning of surrounding tissues. Side effects may include swelling, redness, and bruising, but this lasts for just a week. The dramatic resurfacing results this laser treatment yields may last up to five years!
How does the Erbium Laser Skin Resurfacing Work?
The Erbium laser emits light that is absorbed by water as the light hits the skin. The tissue that contains water is vaporized. The excess heat in the area that is generated by the laser results in collagen shrinkage and stimulates the formation of collagen which will tighten the skin further. As skin cells are mostly composed of water, the heat produced by the laser light is scattered over the skin. The object is to damage the skin to stimulate it just enough to promote healing. This damage will be similar to a burn and afterwards, the skin will ooze and weep. Deeper wrinkles require more treatment, while shallow scars and wrinkles may be completely erased after just one treatment.
All Lasers are not Created Equal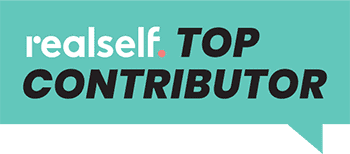 Lasers are not all alike. The Erbium laser is useful in eradicating mild to moderate wrinkles caused by sun damage, as compared to wrinkles that are a result of facial expressions. Acne scars, scars caused by surgery or trauma, age or liver spots, and both epidermal (surface) and dermal (subsurface) lesions may be treated. This type of laser works wonders on darker skin types because it is less likely to cause hypopigmentation or lightening of the skin. Facial skin is the most suitable area of the body for treatment because of the abundance of dermal glands. These glands, such as the sweat and oil glands, provide the new cells that will migrate to the surface of the skin. Erbium lasers have been used on other areas of the body such as the neck, chest, arms, and hands, but with fewer dermal glands these areas are more likely to scar. The erbium laser skin rejuvenation treatment is performed on an outpatient basis by our doctors, whose offices in Chevy Chase, Maryland and Reston, Virginia are convenient to all Northern Virginia and greater Washington, D.C. areas. Our providers use a local anesthetic and perhaps a mild sedative so that patients remain awake but do not feel a thing.
A partial laser abrasion, treating specific areas such as wrinkles around the eyes, mouth, or forehead, may last 30-45 minutes. The full face treatment takes an hour and a half to two hours. After treatment, the skin is kept moist with a topical emollient. Staying home from work for a week is suggested, but by day four or day five, the skin will look almost normal with some redness similar to the appearance of a sunburn.
Is Erbium Laser Skin Resurfacing Right for You?
Find out if Erbium laser treatments are what you need to look the way you desire. Call the friendly staff at The Naderi Center in Chevy Chase, Maryland, 301-222-2020 or Reston, Virginia, 703-481-0002 to schedule a consultation.
Erbium Laser FAQs
What erbium laser office is near me?
If you live in the states of Virginia or Maryland, The Naderi Center for Plastic Surgery and Dermatology offers erbium laser among its services. For a full list of services, please visit our Locations page.
Contact Us
"*" indicates required fields