Here is all the hype behind the treatment that is changing the skin care game
Great skin is achievable with the right diet, products, and treatments, but to achieve the ultimate "perfect" skin, microneedling is your magical elixir.
What is microneedling and am I a candidate?
Microneedling sounds intimidating but the overall experience promises that it is much more enjoyable than the needles at the doctor offices. Pore size, acne scars, hyperpigmentation, fine lines, and uneven texture are just a few obstacles the skin wants to bounce back from but is unable to do so without some help. Microneedling is made for patients with all different skin types wishing to improve the overall appearance of their skin. It stimulates the natural collagen and elastin in the skin to promote even texture, smaller pores, and eliminate discoloration. It is recommended to complete a series of treatments to achieve the best results.
How can I enhance my microneedling results?
Microneedling does have one important side kick that deserves mention: Plasma Rich Platelets. Plasma Rich Platelets (PRP) are found in your blood and extracted through a special centrifugation process. PRP is the part of your blood that contains important growth factors that stimulate the body's recovery process. PRP's role in injections and microneedling treatments is to speed up the healing process and enhance the final results. It is useful to include this component to the treatment if you plan on boosting and intensifying the microneedling results. PRP injections are also used to stimulate hair growth, click here to find out more.
How does microneedling work?
When you first arrive for your appointment, you will be asked to first cleanse your face to remove any make-up, oils and moisturizers. A topical numbing cream will be applied to the area that is to be treated. Once your skin is numb, a special microneedling pen is glided across the skin to make microscopic punctures throughout the epidermis layer. On average most microneedling pens have 32-36 needle pins. These mini microneedling punctures will then trigger the production of collagen and elastin as well as other immune system factors which will work to improve the skin pigmentation, texture and tone. After, the doctor will then apply the PRP solution for skin absorption and in some cases microneedle in the actual PRP solution into the skin. Multiple treatments provide for better results and the outcome of even textured skin with a fresh, smooth surface.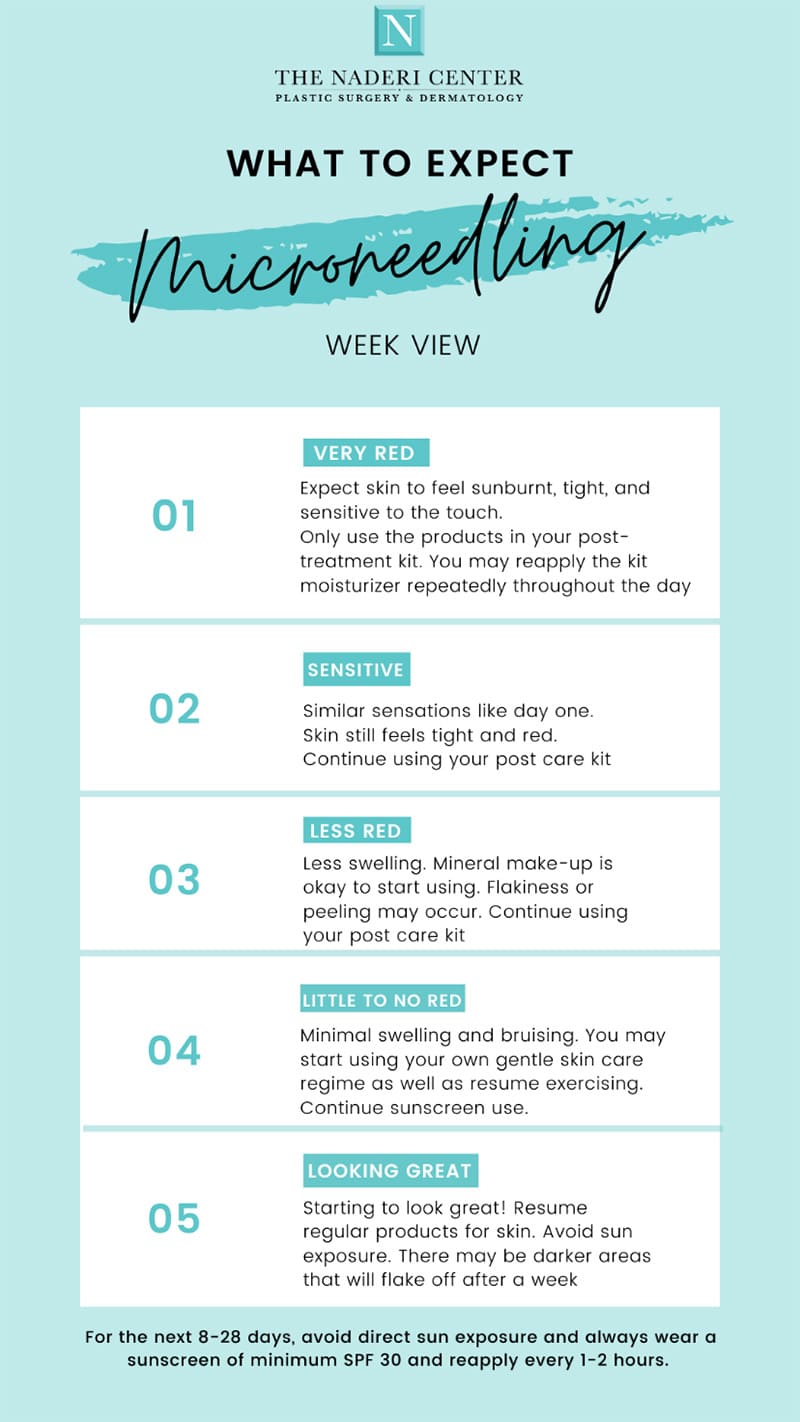 What is the downtime after microneedling treatment?
The general downtime that comes with microneedling is 5-7 days. After your treatment, expect possible redness, burning, itching, and swelling for the first few days. Everyone's skin reacts differently but no need to be alarmed, this is all part of the healing process. Drinking plenty of water and following your post care instructions are ways you can speed up and manage the recovery time. For more information on pre and post care instructions, click here.
Microneedling is a treatment everyone hoping to step up their skincare game. Interested in learning more about microneedling? Contact The Naderi Center in Reston, Virginia by calling 703-481-0002 or in Chevy Chase, Maryland at 301-222-2020.