Skin is a far more complicated structure than most people realize. It is an organ, just as the stomach and liver are organs, but it is the largest organ in the body. It is the body's first line of defense against infection. Skin has temperature regulation capabilities enabling the body to maintain the correct temperature. It contains both sweat and sebaceous (oil) glands and sensory structures to gather information about the environment, specialized nerve receptors for pressure, touch, pain, heat and cold. Skin produces vitamin D and the pigment melanin which protects us from damaging ultraviolet sunrays.
The skin has three distinct layers: the outer epidermis, the thicker dermis and the underlying subcutaneous tissue. The deepest layer, the subcutaneous layer or hypodermis, contains a layer of fat to conserve heat and insulate the body. Blood vessels passing through the hypodermis supply blood to the entire skin structure. The dermis is a meshwork of the protein collagen that provides strength, reticular fibers that provide support and elastic fibers that add flexibility. The dermis contains the glands and sensory receptors, nerves, muscle and hair follicles. The outermost layer, the epidermis, is the layer that is most important during the cosmetic procedure called dermabrasion. The epidermis has five layers, and it is only the outer layer of the epidermis, the stratum corneum, that is removed by abrasion. Once this surface layer is abraded, cells divide in deeper layers and new cells migrate to the surface.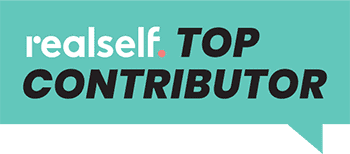 The Dermabrasion Procedure
Dermabrasion removes sun-damaged skin and age spots through controlled surgical scraping. It also reduces acne scars and may be used on precancerous growths known as keratoses. Dermabrasion successfully removes wrinkles around the mouth. By removing irregularities, it gives the skin a much smoother, more youthful appearance. In preparation for dermabrasion, you will need to stop taking medications that affect blood clotting. You'll need to stop smoking at least a week prior to the procedure as smoking decreases blood circulation to the skin and may interfere with healing.
The dermabrasion procedure is done in Dr. Naderi's clinic at both the Reston, Virginia and Chevy Chase, Maryland locations. It is performed using a local anesthesia such as lidocaine, often combined with sedation. Sometimes the area is sprayed with a freezing or cryogenic spray to firm up the skin for abrasion. General anesthesia may be used if the entire face will be treated or if there are deeper wrinkles or scars that will be treated. Dr. Naderi, using a wire brush or a motorized diamond wheel with rough edges, will scrape away the skin, a process that causes bleeding. After the dermabrasion procedure, your skin will be red and swollen. It may tingle or ache or even have a burning sensation. It may be difficult to talk or eat at first. Some patients need pain killers. Should swelling occur, a corticosteroid may be prescribed.
Just as when you scraped your knee as a child, a scab will form over the treated are. New skin will form in five to eight days. As new skin grows, the scabs will fall off and the skin may itch. Dr. Naderi may recommend ointments to ease the recovery. Recovery time may take several months as the skin heals. During this period the new skin will be bright pink and very sensitive for up to three months. Patients often wear makeup during this period of healing. You should take at least two weeks off from work initially, and stay out of the sun until the pigment has returned to your face, from six months to a year. Sunscreens should be worn daily throughout recovery.
Side effects that are common and temporary include redness, swelling, acne flare-ups, sensitivity to the sun and an increase in the color of the skin. This last side effect, a darkening of the skin, may occur if you spend time in the sun weeks or months after the procedure. Infection and scarring are rare, but will be noticed by skin that becomes raised, red and itchy. Less common side effects include infection, scarring, persistent redness and a loss in color of the skin, which may be a problem in dark skinned patients.
Today, correcting surface irregularities and removing fine wrinkles can be accomplished with a variety of procedures in addition to dermabrasion such as chemical peels and CO2 and Erbium lasers. Laser treatments are more precise and more expensive. A consultation with Dr. Naderi may lead you to use a combination of procedures for your particular skin issues. Call for an appointment at Dr. Naderi's Cosmetic Surgery and Skin Care Offices in Chevy Chase, Maryland, 301-222-2020 or Reston, Virginia, 703-481-0002.
Contact Us
"*" indicates required fields