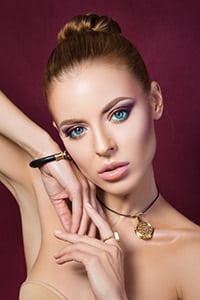 One question people often have about fillers and injectables is "how soon should I start using them?" There's no set age for using an injectable, and some people find that they want to try Botox or other options sooner, rather than later. While using fillers and injectables from a younger age can help stave off the signs of aging or even have a preventative effect, it's possible for people to go way overboard and end up looking much older than they really are.
If you're in your 20s or 30s and are considering a non-surgical filler or injectable, there are a number of things too keep in mind. Working with a facial plastic surgeon who specializes in reducing the signs of aging on the face and who has ample experience with injections can help you look refreshed, but not older than your years.
Droopy Brows and Botox
Some people decide to start receiving Botox injections as soon as they start to see fine lines between their eyebrows or at the corners of their eyes. That's fine and might actually keep those lines from becoming very deep, but it is possible for a person to get too much Botox, which can add years to the appearance. One common sign that a person's gone overboard, or at least, that the injector has gone overboard, is if the brows or eyelids start to droop after the injection.
Droopy brows develop if too much Botox or a similar injection is placed in the muscle that controls the lifting and lowering of the brows and forehead. Positioning the injection too low on the forehead can also cause droopiness, as can rubbing the area right after the injection or tipping the head forward in the hours after the treatment.
Overly Plump Cheeks and a Wide Face
Fillers can end up adding years to your appearance if the injector goes overboard when administering them. One sign that you've received too much filler is if your cheeks look particularly puffy, rather than slightly elevated and plump. Another sign that you've gotten too much filler is if the area around your mouth and nose looks wide in comparison to the rest of your features. When injecting a filler, the goal isn't to necessarily erase all signs of aging, but to create a subtle improvement, so that you look more youthful, but still natural.
A clear example of a younger person who's received too much filler is the actor Lindsay Lohan. Although she's not yet 30, recent pictures of Lohan find her looking like she's nearly 40, or even older. Her cheeks are very full and her nasolabial area is too wide. It almost looks as though someone has taken an eraser to the area around her nose and mouth. Instead of enhancing her looks, the over-treatment has added years to her appearance.
Too-Full Lips
It's not only the cheek area that can be overly-plump. Some injectors go overboard in the lip area, either unintentionally or because a patient requests it. Lips that are overly plump tend to look out of proportion to the rest of the face, adding year to your look or simply creating an unnatural look.
What You Can Do
Just because you are relatively young doesn't mean you'll get a bad or unnatural looking result from fillers. It does mean that you'll want to be particularly diligent when choosing the person who injects you, though. Look for a facial plastic surgeon who's board certified and who has plenty of experience injecting the filler or product you are considering. It's also worth your time to review photos of past patients to get an idea of the type of results your injector produces.
When looking at the pictures, look for patients who are in the same general age range as you are. You'll get a better sense of the type of results people in your age bracket can get. While looking at photos of older people can be helpful, it's also a good idea to make sure the injector has worked on patients around your age before.
If you do end up with a poor result, what you can do about it really depends on the product you received. In the case or Botox or Dysport, your only option is to wait for the results to wear off. Luckily, Botox or Dysport results typically wear off after about three months.
If you received too much of a filler made from hyaluronic acid, it is possible to reverse those results. Ask an injector about a specific enzyme, which can be injected into the area to dissolve the hyaluronic acid.
Before you decide to receive any type of injection, it's a good idea to speak with a board certified facial plastic surgeon, such as Dr. Jessica Kulak. Dr. Kulak can help you understand what injectables can and can't do and what type of results you can expect. To schedule a consultation with Dr. Kulak at the Naderi Center in Virginia, call (703) 481-0002. For an appointment at the practice in Maryland, call (301) 222-2020 today.